The year 2021 was full of highs and lows in terms of fashion. Some of us got to dust off our travel gear and actually board a plane. Others found creative ways to style ourselves from the waist up for zoom calls. We lived vicariously through those who were runway bound, and here I am referring to the fashion kind, while many of us vowed to never ever wear sweatpants again. But when I was assessing which of my style posts were the most popular, these four won. Upon reflection, I surmise that is because there were style tips involved in each of these posts, and that is what I am setting as my goal for this blog, in the coming year.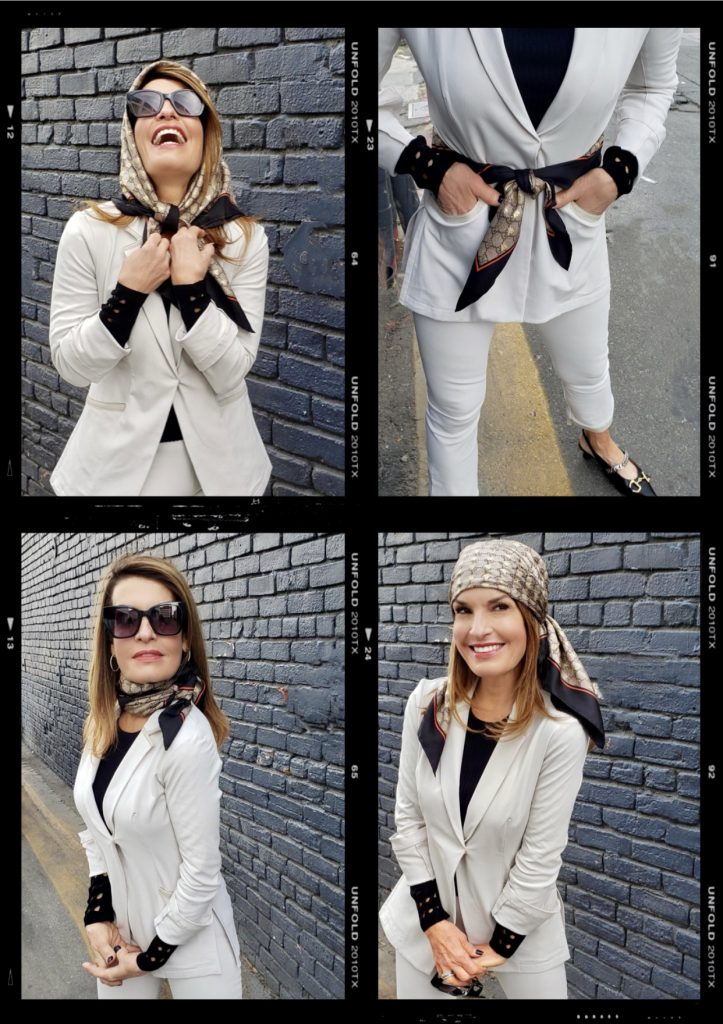 There is nothing more useful than a scarf. It can be styled in a multitude of ways and is one of the most practical items with which one can travel. As you can see from this photo, it can go from head covering to neck wrapping and even be tied around the waist as a belt. A designer scarf like this one by Gucci is well worth the investment since it is a standout piece. You can purchase a designer scarf for less on sites such as The Real Real. One cannot go wrong with a silk square scarf, no matter the brand. In addition, this post featured a pantsuit, and that seemed to resonate with many of you. Pantsuits are popular because they too are multifunctional. You can wear a pantsuit as a set, or break it up. This one, by Elaine Kim, travels beautifully as well! It comes in a multitude of colors: use my code Lesley15 on your first Elaine Kim purchase! And if you live in the LA area, you can make an appointment with Elaine (designer and human extraordinaire, for your personal styling session at no extra cost!)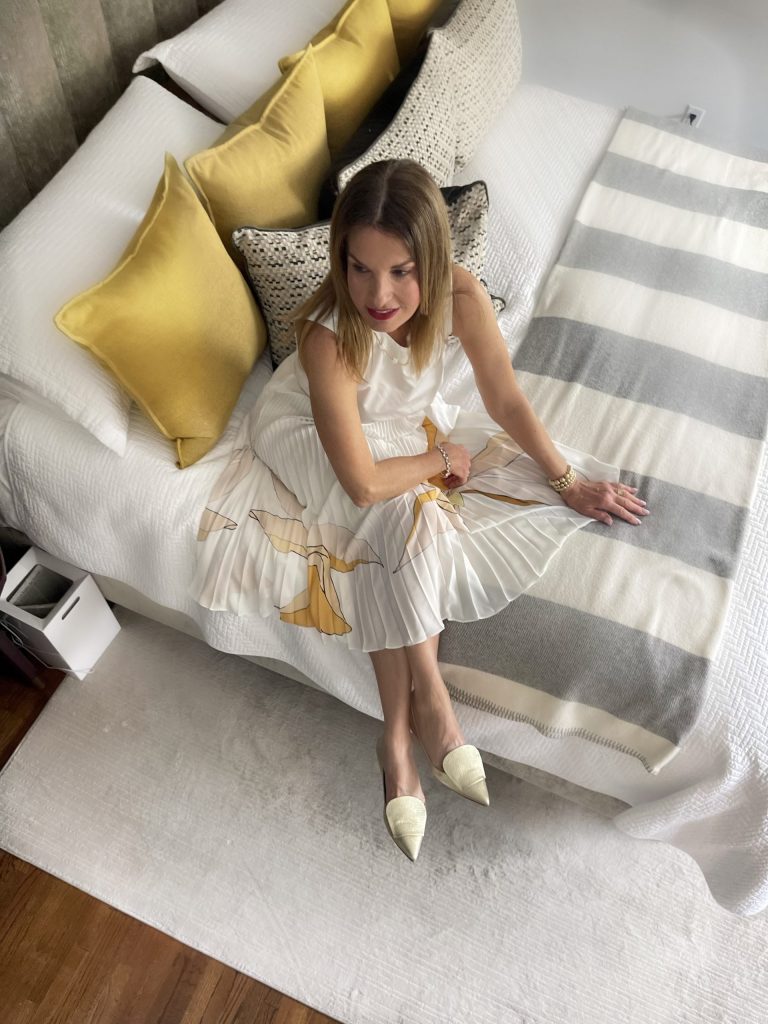 For women over 50, footwear becomes an issue. As we begin to lose the padding on the balls of our feet and arthritis begins to set in on our toes, we are constantly on the hunt for comfortable and stylish shoes…which often do not go hand in hand (or foot in the foot!). However, all that has changed with the discovery of the fabulous Bells and Becks shoes and boots. One of my most popular blog posts, which I featured twice on the blog, HERE and HERE, owner Tamar Miller understands how our feet age and how much we desire chic and beautiful footwear. Many of you purchased Bells and Becks shoes and told me how much you love them. Check out her sale section too! I just ordered 2 pairs: the Brava booties in black and the Luna slingbacks in python. I can't wait to receive them!
Use my code Lesley10 on regular-priced items.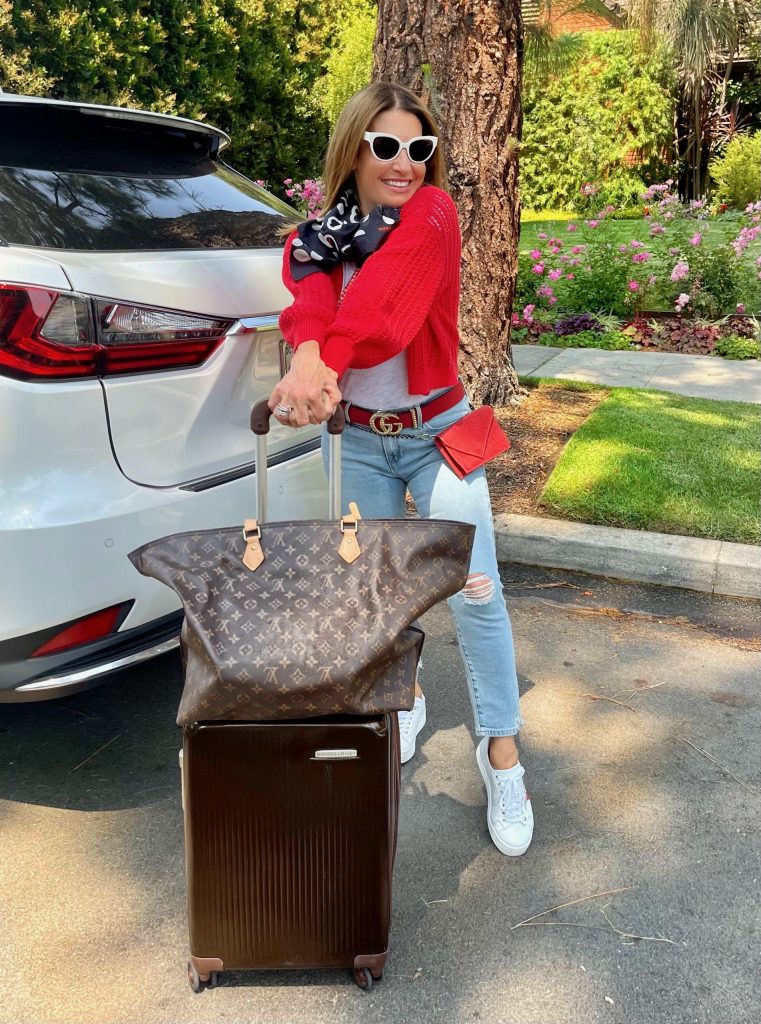 This was and continues to be my most visited post here on the blog, and is also the most viewed on my Instagram stories. People are always asking me how I manage to get so many clothes into a carry-on bag, no matter the season. My answer is twofold: first, you have to have the perfect carry-on luggage (I swear by this one by Briggs and Riley), and second, you must roll everything…and I mean everything! A large soft bag to store your toiletries, computer, or iPad is also a must. If you follow my tips, I guarantee you will never check a bag again! And store your ID and phone in the fabulous Hiptini belt bag (which does not count as carry-on), by Beltini Santa Monica, use code Lesley20.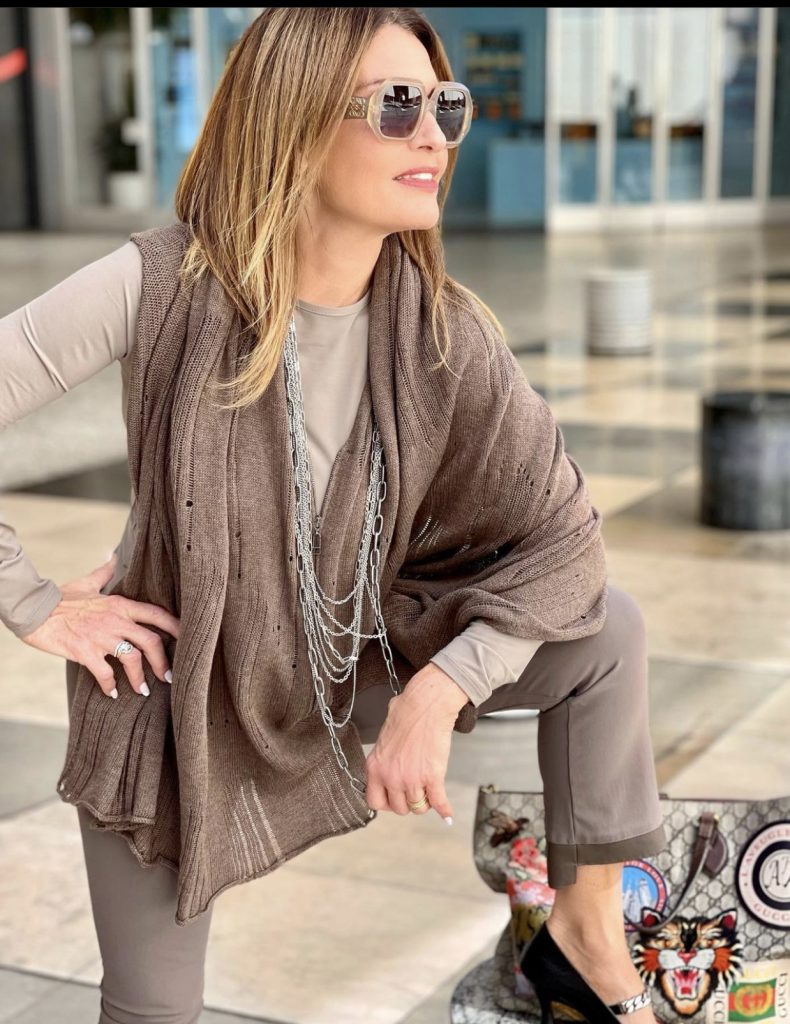 The benefits of layering pieces, such as those which I featured by Adea, are endless. This seemed to resonate with many of you since this post received many visits. You can wear them on their own, or layer them under sweaters and jackets. I cannot emphasize their usefulness nor can I stop singing the praises of this brand. Not only is it less than half the price of Wolford, but the quality and softness of these pieces are both outstanding. Check them out here and be sure to Use my code Lesley20 and save 20% off your order.