My favorite accessory is a scarf. Perhaps this love affair developed from the time I was a child and would sit and watch my beautiful mother add one to her outfit. It was always the finishing touch to an impeccably styled outfit or worn as a necessary accessory for warmth. Many years later, when I was studying voice in Boston, my voice teacher instructed me to become best friends with a scarf, "you must always keep your throat warm, so always bring a scarf with you since the weather in Boston changes on a dime." That advice was taken to heart, and now I never leave home without a scarf, even in the summer, since air conditioners can change summer into winter in a flash!
When we were shooting this outfit, it struck me that it would much more interesting if I highlighted the versatility of a scarf. Spontaneously, in an alley in Beverly Hills, I began to style it in four different ways. Below are the results.
1: Tie it around your head.
(à la Audrey Hepburn or Grace Kelly)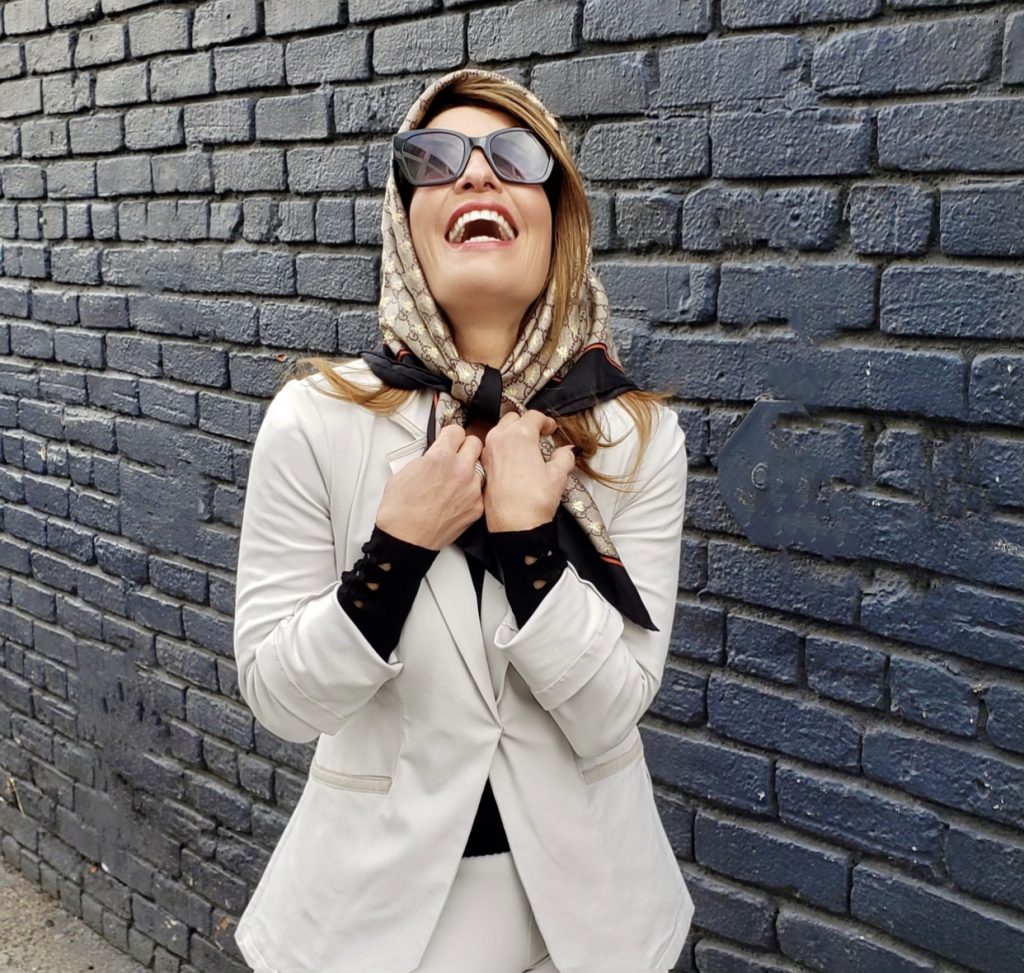 If I owned a convertible car, I would tie a scarf around my head like the way I have it above, and drive up Pacific Coast Highway, the way Grace Kelly or Audrey Hepburn would have, with the ends of my hair the only parts flying in the wind. I love to wear a scarf this way, and although I rarely do, I believe you will be seeing me in this style more often!
2. Tie it as a belt around your waist.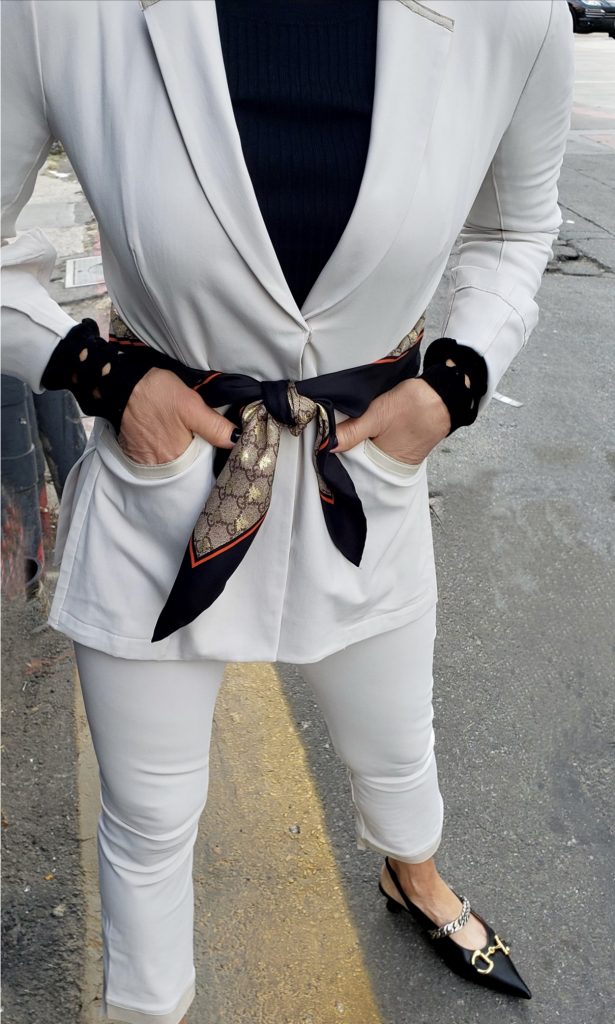 Admittedly, this is the first time I have tied a silk scarf around a suit jacket; and after seeing how it looked, I assure you it won't be the last. It elevated the entire outfit, from chic to fabulous. It accentuates the waist by drawing the eye towards it. A large silk square scarf accomplishes this look beautifully.
3. Wrap it around your neck.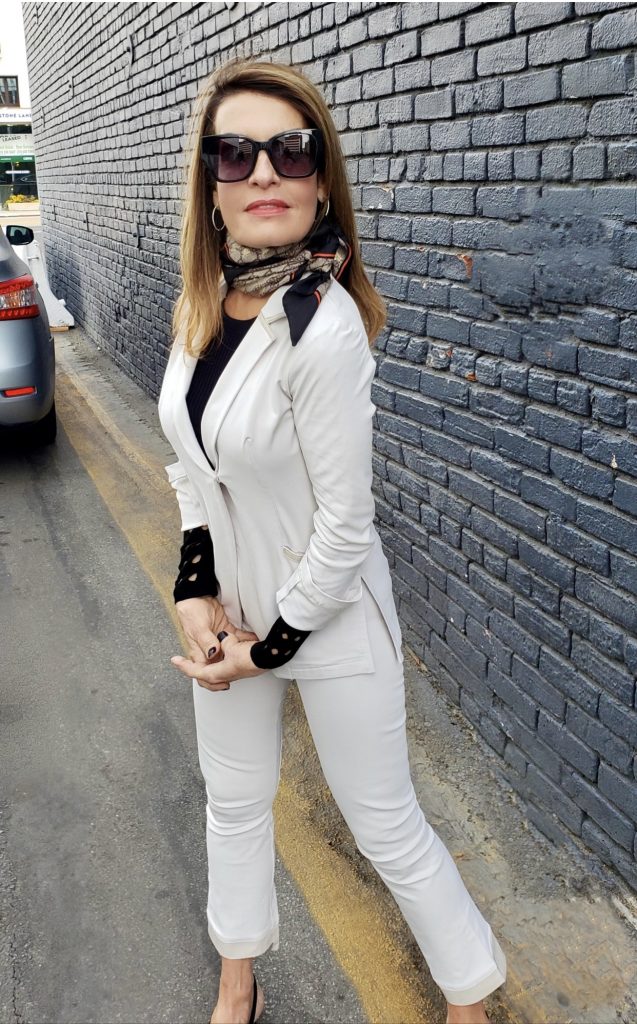 This is how I normally wear a scarf. If it is long, I make sure to double it around my neck and either tie it like or let the ties hang long in front. This version ensures that my throat stays warm. It also replaces the need for a necklace since it becomes the star of the neckline. Tying the scarf tightly around the neck also shows the neckline, or dècolletage, which is very flattering.
4. Wrap it on your head like a 70's turban.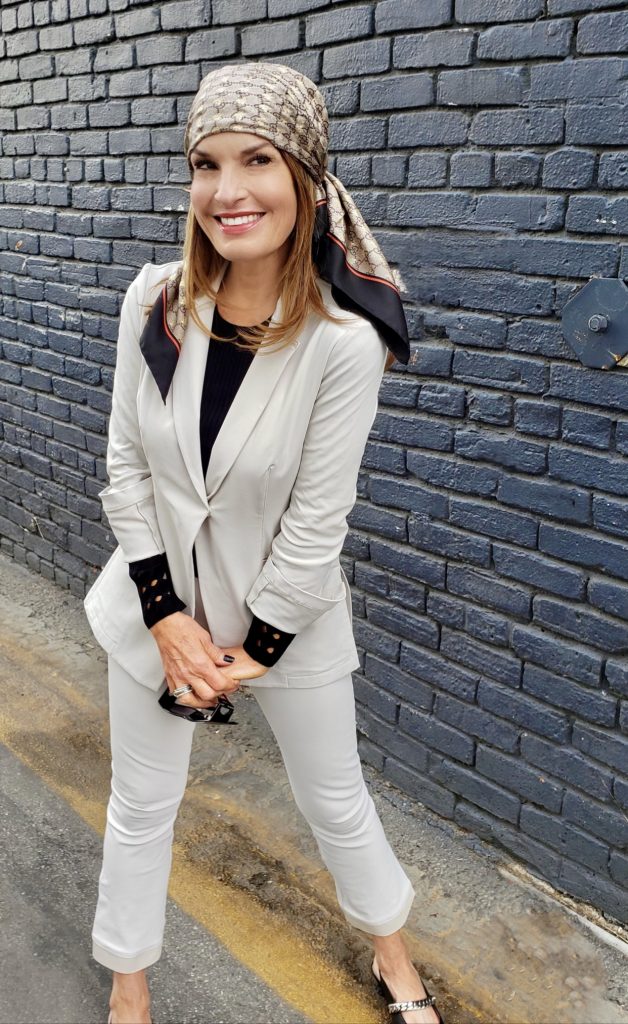 This look was definitely the one that received the most comments on my Instagram feed. Reminiscent of Valerie Harper's character, Rhoda, in the Mary Tyler Moore Show, this is definitely my favorite look. Honestly, I hardly ever wear my scarves this way, but all of that is about to change. My mother wore her scarves this way in the 1970s and it made her look even more beautiful (as if that's possible). My only regret is that I don't have a photo of her in her scarf, otherwise I would have proudly added it to this post. My mother has and always will be my fashion inspiration; she makes bold fashion choices and has the confidence to pull off nearly any look… remind you of anyone?
PS… Serena has also inherited that gene!
Shop This Post
Elaine Kim pants and jacket: use code Lesley15 for 15% off your first purchase. The same discount applies to in-store shopping.