When I put this outfit together, I had no idea it would resonate with so many of my social media followers. However, when I break down the look, I am not at all surprised. There are many items here that are both functional and stylish. When you merge those two qualities, you elevate its appeal.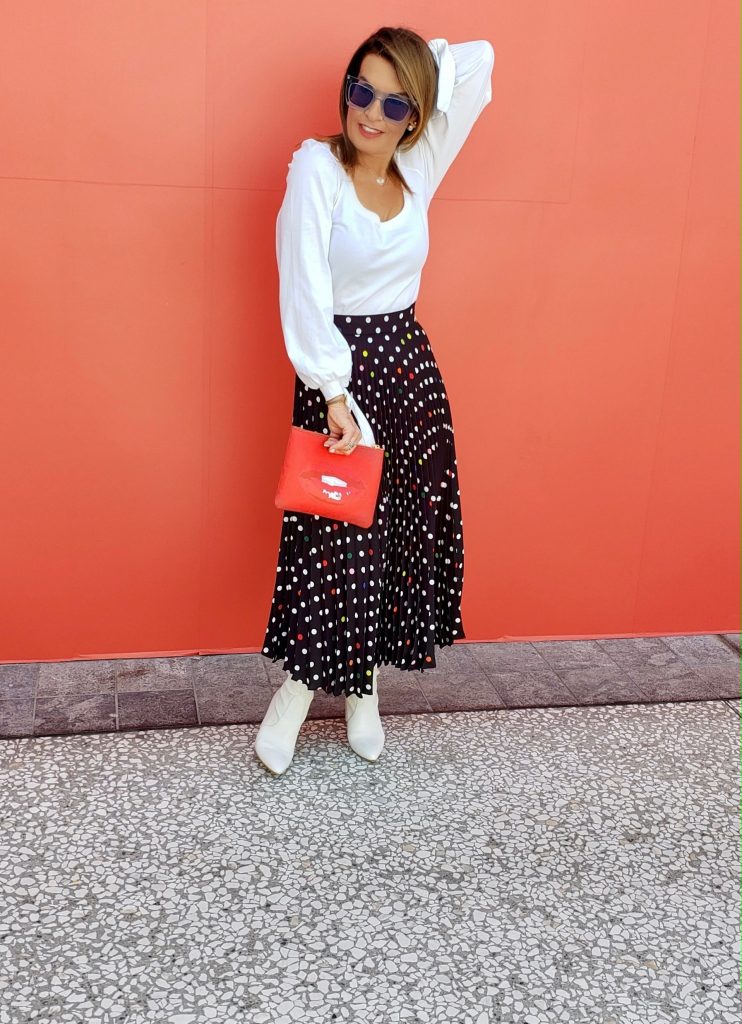 So let's begin with this amazing skirt by Christopher Kane. His designs are so artistic and otherwordly. Christopher is not afraid to push the boundaries; and when he creates, he does it impeccably, as you may recall with this skirt that I featured this past summer. Not one to gravitate towards a voluminous skirt, I discovered this one to be quite flattering. I was very attracted to these polka dots, which I find so cheerful, and timely. We all need a little something to uplift our spirits, and I derive mine from fashion.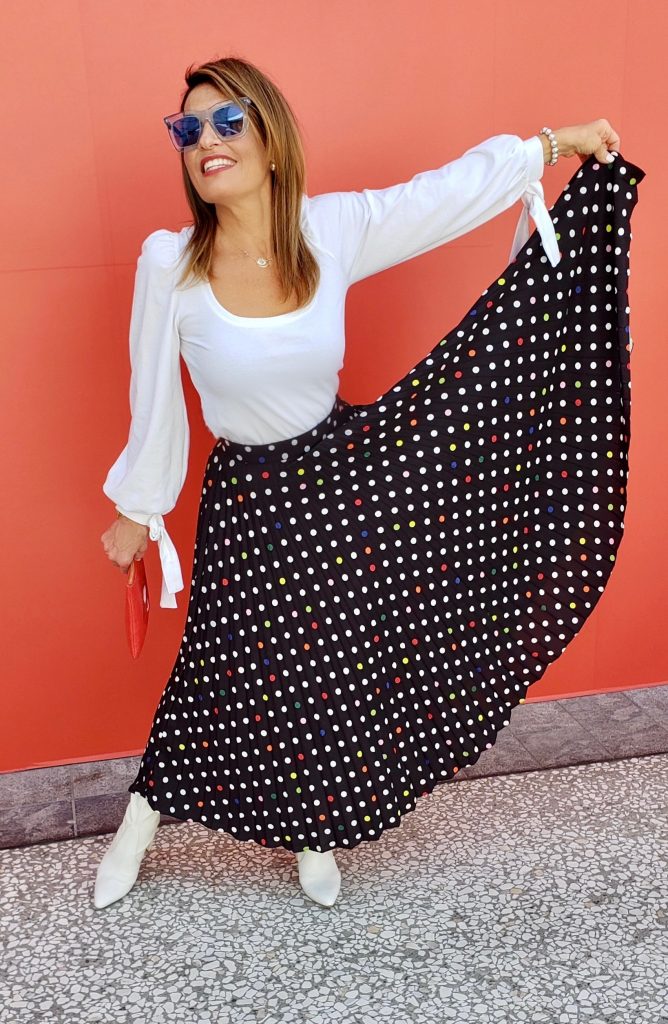 I have never met anyone who doesn't love a white tee shirt. Functional, practical, easy to wear, and easy to style, are some of its many attributes. Yet I am always in search of one that is a little different, and I have found it in this one, by Livotte London. Yes, it hails from Great Britain, as does Scottish born Christopher Kane..perhaps that's why these two pieces get along so well! Livotte London has many beautiful tops that I encourage you to peruse. The women behind Livotte, Beth Pollak and Delphine McNeill, are two fashion industry veterans, who were both after the same goal: to reinvent the basic tee shirt as a luxury wardrobe staple. Made of 100% sustainable organic cotton, their tops are soft and luxurious, without a "dry clean only label." I am certain that you will fall in love with Livotte London; there is something for everyone!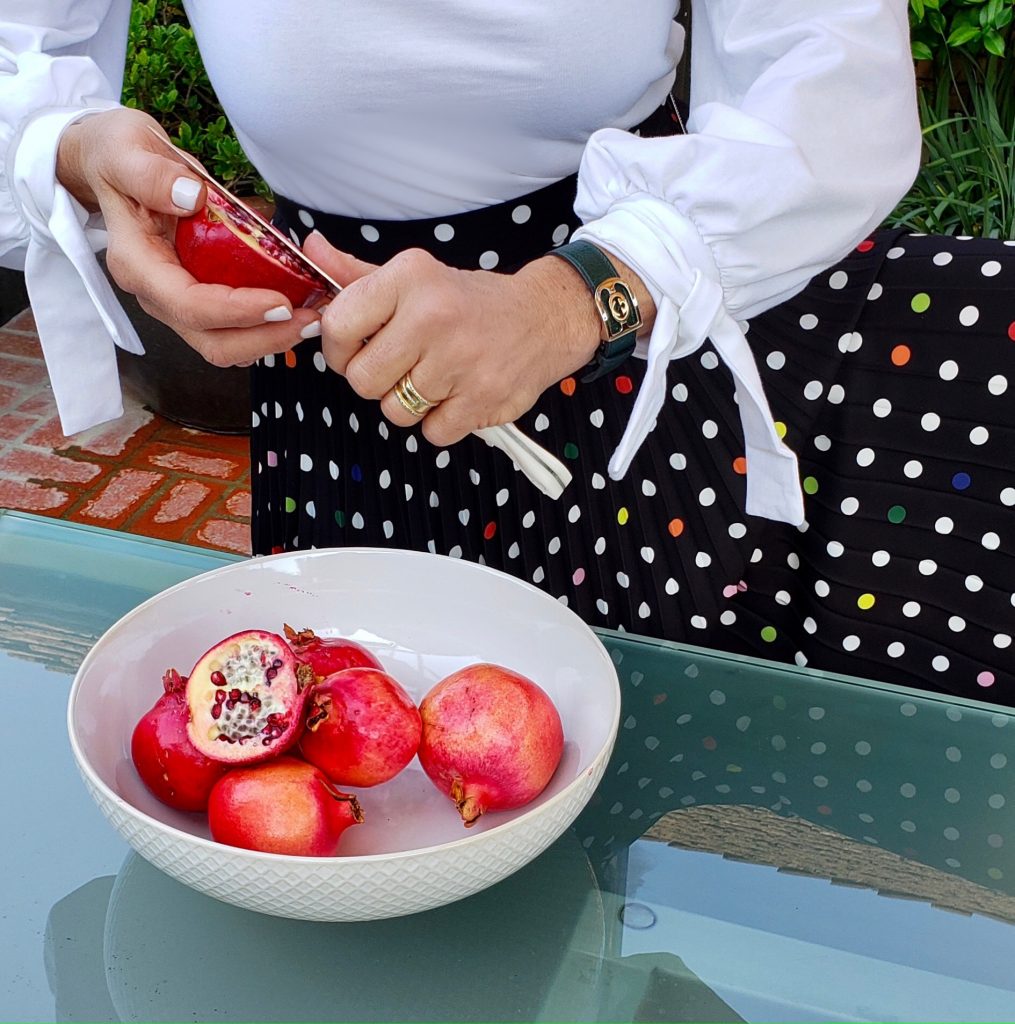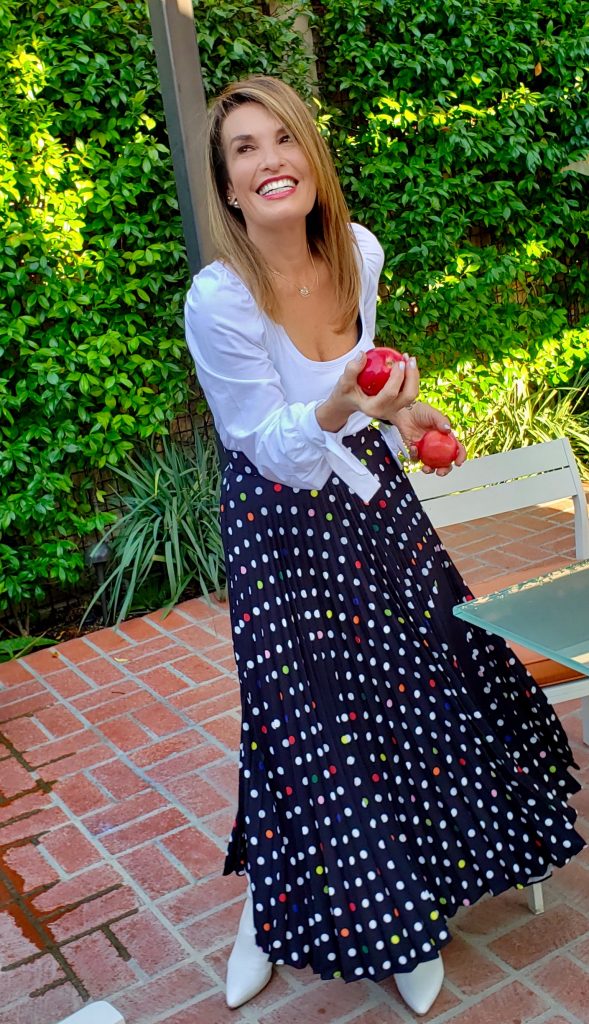 Ads the temperatures begin to drop, adding a black leather jacket is always a good choice. And this one, which I have owned for years, maintains the dressiness of this outfit. I realize that we are really not "going" anywhere these days, but why not dress up anyways? Trust me, it does your mood a world of good.
I have always loved a good white boot, and this one, by Stuart Weitzman is a closet staple because it is perfectly designed and season-less. it is no wonder that Stuart Weitzman continues to make it year after year.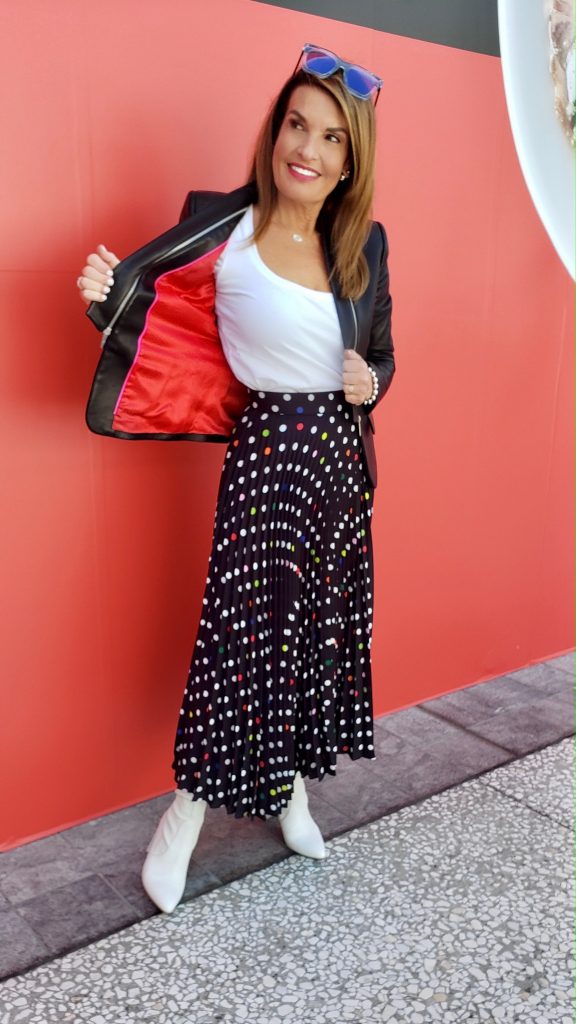 Moving on to the final item of this outfit, the indispensable, OTG247 pouch. This little red pouch comes with me everywhere I go these days. I love these so much, I own several of them. You may recall that I featured OTG247 here. These pouches, which are also waterproof, are as essential for any age..from a young aspiring artist to a fashionista on the go, these little carry alls will hold all your needs in one stylish zip-up pouch. These pouches have organized my life in ways immeasurable. One pouch carries my COVID essentials: hand sanitizer, extra mask, rubber glove, lip balm; while another carries my phone, keys ( better than rummaging through your tote only to ruin your nails), and pens. The fact that they are waterproof makes them 100% flawless. No longer will I worry about ruining the inside of my bag. If I incur a mishap, like a hand sanitizer or makeup explosion, I simply wipe out the pouch and I am "good to go!" There a multitude of options on the website and when you use my code LESLEYWOLMAN you save even more! I have given these pouches as gifts and the recipients are thrilled!