What happens when two independent fashion brands cross paths? An explosion of style, that's what! When I was first approached by the fashion brand ONA, I was immediately excited. Everything on their website was original, exciting, and high fashion. I was told to choose a few pieces, and I settled on this fabulous pair of white stretch pants and this very wearable black short-sleeved mock neck top. ONA was created by Yoon Chung, whose extensive experience in the fashion world has resulted in the success of such e-commerce fashion sites as Carbon 38, Jonathan Simkhai and Forever 21 among them. Yoon started her line, ONA, with one thing in mind: design high fashion, high performance clothes that reflect the modern woman's lifestyle. And that is exactly why this outfit fulfills that objective perfectly; whether I am running errands, on a zoom call or having a social distance dinner with my friends or family, this outfit fits the bill.
When I slipped on these white pants, I was so pleasantly surprised by their opaqueness, unlike other "see-through" white pants I have tried. They are double-faced and incredibly comfortable, not to mention unbelievably flattering! Both the pants and the top shaped me in comfort and made me feel fabulous. We shot these photos at Century City Mall, I was actually stopped multiple times and asked where I got the pants, top, and bag. I am certain that ONA is a brand that will live in my closet for a very long time.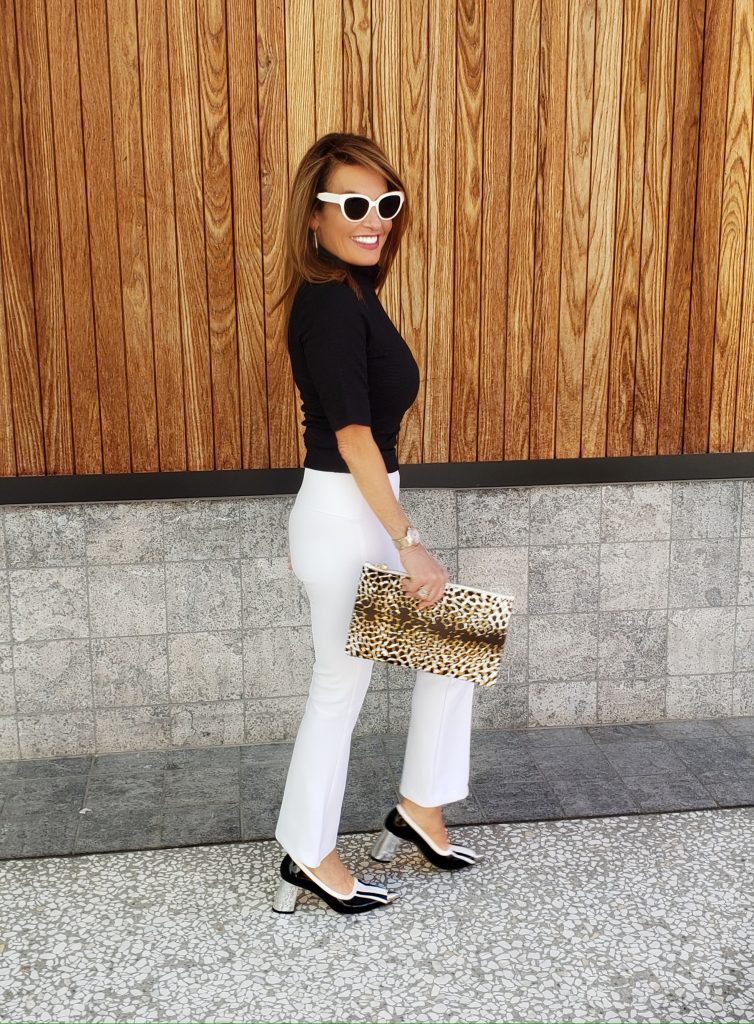 Now let me introduce you to my latest obsession: OTG 24-7. OTG stands for On The Go; they have a huge selection of pouches made from waterproof vegan leather and are TSA approved. These multifunctional pouches double as clutches and handbags, making them a "must have" item for the modern woman who is on the go. Moreover, they are the perfect way to organize any of your totes.
I love the versatility of these pouches; I own several sizes and patterns. I use one to organize my masks, hand sanitizer, and lens wipes, while others I use to hold lip balm and sunglasses. The patterns and colors are fabulous; I love how this animal print that doubles as a clutch!
In addition to all of these, there is one that holds my phone and credit cards while I run errands. Versatility and style are two words that come to mind when I describe this brand. These pouches are essential to our lifestyle now more than ever. When travel plans are in our future again, these pouches will be indispensable! They make great gifts, as well!
Don't forget to use my discount code, LESLEYWOLMAN, for 10% off.