When I first tried on this skirt at the Louis Vuitton Store in Manhattan, I complained that it was much too short for me. I am 62, after all, and what will people think? I know what you're thinking. Why should it matter what others think? Why do I seek out others' opinions? Thats a long conversation best left for psychotherapy. Suffice to say that it's in my nature to seek approval from others. I am a performer, so a lot of that comes with the territory. Yet when it comes to fashion, many of us succumb to rules instead of listening to that inner voice that may want to break a few. I recently posted this outfit on Instagram and FaceBook and asked people to weigh in on short lengths for women of a certain age. The overwhelming response was positive (only one person felt that the skirt was too short for me). Others were extremely complimentary of my legs and told me to go for it.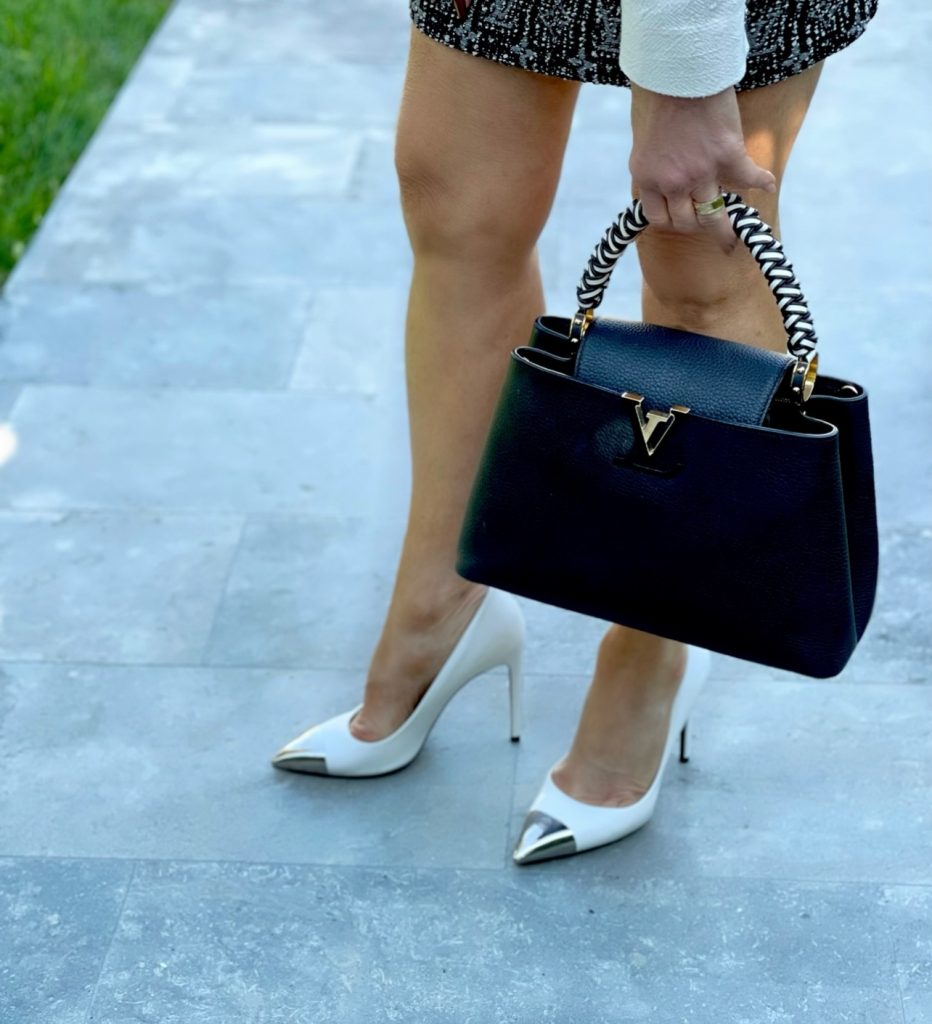 If I felt totally confident with the length, I probably wouldn't have asked for everyone's opinion. The truth is that I was aware that the length was a tad too short, and thankfully there is room to lower the hem by a couple of inches. However, when I look at these photos, I honestly don't think that it's too short for me, given that I am only 5'3 and the length is proportionate to my frame. Wearing a super high heel always makes a skirt or dress appear shorter, which in this case is a double edged sword; because the higher the heel, the better the leg looks.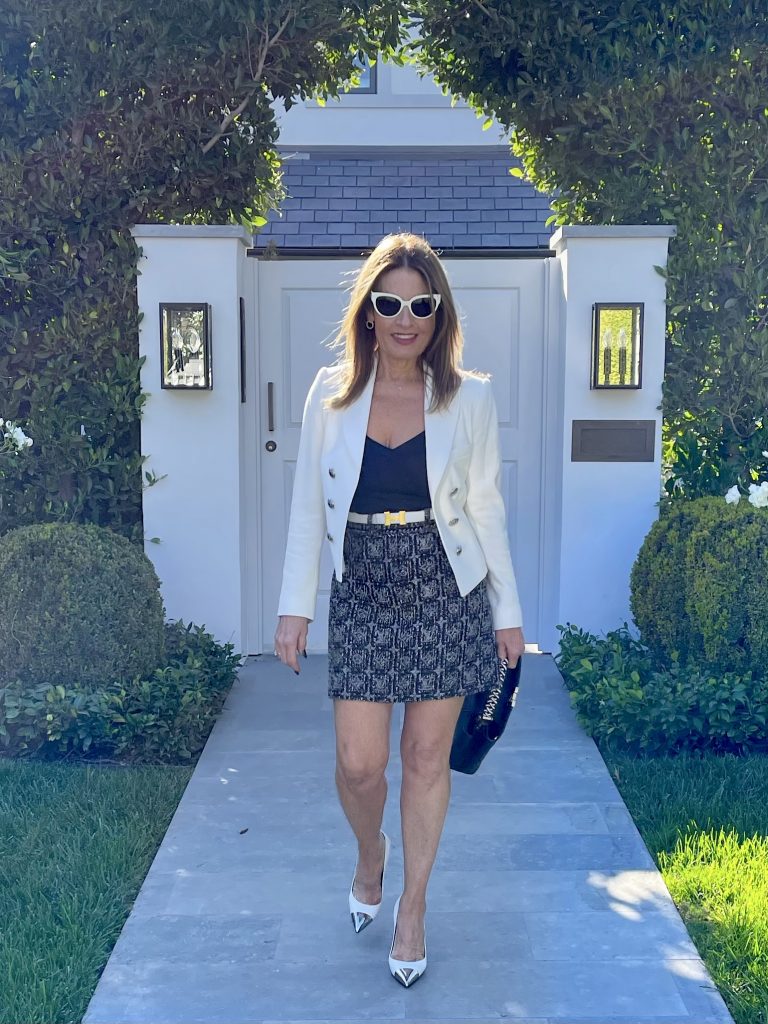 Now let's move on to the details of the outfit because to be totally honest with you after I completed assembling it from nuts to bolts, I high-fived myself! I am particularly obsessed with these layering pieces by Adea. This is the third week in a row in which I have mentioned them. I could not be more of a cheerleader if the company paid me…which it does not. I happen to think these pieces are fabulous and you should definitely own a couple yourself. The black camisole pops against the white blazer and white belt and goes perfectly with the skirt.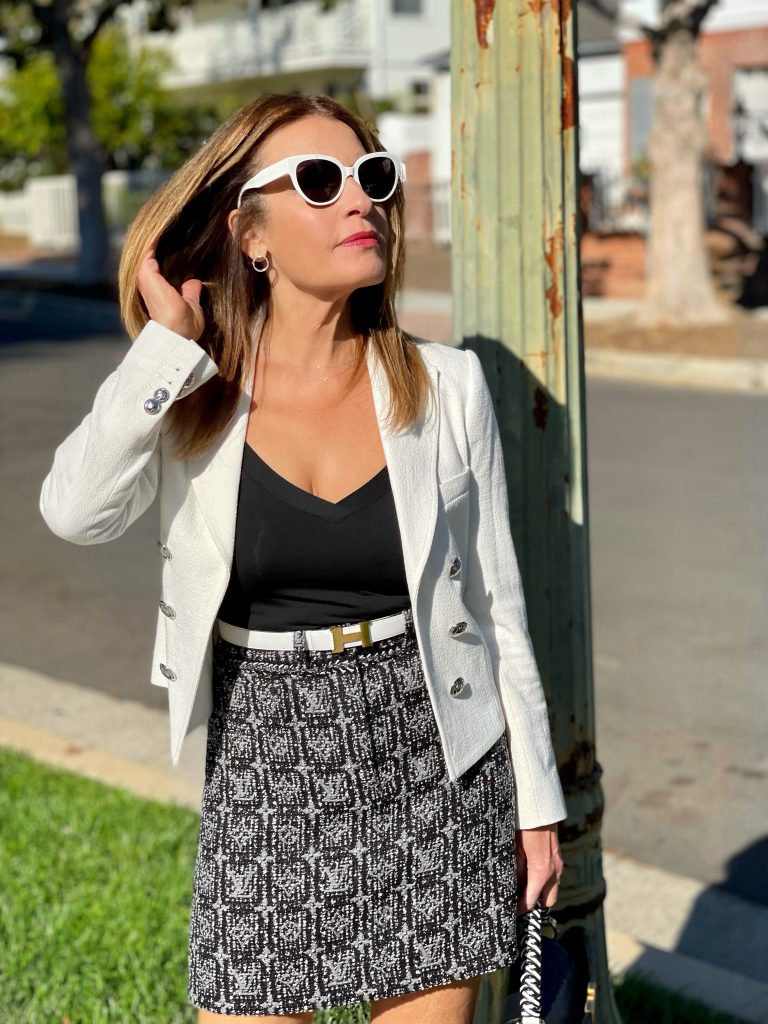 I have owned this jacket, by Lini Clothing, for a few years now, having purchased it right before Covid. Unfortunately, it didn't see the light of day until recently. It's a great length for me, (or anyone who is not that tall) since it hits right at the hip and is a little shorter in the back than it is in the front. I love mixing high and low pieces, and this pairing made me feel vindicated!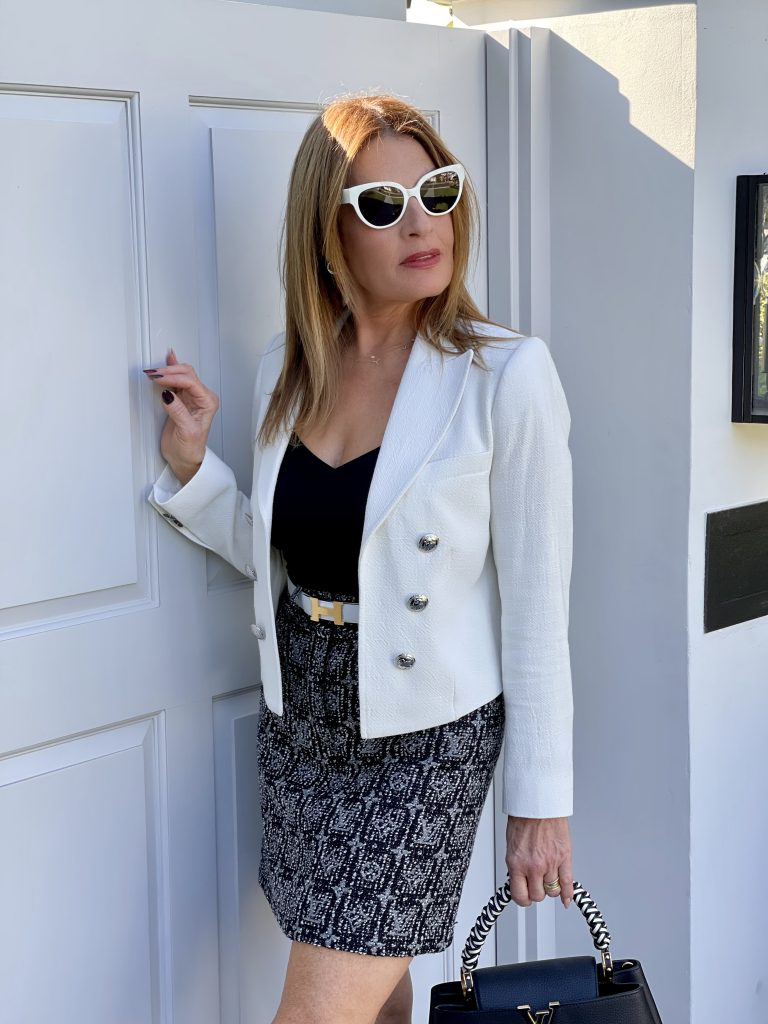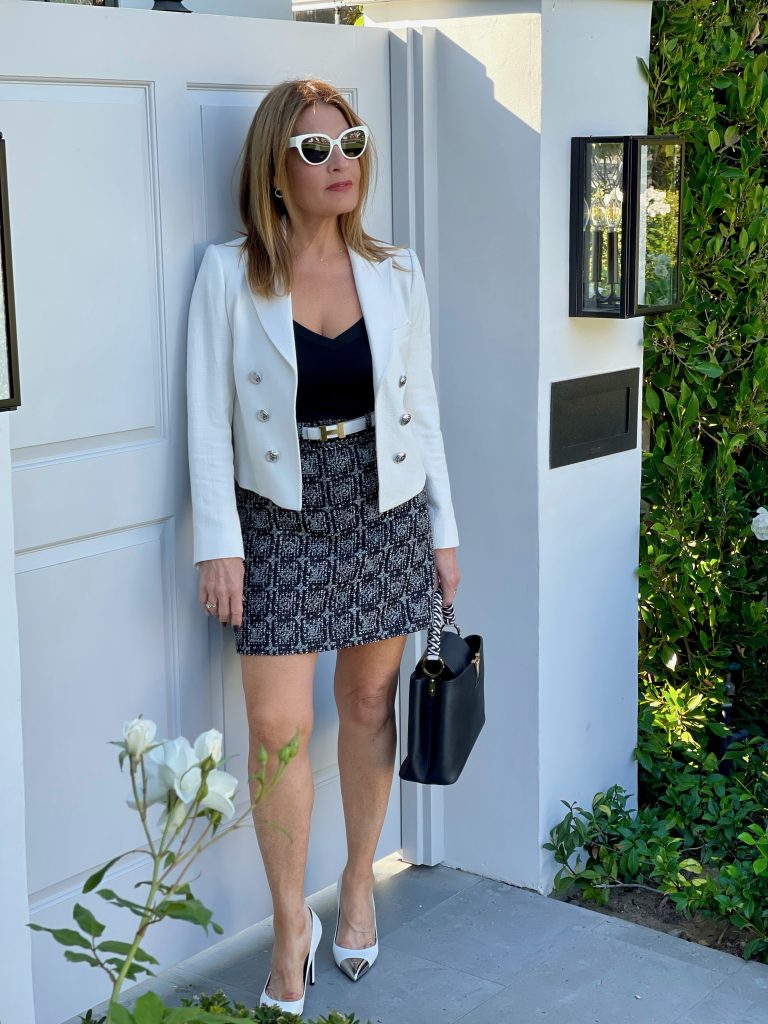 I cannot stress the importance of accessories when it comes to completing the look. They can make or break the outfit, so experiment to your heart's content. The white jacket called for a white belt and shoes. You will notice that I mixed metals. The gold "H" of the belt, the silver buttons of the jacket, and toe cap of the shoes work well together, as do the gold bangle and gold accents on the handbag. I encourage you to mix metal, as it will free you up and add a plethora of variety to your outfits!