I come from a very long line of hostesses. As far back as my memory will take me, the women in our family have always been enthusiastic about opening their homes and welcoming guests to their tables. From tea at my great grandmother's, to Shabbat and holiday meals at my grandmothers' homes, to my mother's holiday and dinner parties, one could say that my ability to entertain was pre-ordained and perhaps osmotic. My daughter Serena, who just hosted her first formal gathering in her apartment in New York, remarked that hosting is something that our family is drawn to. Regardless of whether there is a genetic component to entertaining, there is nothing more gratifying and satisfying as setting a table and breaking bread together with family and friends. Inspiration can be drawn from books, magazines, the internet, or simply one's imagination. Let's delve into what goes into setting the perfect table and creating an ambiance that is warm and comfortable, not too formal, yet not too casual; that perfect balance that goes into the perfect gathering.
This table is a mock-up of one that I would set for Thanksgiving. After years of use, my everyday dishes became chipped, faded and lackluster, leaving me completely frustrated when it came to setting a table. This year I decided to take advantage of the Friends and Family Home Sale at Bloomingdales and ordered a new set of dishes. Actually it was two new sets since I keep a Kosher home. After six years of food photography for Fabulesley, I have come to the realization that food looks best on white dishes. I decided to go with white for both sets of dishes, using texture and subtle pattern to differentiate between the two, and adding silver accents for the ones designated for meat, since I mostly serve that when I entertain.
I also purchased new placemats and linens. I prefer not to use a tablecloth unless it is Passover or something that calls for more formality. Chilewich is my absolute favorite brand of placemats and linens. For this table setting, I decided to layer two placemats and set the silverware atop the linen napkin. I am very pleased with the result.
Since it is autumn and the trees have shed their colorful leaves, it feels only natural to repurpose them for use as place cards. This saved me money and added color to the table!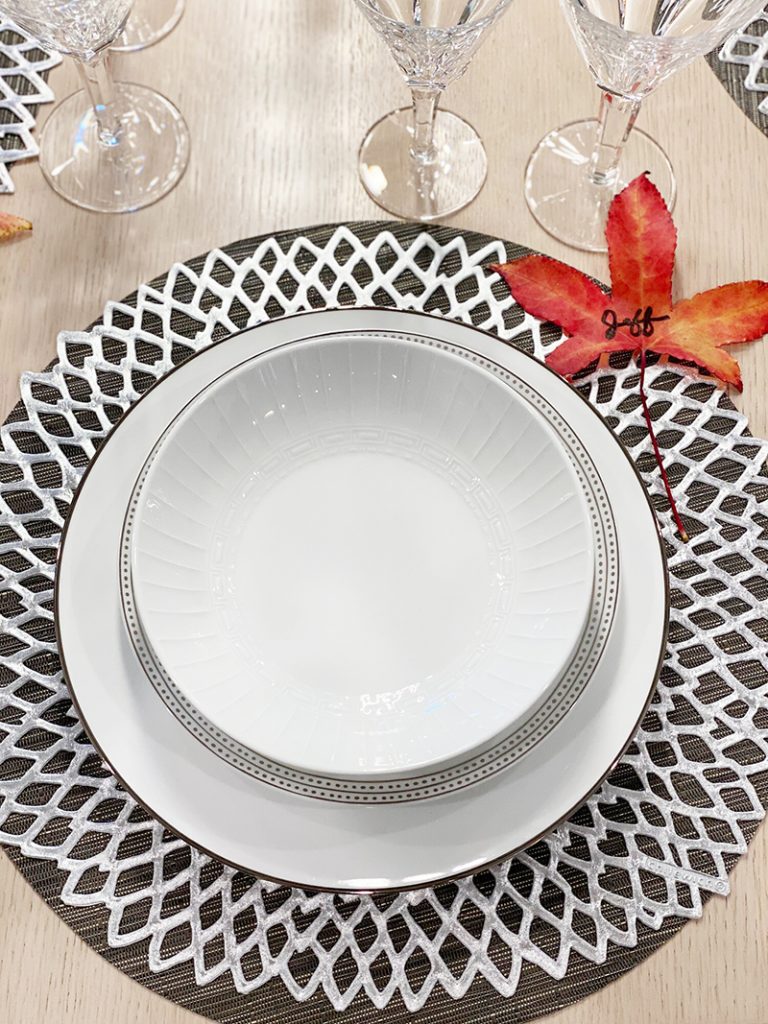 My mother taught me that keeping the centerpiece low allows for everyone to make eye contact and not cause any neck craning over a tall arrangement. I save many of the vases which come with floral arrangements sent to me as gifts. This one, which is long and narrow, has been exceptionally useful over the years. For this setting, I lined it with white hydrangeas and repurposed these beautiful grasses from another arrangement. The result is simple and elegant and allows everyone to enjoy its beauty while conversing comfortably with the person seated across from them. In keeping with the autumnal theme, I added the colorful leaves.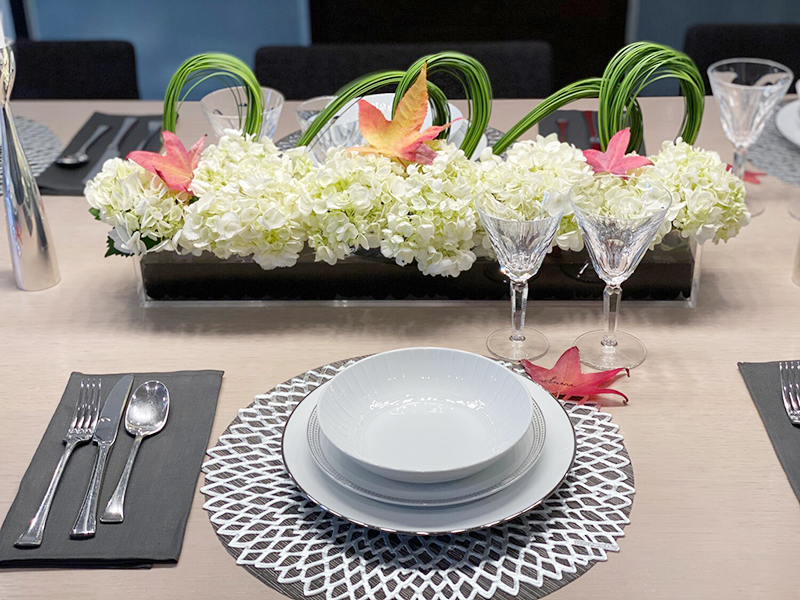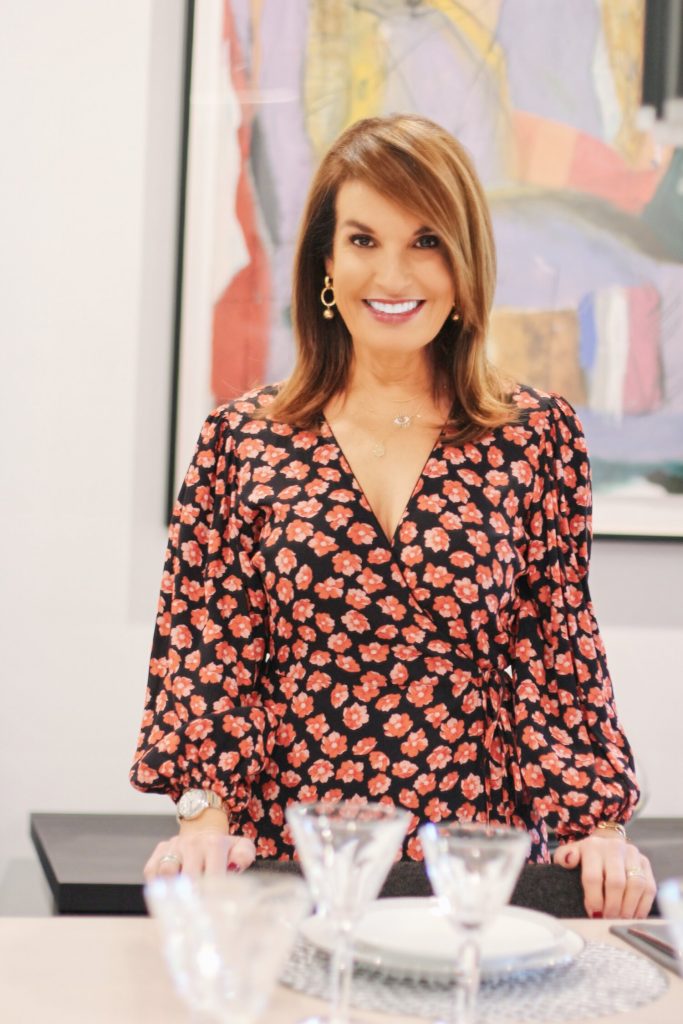 While visiting my mother in the desert a couple of weeks ago, I asked her if she would show my readers how she sets a table for an informal gathering. She created these looks quickly and easily.
She instructed me to cut different colored roses from her garden and handed me this fabulous Rosenthal white ceramic paper bag vase in which to arrange them.
When she uses her white plates, she pops the foreground with a chocolate brown napkin. She also never hesitates to mix and match place settings, especially for an informal gathering of friends. The use of napkin rings always finishes the setting and adds a unique tone, whether classic or modern.
Here you can see how she has set three different place settings in the same color family, with the same vibe. I think it's charming and inviting.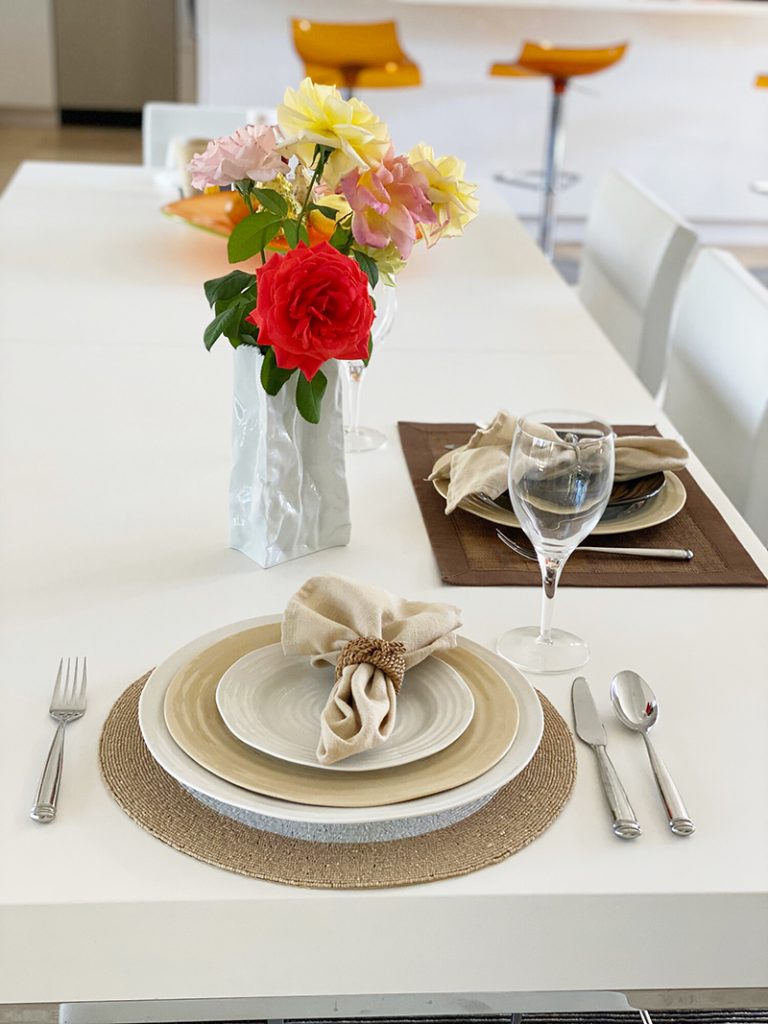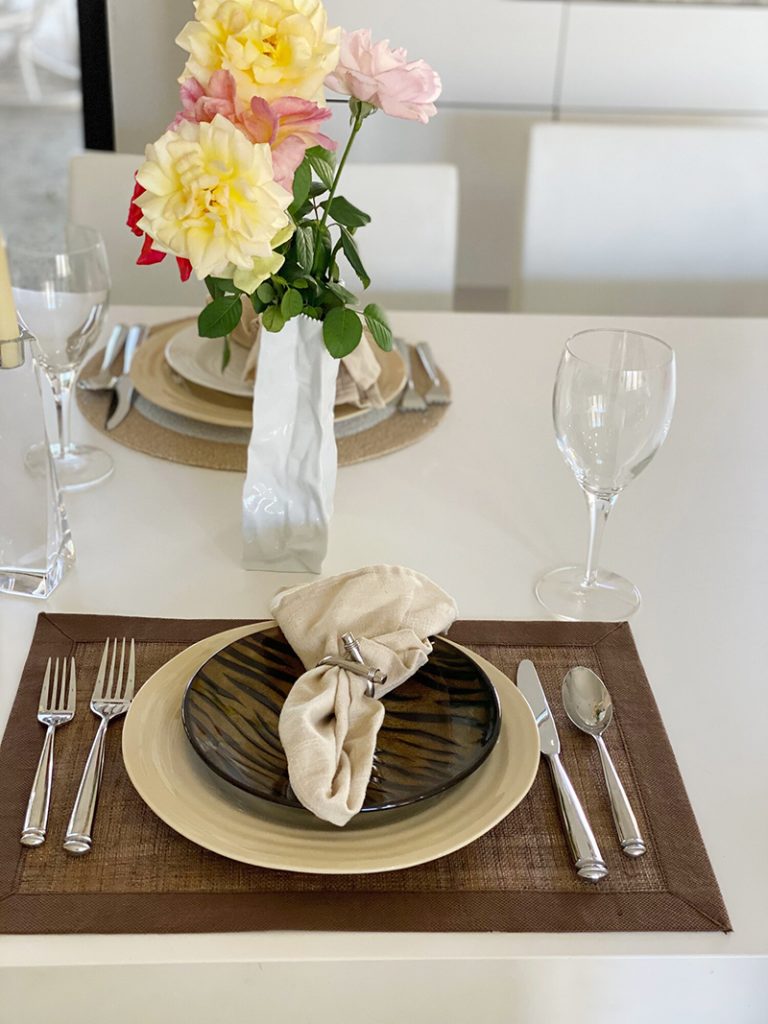 The place setting, below was created from items my mother found at the ninety-nine-cents-only store in Palm Desert! I love how she doubled the red and black paper napkins. The red plate is set upon a plastic disposable plate. Environmentally conscious, my mother re-uses it just as she would any other plate. In other words, it has become "indisposable!"