Call it another COVID fallout, but "mask-ne," or mask acne is a real thing. When you wear a face covering for several hours during the day, you are tempting bacteria with a breeding ground for clogging pores with excess sebum, causing blemishes. Adding an exercise regimen to this equation and you have now increased that breeding ground to a red alert for "bacteria haven." I apologize for the graphic description, but mask-ne is a condition that warrants a post all it's own since it has wreaked havoc on many a complexion, yours truly being the latest to succumb.
My friend and dermatologist, Dr. Leslie Rosoph explains, "The effect of having the moisture from breathing and sweat coupled with makeup and traces of toothpaste, compressed against your face, causes occlusion. This leads to acne and periorificial dermatitis."
I was spared from acne condition as a teen, and developed a tiny breakout during my early 20's and then again during peri-menopause, usually hormonal pimples. Now I suffer from periorificial acne, for which I take Minocycline, and oral antibiotics, and no topical medication. So when I receive acne creams, pimple remedies, and clarifying serums, I usually arrange them at the rear of my medicine cabinet, thinking that I will pass them along to younger members of my social circle since I am way past the need for them.
Fast forward to the age of mandatory face covering. Ever since the weather turned warmer here in Los Angeles, and I began exercising (and sweating) in a mask, whether it was from brisk walks, or runs, to training in my backyard and donning a mask, I developed mask-ne. I quickly rummaged inside my medicine cabinet and emerged with those acne remedies I had overly confidently hidden in the back.
After immediate and consistent use, my zits were reduced and my irritated skin was returned to its clearer self. Here are the steps that I took:
This cleanser is one of my favorites, as I reported a few months ago in my Cleanser Review. Loaded with all-natural ingredients like Charcoal which is naturally anti-bacterial, sulfate-free and detoxifying, this cleanser is the perfect remedy for skin that is off-kilter and in need of safe and gentle cleansing.
This clarifying serum does everything it purports to do. It clarifies the skin, de-stressing and calming it. It has near-magical properties that literally changed my skin overnight. It is something I will continue to use whenever my skin is feeling even the tiniest bit "stressed out!"
This cream is great for rebalancing the skin without drying it out. It cleared the skin and reduced redness. It is all-natural, and vegan and I highly recommend it!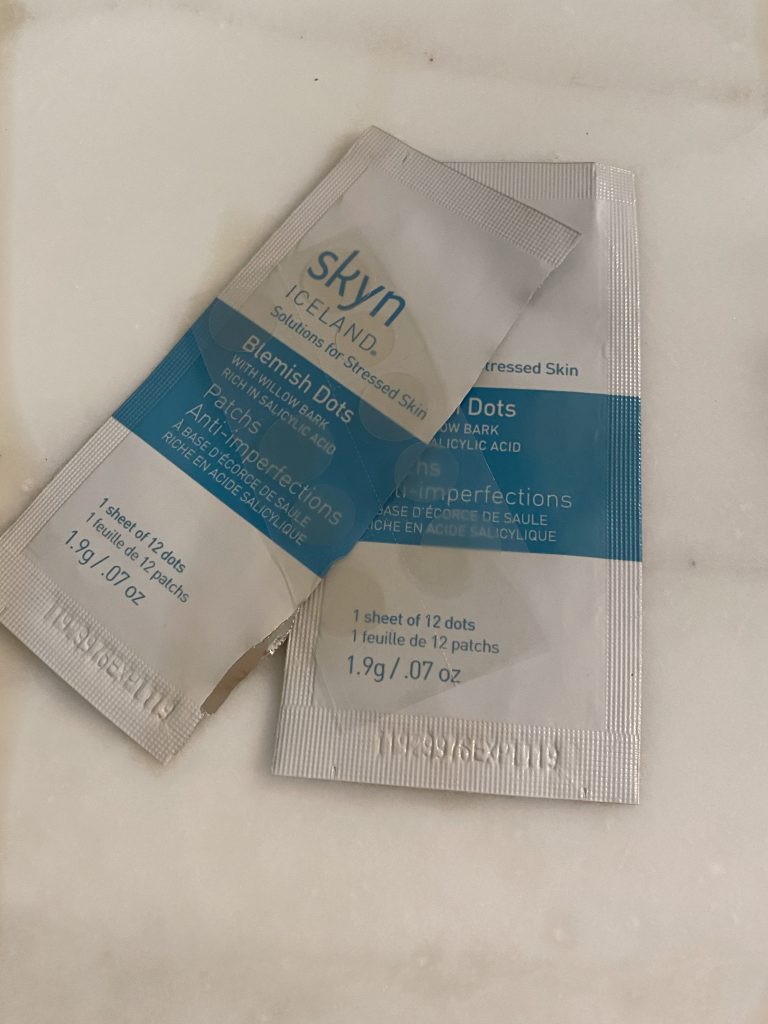 I am a believer, and if you watched my "before and after" Instagram story, you are as well. After revealing my first maskne pimple last month, I tore open this package and applied this transparent blemish dot, loaded with willow bark and salicylic acid, directly on to my zit. Twenty-four hours later, I revealed the positive result, in that my pimple was significantly reduced, almost invisible to the naked eye. These patches are very effective!