Yes, I know my dress is short. When I first started this blog, over six years ago, (that in and of itself is hard to fathom), I did a post about how short is appropriate after 50. I was 54 at the time… a mere baby… and there I was touting the virtues of fashion rules. Well, here I am nearly 61, and I have taken that post and tossed it into the garbage. I don't know about you, but this new way of life in which this virus has us sequestered has had me rethinking everything, starting with fashion rules. Who gives a hoot how long or short a skirt is, if you have worked hard to keep yourself in shape and your legs are not that bad, then go ahead and raise your hemline! Who really sees it now, anyway?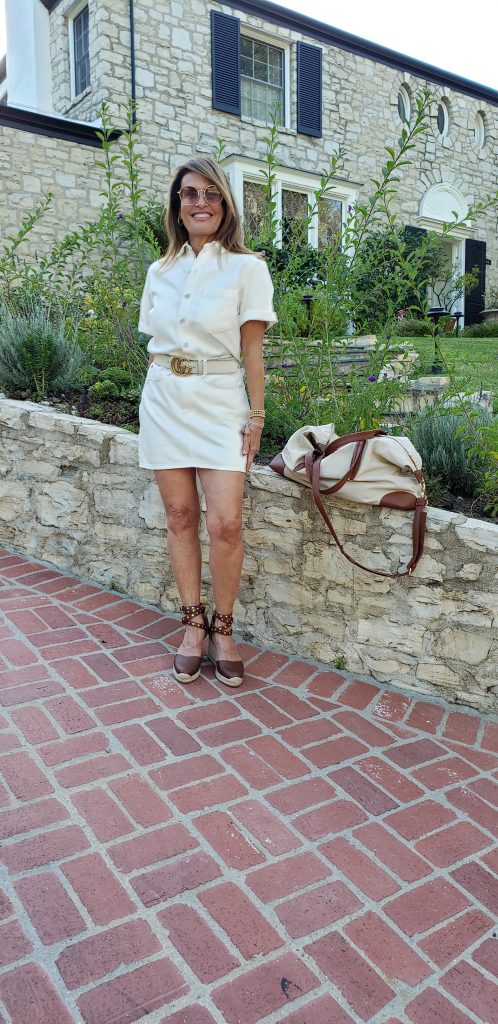 Many years ago, when my friend and I were both in our early forties, she called to ask me what length was in style at the time. We were both attending a gala that night, and she was asking for my fashion advice. My friend happens to have the most gorgeous legs, so I answered her thus: "Orna, for you and your legs, short is always in style!" And so there you have it: if you feel good in something then wear it. And I feel good in this cream denim shirtdress by Rag and Bone… so good, in fact, that I wore it with a high wedge shoe (which causes the dress to appear even shorter…so there!).
These shoes were a splurge, but it was extra points day at Bloomingdale's and they were rung at the exact right time to earn me a rather large gift card. I happened to find a very similar pair by Marc Fisher that is a fraction of the price, and are featured above in the caption under the photo, as well as at the bottom of this post in the "shop this look" carousel. This Henny and Lev weekender bag that was included in my summer Box Of Style has come in very handy this season, as I have toted it back and forth to Lake Tahoe.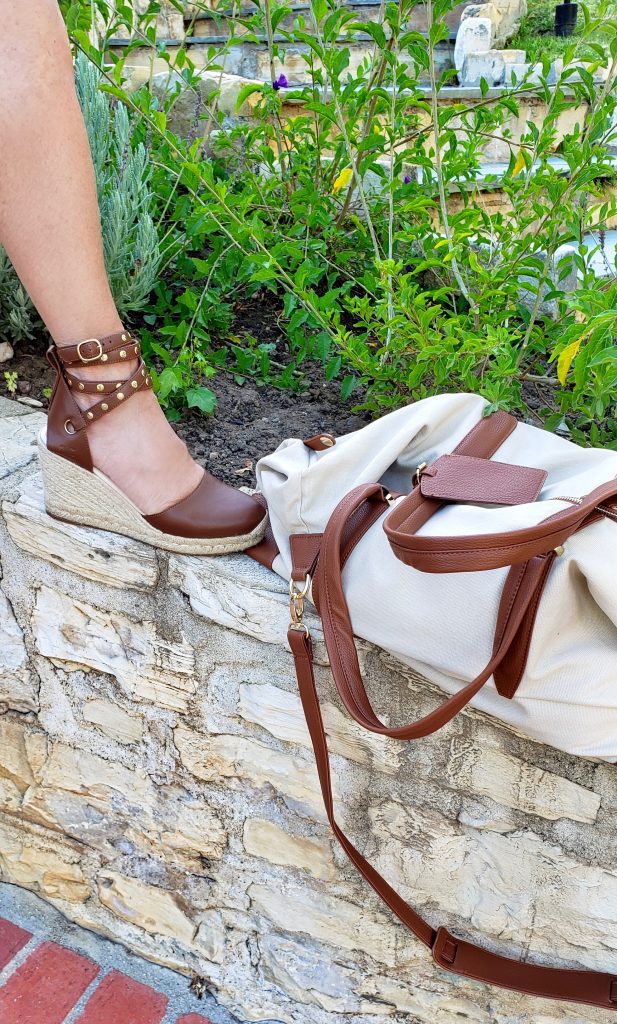 If there is a moral to this story it is this: a fashion rule is like a place holder… it's there as a reference, but certainly not the end result. How you feel in what you wear, is communicated loudly and clearly to the world, and that is the rule that should be followed.