I have been meaning to do a recipe post featuring Tofu, for quite some time. Since Yale's girlfriend, Ashlie, is vegetarian, I am always in search of fabulous vegetarian recipes to feature on the blog. On Friday nights, (Shabbat), when I serve chicken, meat, or salmon, I try to have a protein dish that will provide Ashlie with healthy, and delicious nutrients.
This was exactly that which inspired me to explore the recipe for a fabulous way to cook up Tofu, which would complement the roasted chicken that I was serving to the rest of the family. The trick with tofu is to buy the "extra firm" type so that it won't fall apart in the frying pan. In addition, the draining aspect for its preparation is extremely important. I place the tofu on a piece of paper towel, upon a china plate. On top of it I place another piece of paper towel and then an iron skillet; if you do not own an iron skillet, place a heavy sauce or frying pan. Leave it for 30 minutes, checking on it a couple of times, and changing the paper towel. The more drained, the better it will be in the saucepan. Another secret is to coat the tofu cubes with cornstarch. This gets them crispier faster, and no one is the wiser.
Here is the recipe for Asian Inspired Sautéed Tofu. Have fun!
Ingredients:
14 ounces extra-firm tofu
2 tablespoons cornstarch
1 tablespoon sesame oil
For the Sauce:
1/4 cup of low-sodium soy sauce
2 tablespoons of water
2 teaspoons of honey
1 1/2 teaspoons of chili garlic sauce or sambal oelek (adjust for your level of spiciness
1/2 teaspoon of rice wine vinegar
2 teaspoons of cornstarch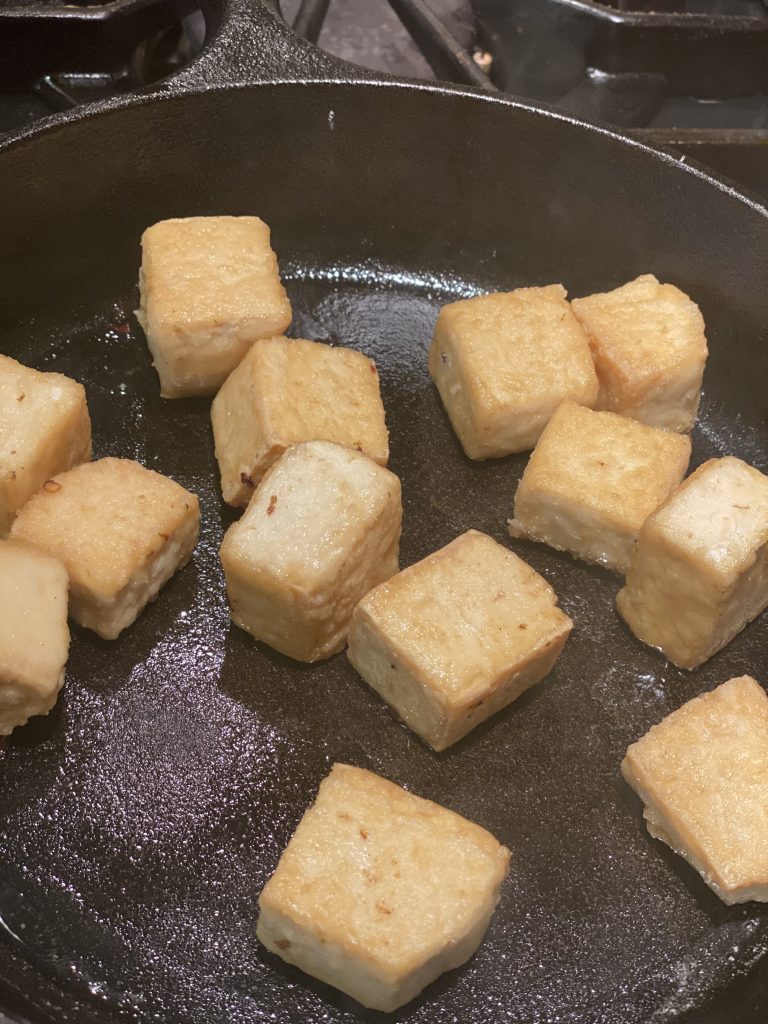 Directions:
In a large skillet, add sesame oil then bring up to medium-high heat.
Once the oil is heated up, add the tofu to the skillet and let brown on all sides.
In the meantime, whisk together the ingredients for the sauce.
Once the tofu has browned and crisped up on all sides, add the sauce to the skillet and it should start to thicken immediately. Toss the tofu around to coat then remove from heat.
Garnish with sesame seeds and scallions.