Ala Von Auersperg has done it again! She has created a glamorous work of art that looks as gorgeous on or off the hanger. There are times when I look at the two pieces of her's that reside in my closet and admire them as works of art. For that is what they truly are.
Ala is a painter, whose renderings of nature have been transferred to fabric and worn by thousands of women all over the world. When I wear an Ala Von Ausperg, I feel beautiful. She knows how to design for women; her clothes have the ability to transcend time and place, where fantasy and reality meet, and where nature rules. That is the kind of world in which I care to reside, especially now. You may recall that I featured this beauty a little while ago.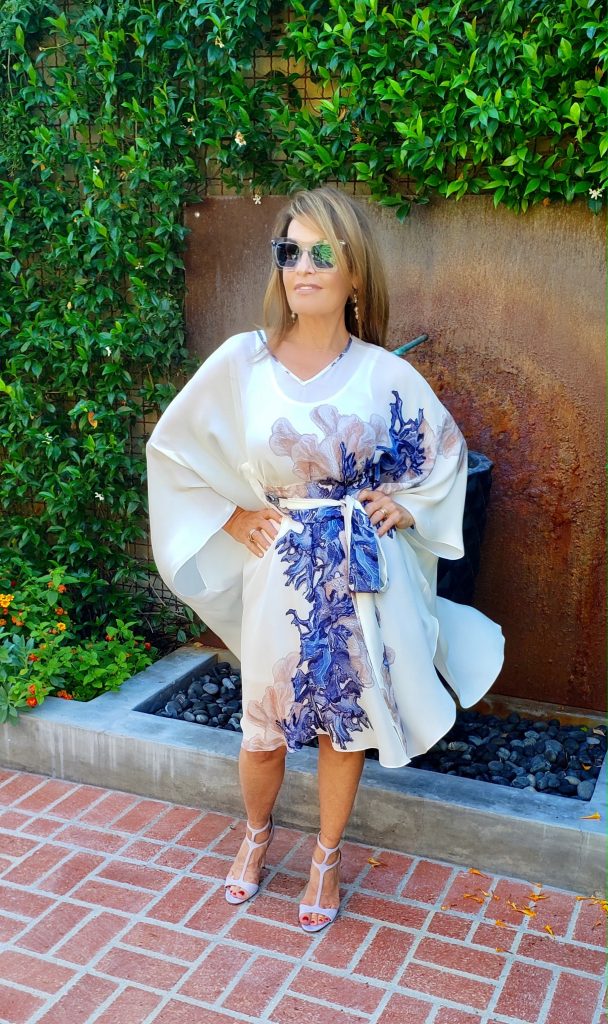 This kaftan exemplifies all that makes Ala Von Auersperg's clothing exceptional. It is soft, flowy, dreamy and feminine; it moves with grace and rhythm, and is a total attention grabber!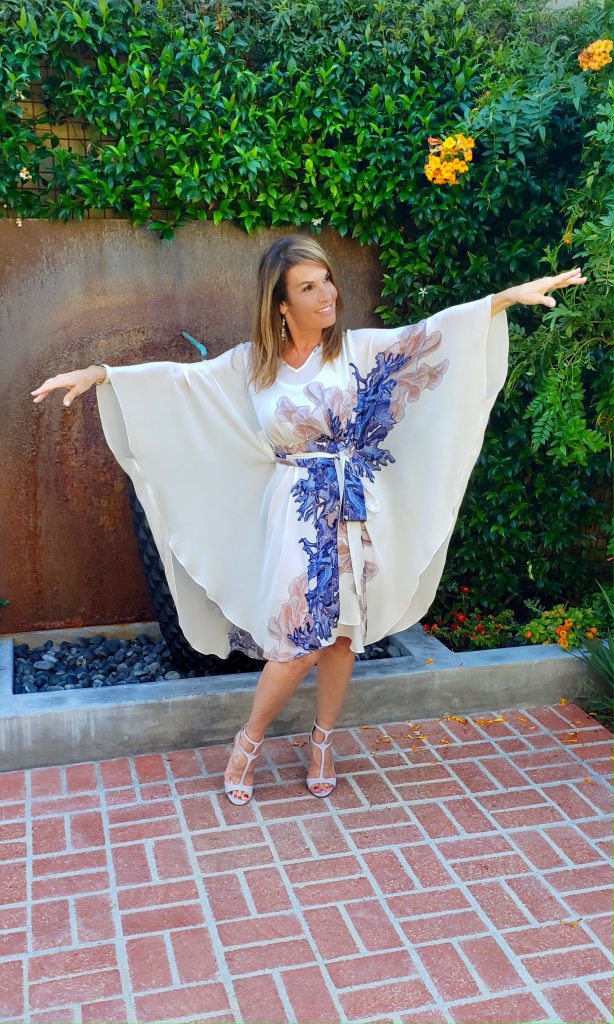 And let's not leave out the drama of this piece. The sleeves create a wing-like effect that, on the day that we shot these photos, commanded my arms to move balletically; that move morphed into an entire dance sequence. Perhaps I should have titled this post, "The Kaftan That Made Me Dance!"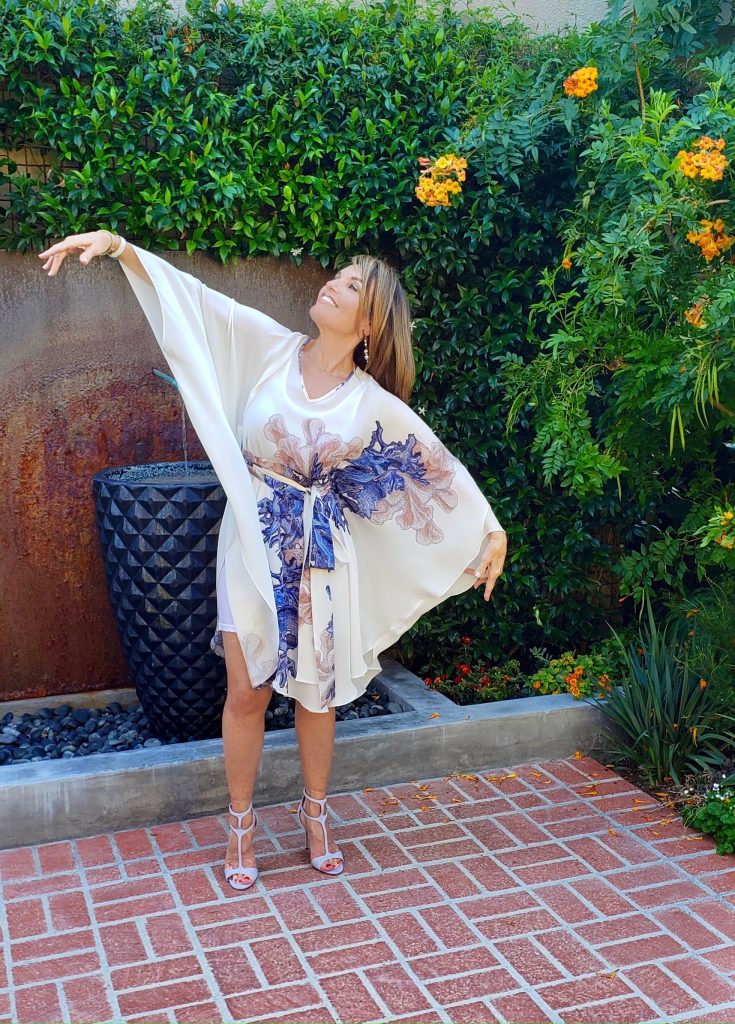 There is a definite coral pattern to this kaftan and the obe belt, which inserts under the arms and around my back, is a nod to Asian influences. I love the fact that the belt does not interfere with the back of the kaftan, leaving its beauty and elegance intact and unencumbered.
Here is where the multi-functionality of this kaftan comes into play. I took it to the beach in Lake Tahoe and wore it over my swimsuit. Of course, these photos are highly editorialized with the pearls worn crossbody and a vintage YSL "jazz" cuff on my wrist, which accentuate the drama of the Kaftan. But why not take liberties when you are wearing such a gorgeous item of clothing!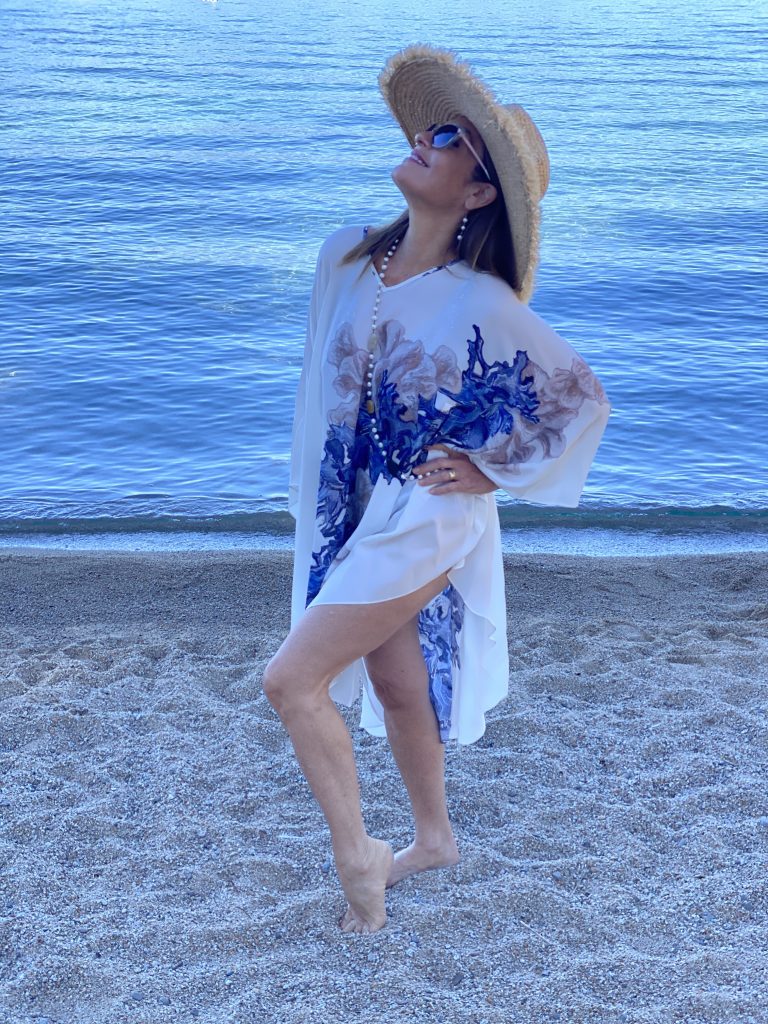 The moral of this fashion story is that there can be many ways to wear clothes. Sometimes they present themselves in obvious ways, and other times, you must rely on your creativity. Never stop looking for the possibilities of fashion, because they are always endless.