I take an 8Greens tablet every day. I have been doing this off and on for a couple of years, but ever since we began the COVID quarantine, I take a tablet religiously, every single day. The 8Greens tablets were developed by Lady Dawn Russell, who at the age of 25 was diagnosed with stage III cancer; she contracted a bone infection during her fourth surgery that left her immune system too compromised to undergo radio or chemotherapy.
Dawn's journey to health is fascinating, and after ten years of research, testing, and using herself as the trial recipient, Dawn received funding and was able to begin developing 8Greens. By 2015, after five years of testing, five manufacturers, and 263 prototypes, 8Greens was created… phew! So what is packed in this amazing tablet?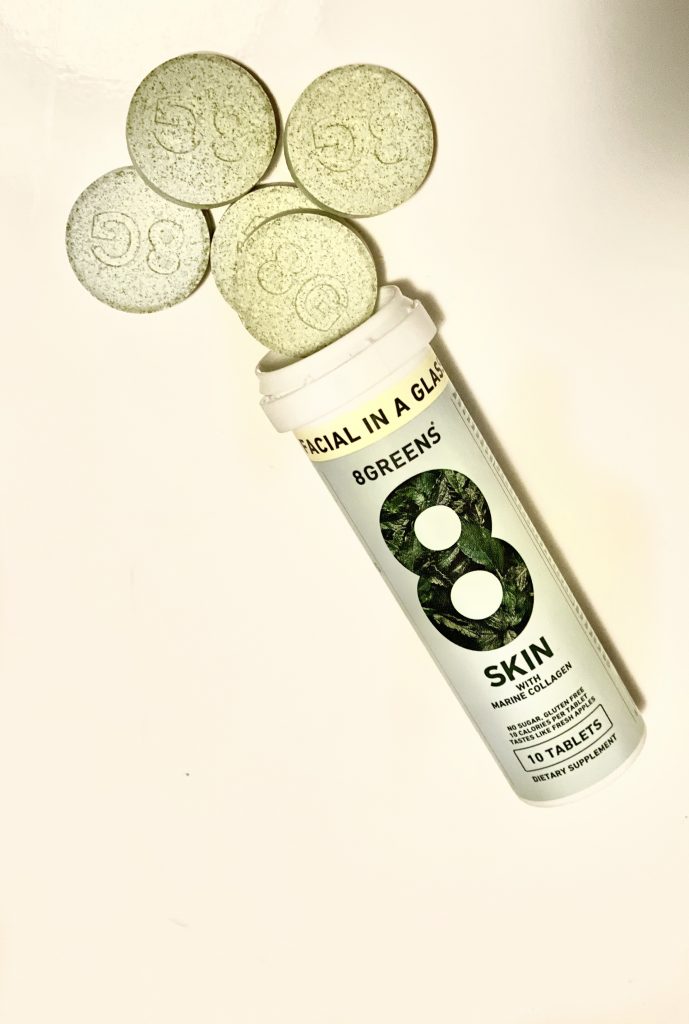 Spinach: Alkalizing properties help support a healthy aging process with antioxidants, Vitamin A, calcium, and iron.
Spirulina: Assists in supporting a healthy digestive system and digesting sugar, and assists with the body's natural ability to lose weight.
Aloe Vera: Promotes the natural healing process, soothes stomach irritations, and increases immunity.
Wheatgrass: Rich in alkalizing minerals, it supports red blood cell production, healthy circulation, and fights inflammation.
Blue-Green Algae: Assists with weight loss and stress and boosts the immune system, energy, memory, and metabolism.
Barley Grass: Promotes a healthy immune and digestive system. Contains thousands of active enzymes and naturally-occurring chlorophyll.
Chlorella: Supports the body's natural ability to remove toxins and is rich in amino acids.
Kale: Seven times more beta-carotene than broccoli—one of the healthiest vegetables around!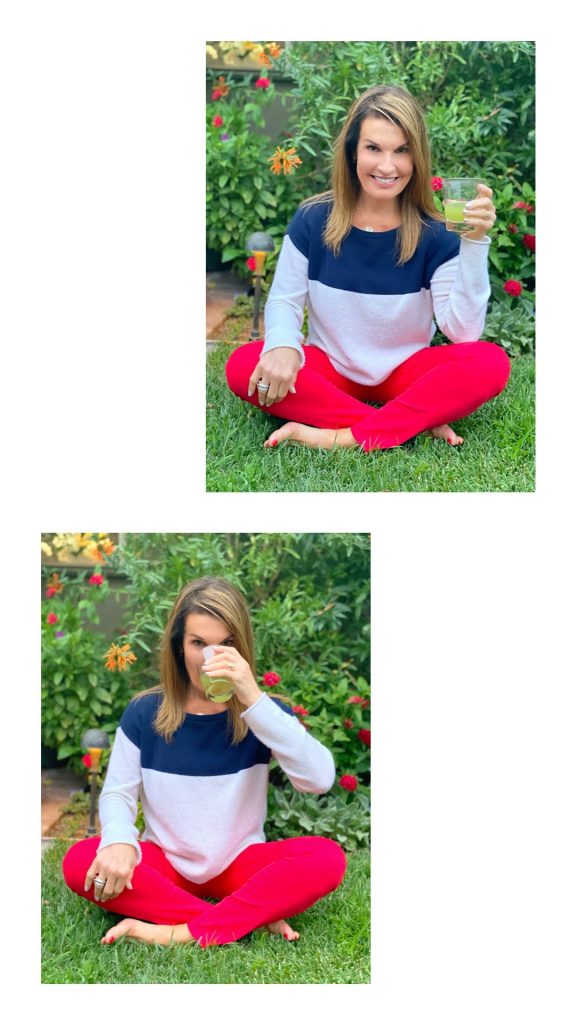 When I became an 8Greens fan, I immediately purchased the cookbook and made the Summer Fruit Cobbler (which is AMAZING, by the way). I was reluctant to use the tablets in the cooking, unsure if it would alter the taste; I was pleasantly surprised… you cannot taste the tablet, but it feels good knowing that it's in there!
It is not imperative to include the tablet in the recipe. However, I am a huge advocate of this supplement, so if you have it, use it in the recipe so that your family can benefit from the added nutrients.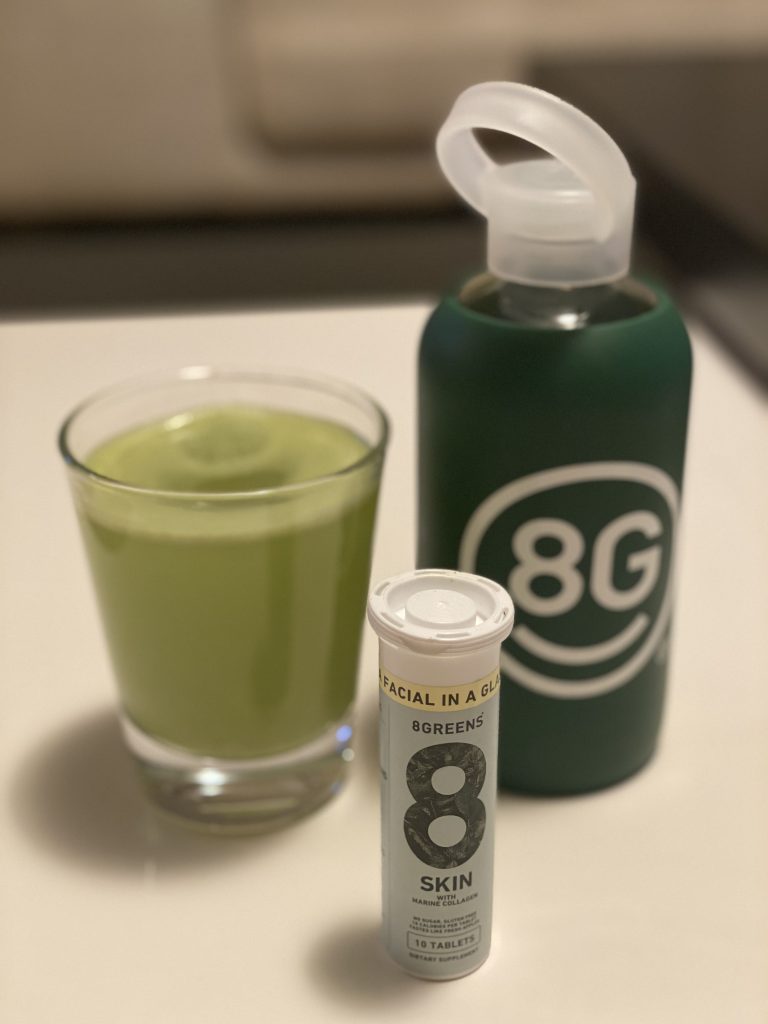 Recipe:
Ingredients:
4 cups of broccoli florets
1 cup of peeled and chopped white root vegetables like parsnip, white potato or turnip (I use parsnip)
4 tablespoons of olive oil
2 tablespoons of ghee or grass-fed unsalted butter
3 garlic cloves, minced
1 small shallot or 1/4 cup of yellow onion, chopped
1 teaspoon of thyme leaves
1 teaspoon of oregano leaves
1 teaspoon of parsley leaves
1 8Greens tablet dissolved in 1-quart chicken or vegetable broth
(you can omit the tablet)
2 cups of spinach leaves
Optional Toppings:
2 tablespoons of ghee or butter
2 tablespoons of chopped shallot
1 kale leaf
4 fresh sage leaves
olive oil
red pepper flakes
Directions:
Preheat the oven to 350 degrees.
Scatter the broccoli florets and root vegetable chunks on a baking tray, drizzle with olive oil, mix by hand to coat with olive oil. Roast in the oven for 20 minutes, flipping halfway through so they caramelize but don't burn.
Meanwhile, in a large pot, melt the ghee or butter over a medium-low heat. Add the minced garlic and shallot or onion, sweat for 4-5 minutes, turn the heat down to low. Stir in thyme, oregano, and parsley until shallot is soft and translucent.
When broccoli and root vegetables are done, add 8Greens broth, or just the broth, to the pot, raise the heat and bring to a rolling boil. Tip in roasted vegetables and cook for 10 minutes.
Off the heat, add spinach to the soup, stirring in leaves with a spoon. Transfer to a high-powered blender, blend. Taste and add salt, if you wish.
If you want to add toppings, in a small pan heat the ghee or butter over medium-high heat and sauté shallot, kale and sage leaves until crispy.
Serve soup warm topped with crispy shallots, kale and sage leaves. Or simply drizzle with olive oil and scatter with red pepper flakes… YUM!