I will explore 9 of the 18 looks that I packed and wore on our recent trip to Budapest, Vilnius and Paris in this post!
We have just returned from a whirlwind tour of Eastern Europe. Jeff and I traveled to Budapest and Vilnius with the Jewish Federation of Los Angeles. This trip was jam-packed with in-depth visits to both Jewish and secular sites. We learned, sang, danced, laughed and cried with our Jewish brothers and sisters. There were moments of deep sadness as we listened to the stories of survivors of the Holocaust. It was followed by moments of great joy as we met with children and teens from all over Eastern Europe, the Baltic countries, Turkey, Russia, India, Canada and the U.S. at the Jewish summer camp of Szarvas, located outside of Budapest. Meeting with these young people, some of whom only recently discovered that they are Jewish, filled my heart simultaneously with sadness and joy. The fact that their parents once felt a need to hide their religion  saddened me greatly, the fact that they and their children are now embracing it fills me with hope. As an active member of the Jewish Federation, I am incredibly proud to be part of an organization that is so committed to ensuring the Jewish future.
In packing for a nine day trip such as this, I decided to go with carry on luggage only. When I pack, I use black and white as my basic backdrop and adding pops of color throughout in the form of skirts, dresses and accessories.
Here is what I packed:
1) Tops: Both white and black. Two tanks, two tees both short and long-sleeved.
2) Pants: black, white and denim jeans, one of each.
3) Dresses: I packed six dresses in many varieties from t-shirt style to long pleated.
4) Skirts: three fabulous long pleated skirts and one colored denim mini skirt.
5) Shoes: I packed a whopping seven pairs! Two pairs of flat sandals, one pair of ballet flats, one pair of leather espadrille flats, one pair of slip-on as well as tie up sneakers, dressy low block-heel sandals.
6) Accessories: A mix of inexpensive gold and silver earrings, bracelets and necklaces and one colored necklace. My black leather Hermes belt and a stretch belt by Sandro.
7) Scarves: Anyone who knows me knows that I have a plethora of scarves… from neckties to large squares, I have this area covered, no pun intended. For this trip, I packed two neck-tie silk squares and one large black Louis Vuitton wrap.
8) Outerwear: one black silk bomber jacket by Victoria Beckham, one white cotton jean jacket by Theory and one rain jacket that folds into its pouch by Max Mara.
9) Handbag: one fabulous Louis Vuitton belt bag that converts to a shoulder/crossbody purse.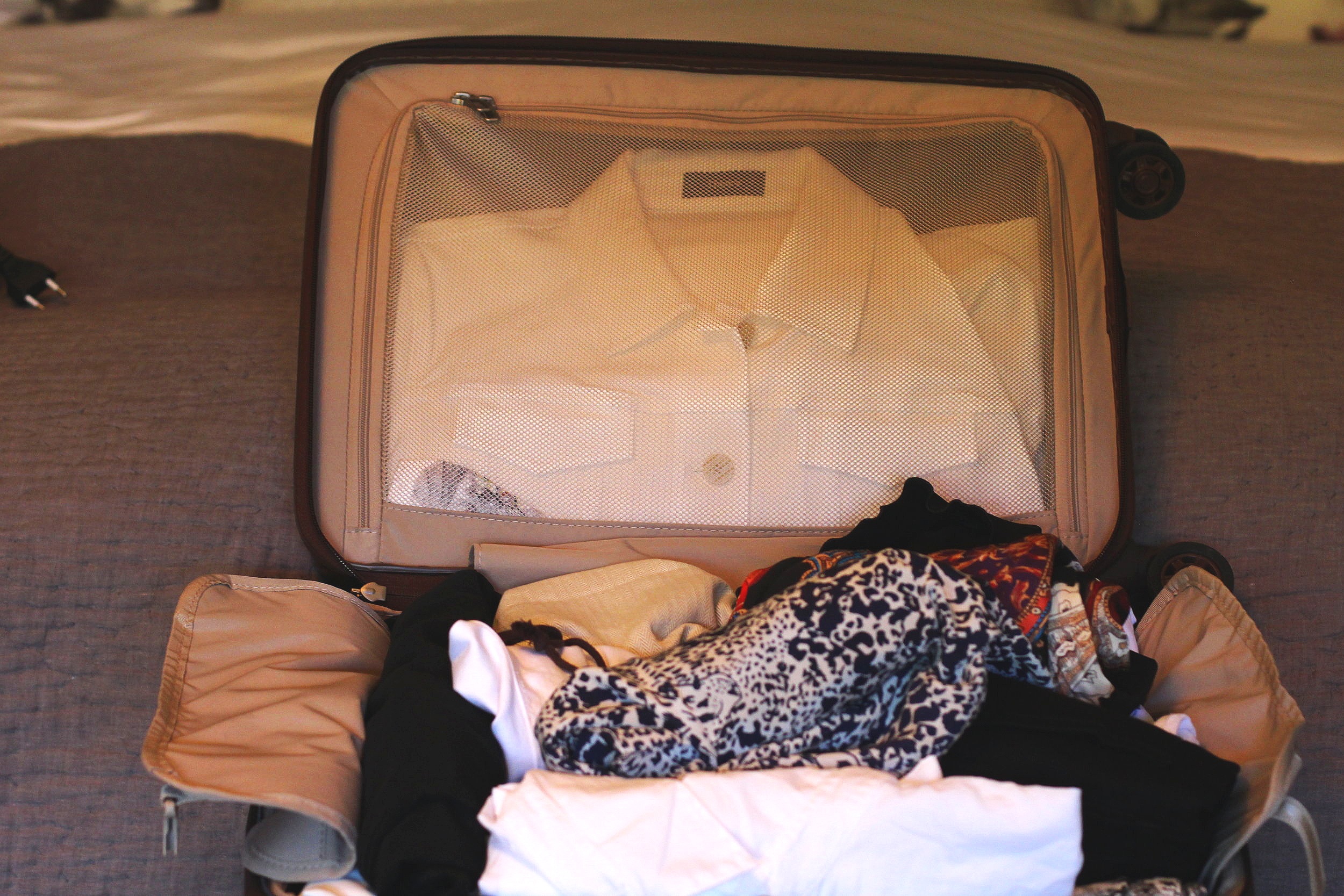 Everything gets rolled into the suitcase. My compulsively neat sister, Janet, introduced me to rolling clothes into luggage years ago. Since then, this is the only way I pack. I never close the suitcase until the minute before I leave for the airport. When I arrive at my destination, sometimes twenty to twenty-four hours later, almost all of the clothes come out crease-free!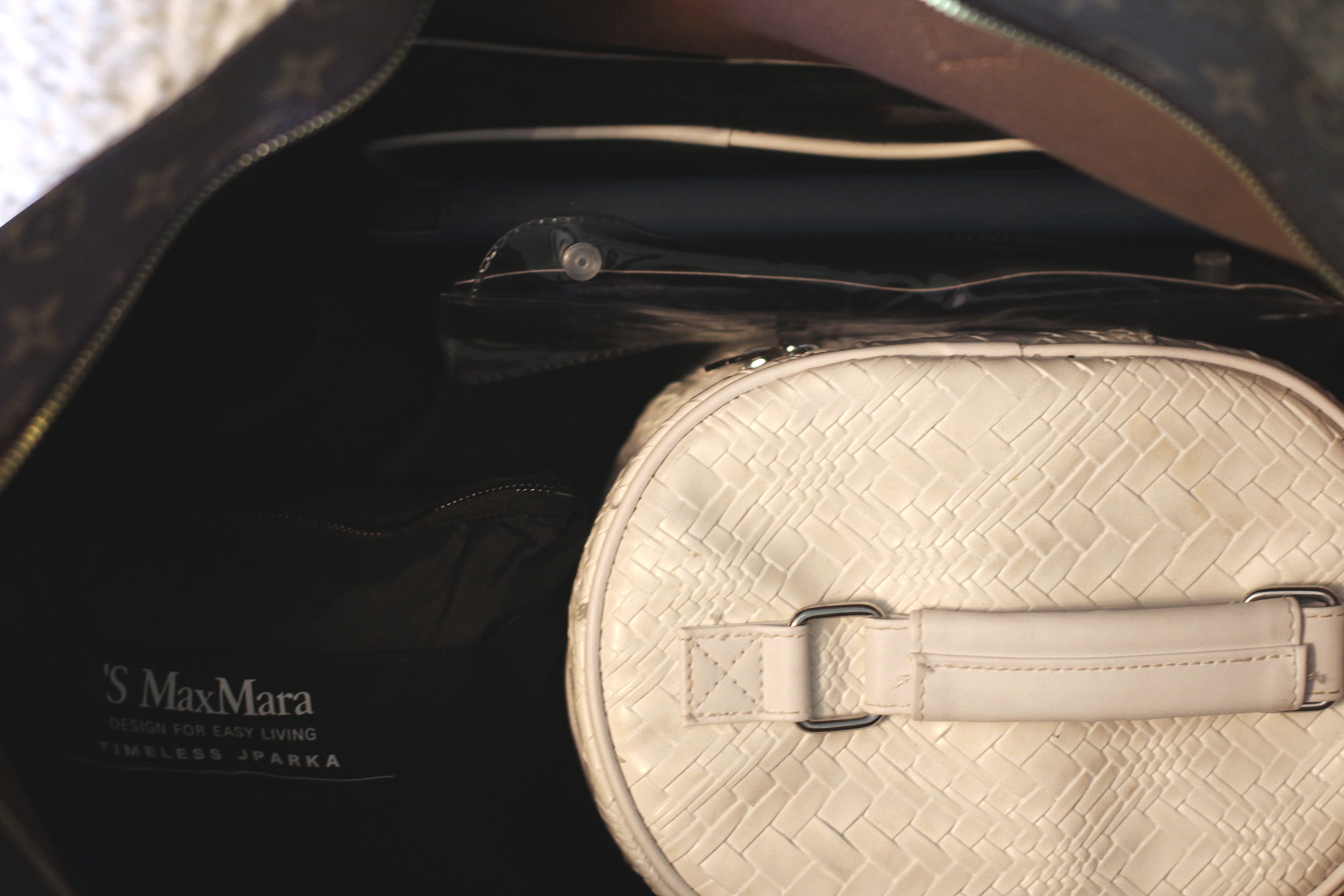 My super-fabulous Louis Vuitton leather bag is filled with this toiletry case that was a gift with purchase from my La Prairie skincare days. I have my iPad, headphones, earbuds, eye covers for sleeping, glasses, shades, my Chloe flats, LV scarf and rain jacket/pouch.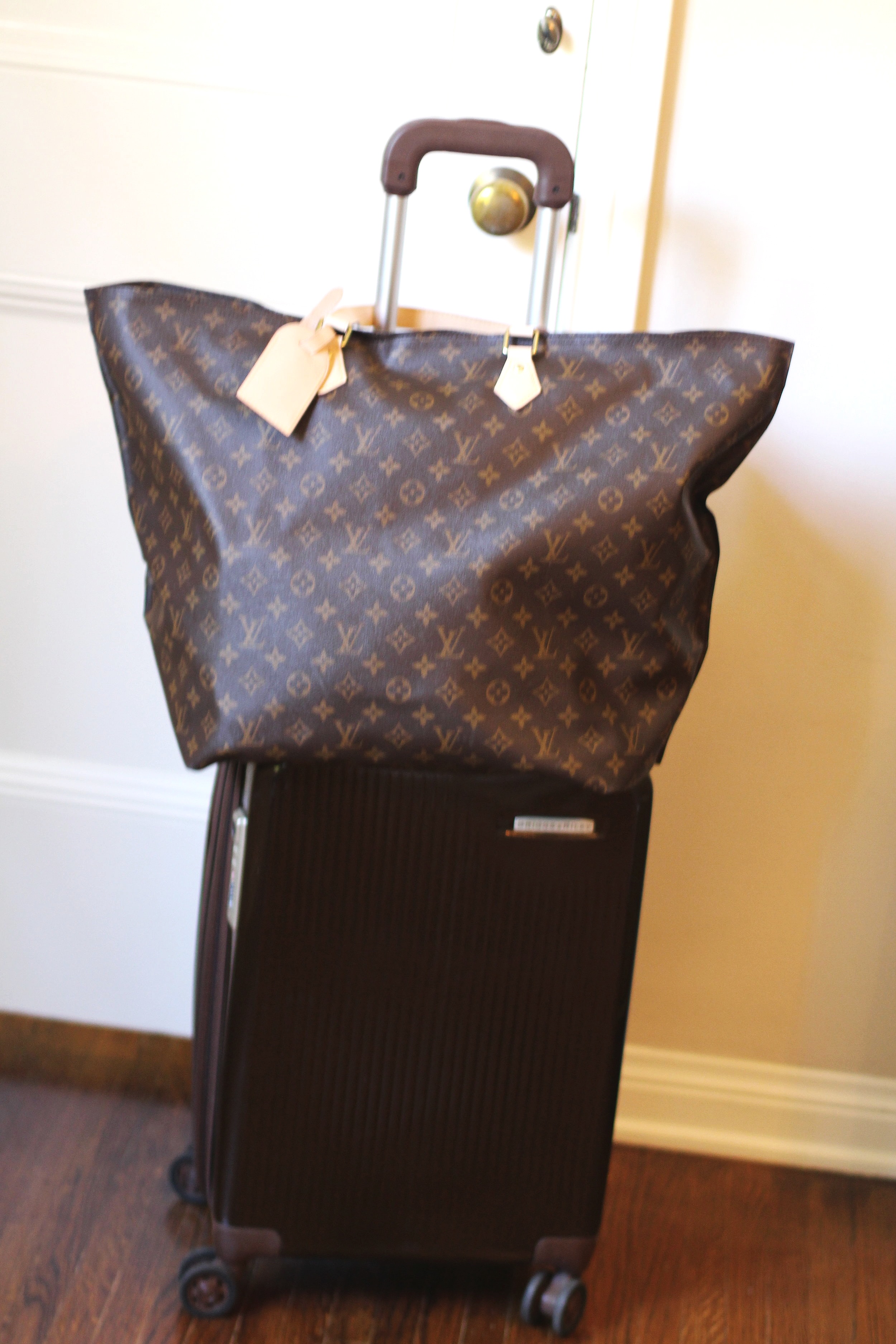 And voilà, it all fits! Louis Vuitton travel bag , Briggs and Riley luggage.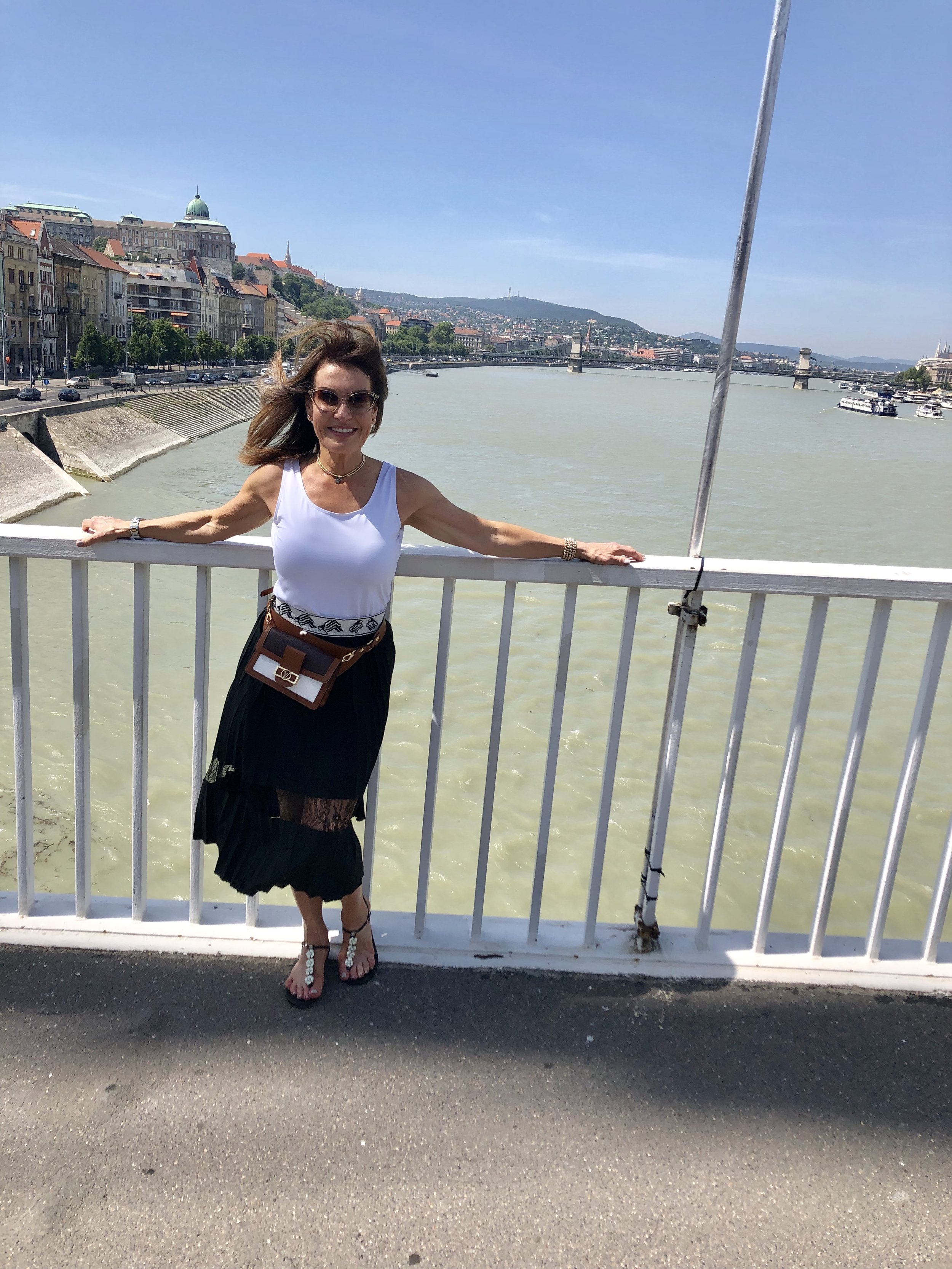 A little wind-blown but excited as we landed in Budapest a mere three hours before this photo was snapped. It was ninety-three degrees when we landed so out came this breezy skirt and tank top. Worth Top, A World Curated Skirt and Chokers, Jewels by Molly Bracelets, Chanel Sandals, Louis Vuitton Belt Bag, Tom Ford Sunglasses.
Not my favorite photo, but it's the only one I have of this great Enzo Costa T-Shirt Dress. It is cinched at the waist, just at the point where my body is leaning into Jeff, and hiding this flattering feature.
Standing in front of plaques marking the names of the families that lived there before being herded off to ghettos and death camps. These are the sobering reminders of the atrocities this community bore. Chanel Chain Sandals, A World Curated pleated Skirt.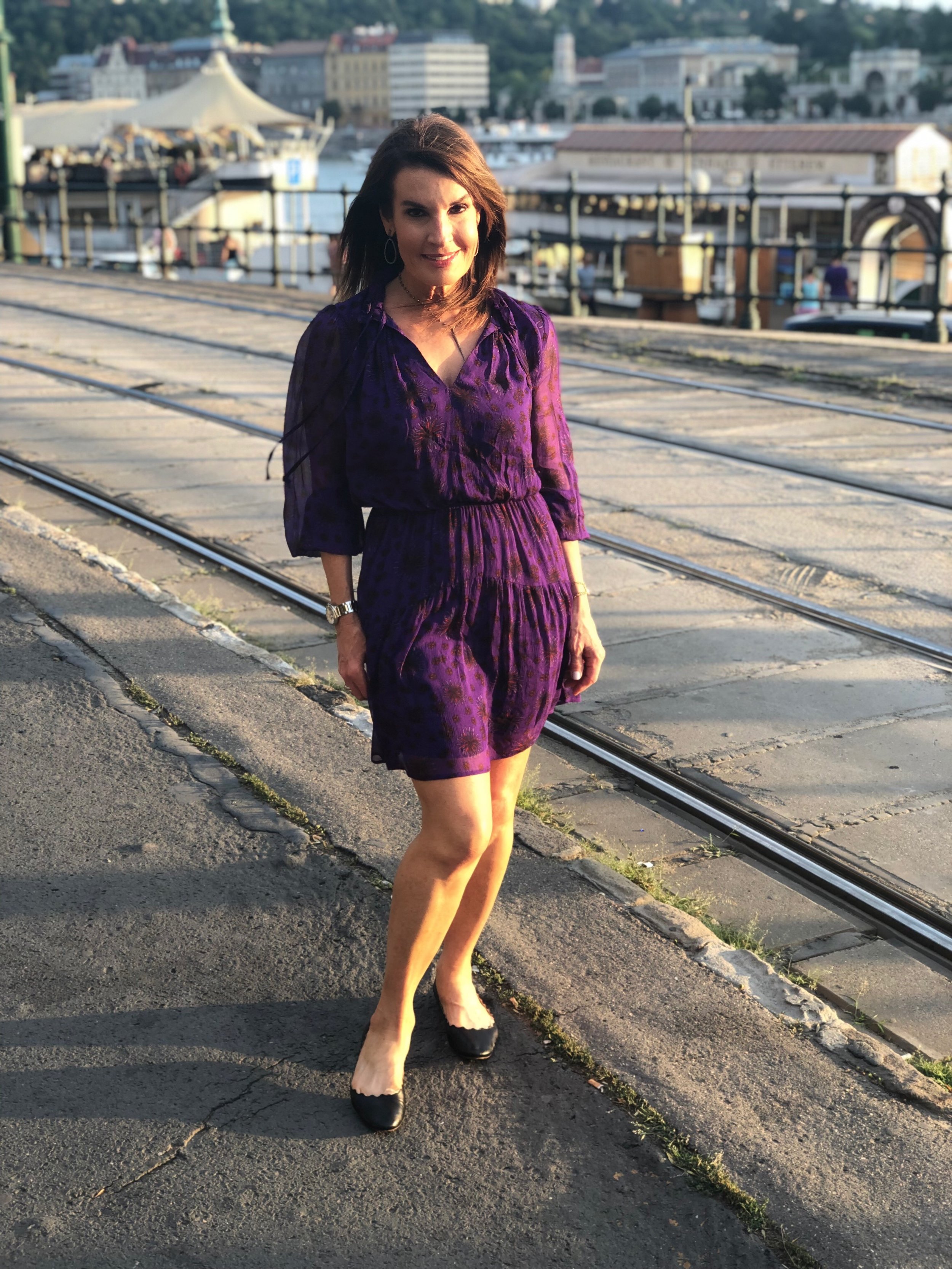 One of my favorite dresses and photos. Thanks to my Instagram hubby! This is my Ba&sh dress paired with my Chloe Flats. Not pictured Dr Scholl Gel Insoles.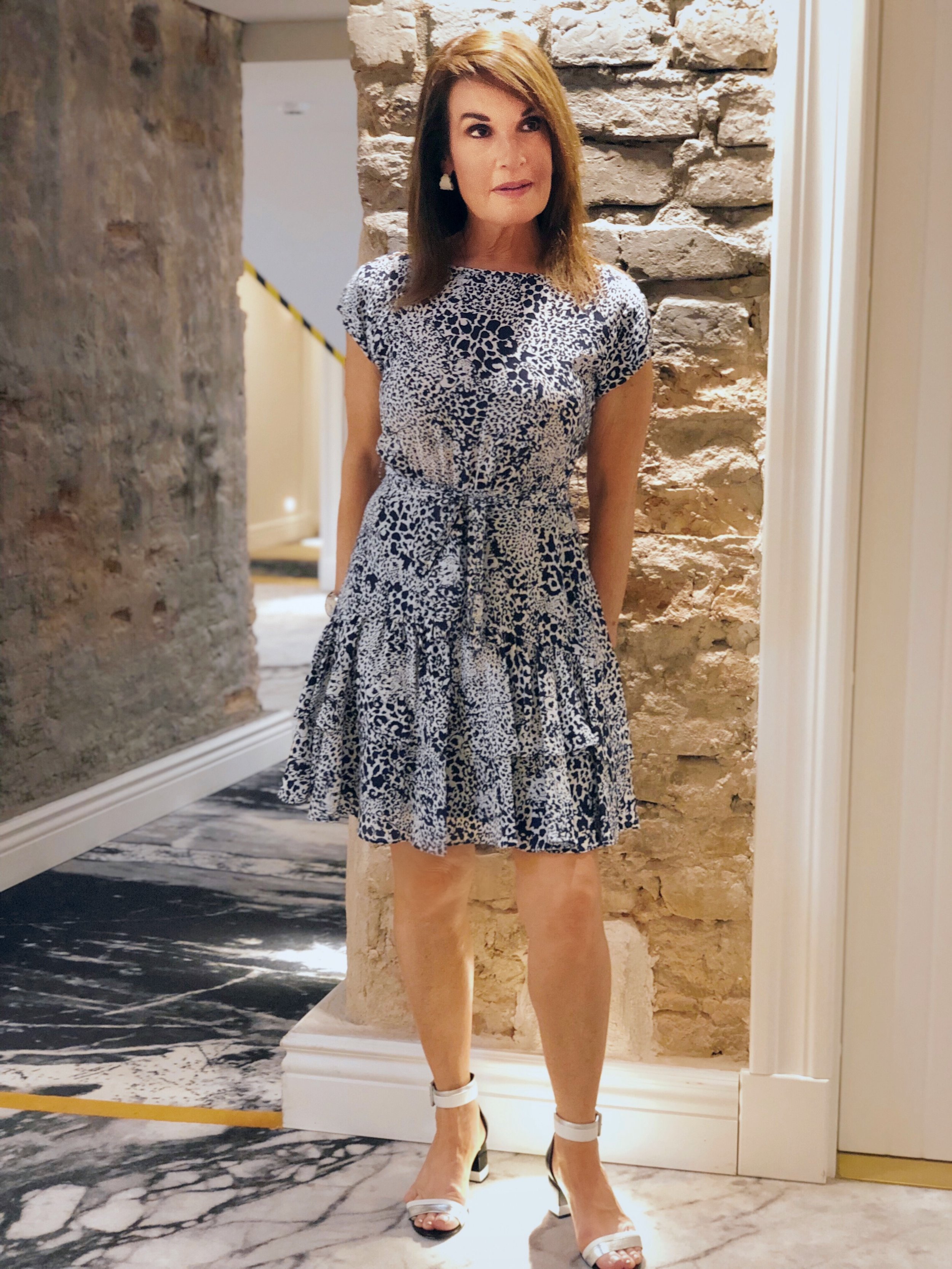 Ready for Shabbat in Vilnius. I am standing in front of one of the fabulous interior walls of the Hotel Pacai. Here I am wearing my Rebecca Taylor Dress paired with Pierre Hardy Sandals.
In front of the Wall of Luminaries in Vilnius, which featured many Jewish writers. Here I am wearing my Victoria Beckham Jacket, Max Mara Tank and Long-Sleeved Top, J Brand Jeans, Hermes Belt, John Hardy hoop Earrings, Saint Laurent Leather Sneakers. Not pictured is the HUE peds that are meant to be hidden and did not move!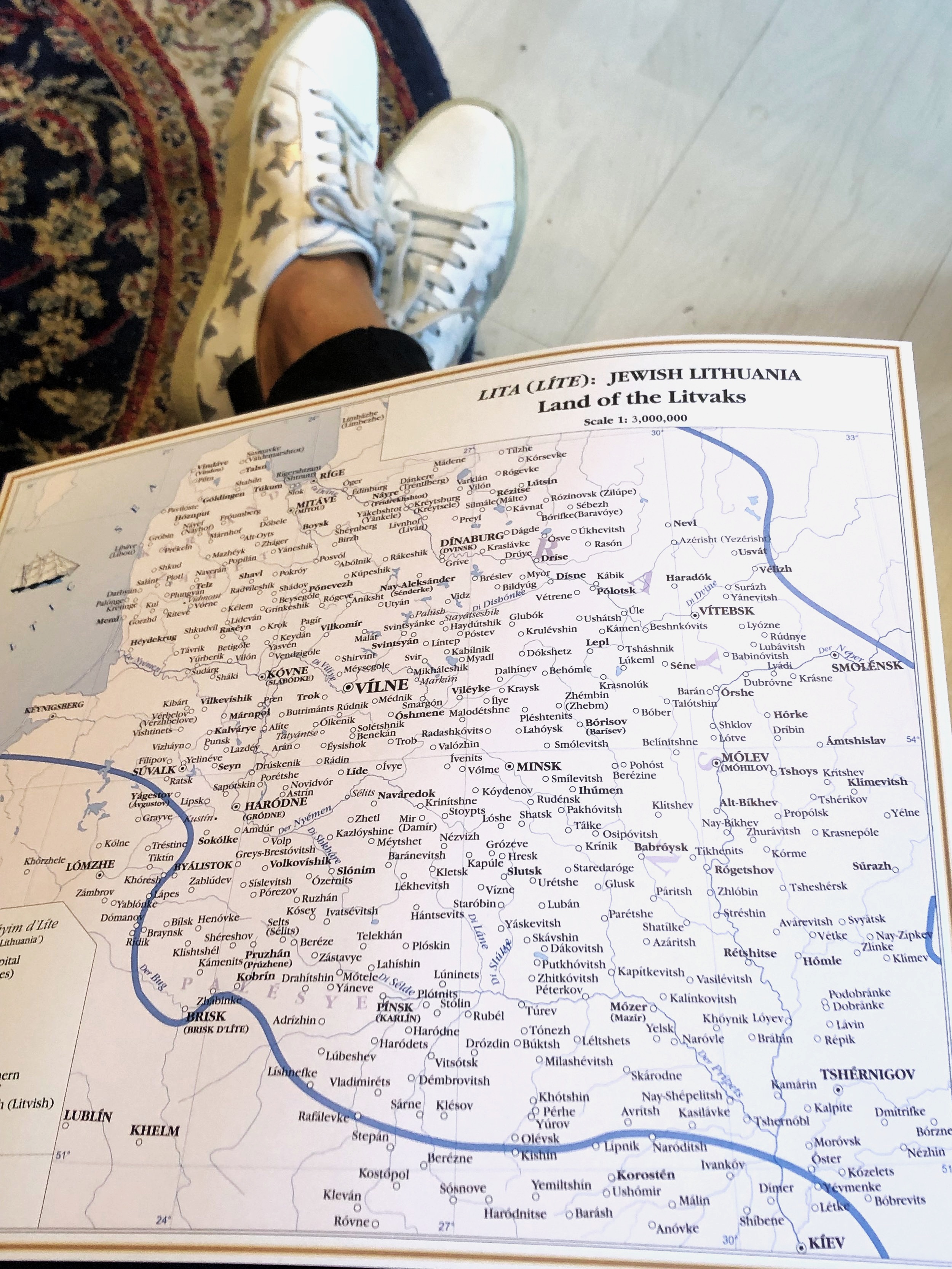 Here is another shot of those fab sneakers peeking out from under a map of Jewish Lithuania. A staggering seventy thousand Jews were murdered in the Panerai Forest near Vilnius. Their bodies were dumped into twelve different pits and burned.
One of the 12 pits in the Panerai Forest.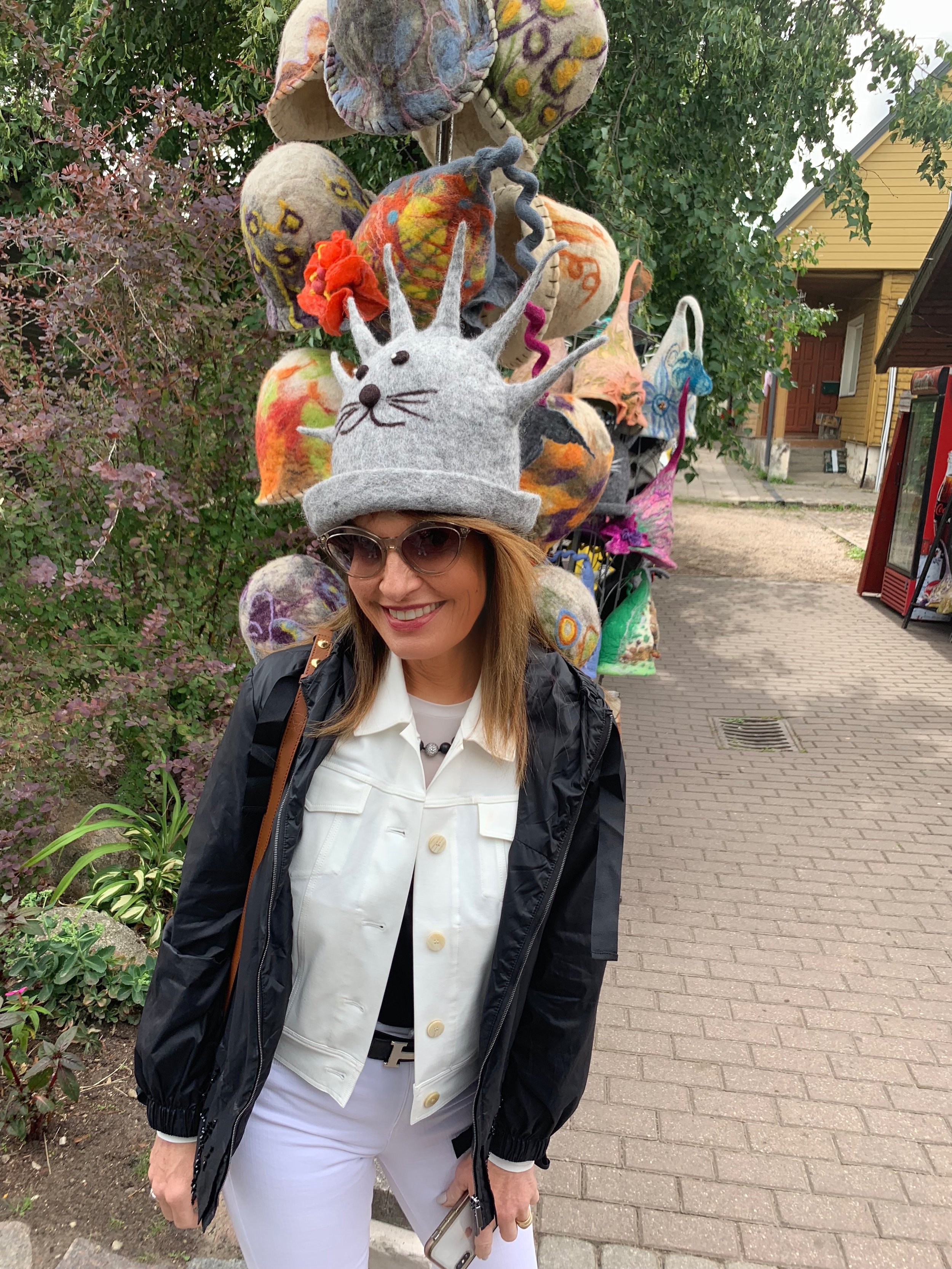 Goofing as a tourist but showing my layers! Here I am wearing my Max Mara Rain Jacket, Theory Jean Jacket, James Perse T-Shirt over Max Mara Tank and Long Sleeved Top, Hermes Belt, L'Agence Jeans and Vince Shoes.
On a walk back to the hotel we came upon this disturbing anti-semitic painting being sold in an open-air market in the old town of Vilnius. Moments such as this taint the moments of joy we experienced. To me, this proves that our work is never done until all hatred is eradicated.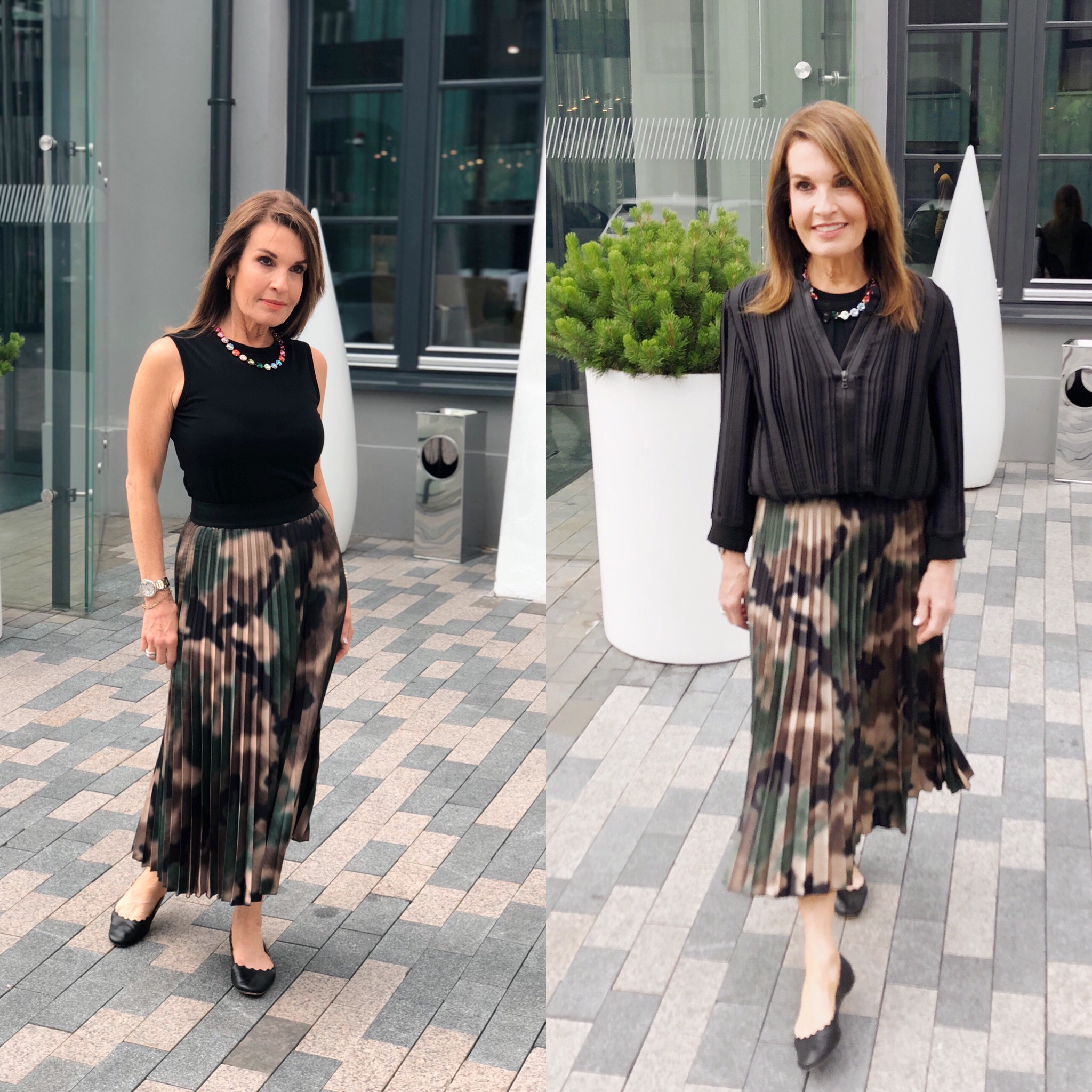 Another fabulous pleated skirt by A World Curated, Comrags Top, Cathy Belzberg Necklace, Victoria Beckham Bomber Jacket, Chloe Flats.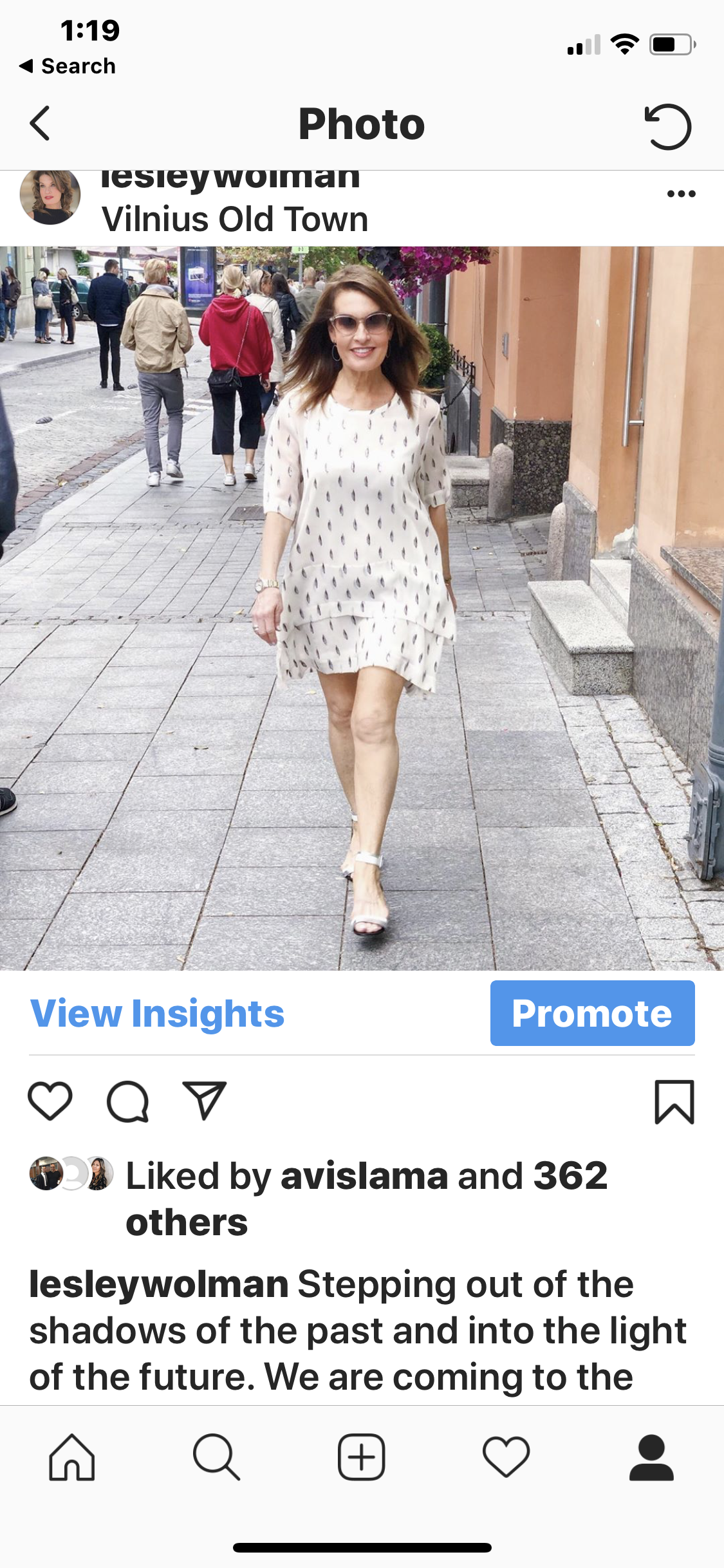 Strolling the streets of the old city of Vilnius, once home to two hundred fifty-thousand Jews, now home to approximately four thousand. These numbers are heartbreaking. But it fills me with hope and pride that the Jewish Federation and its partner, The Joint Distribution Committee, are helping to rebuild and rejuvenate this Jewish community. Wearing my now vintage, tried and true Iro Dress and equally tried and true Pierre Hardy Sandals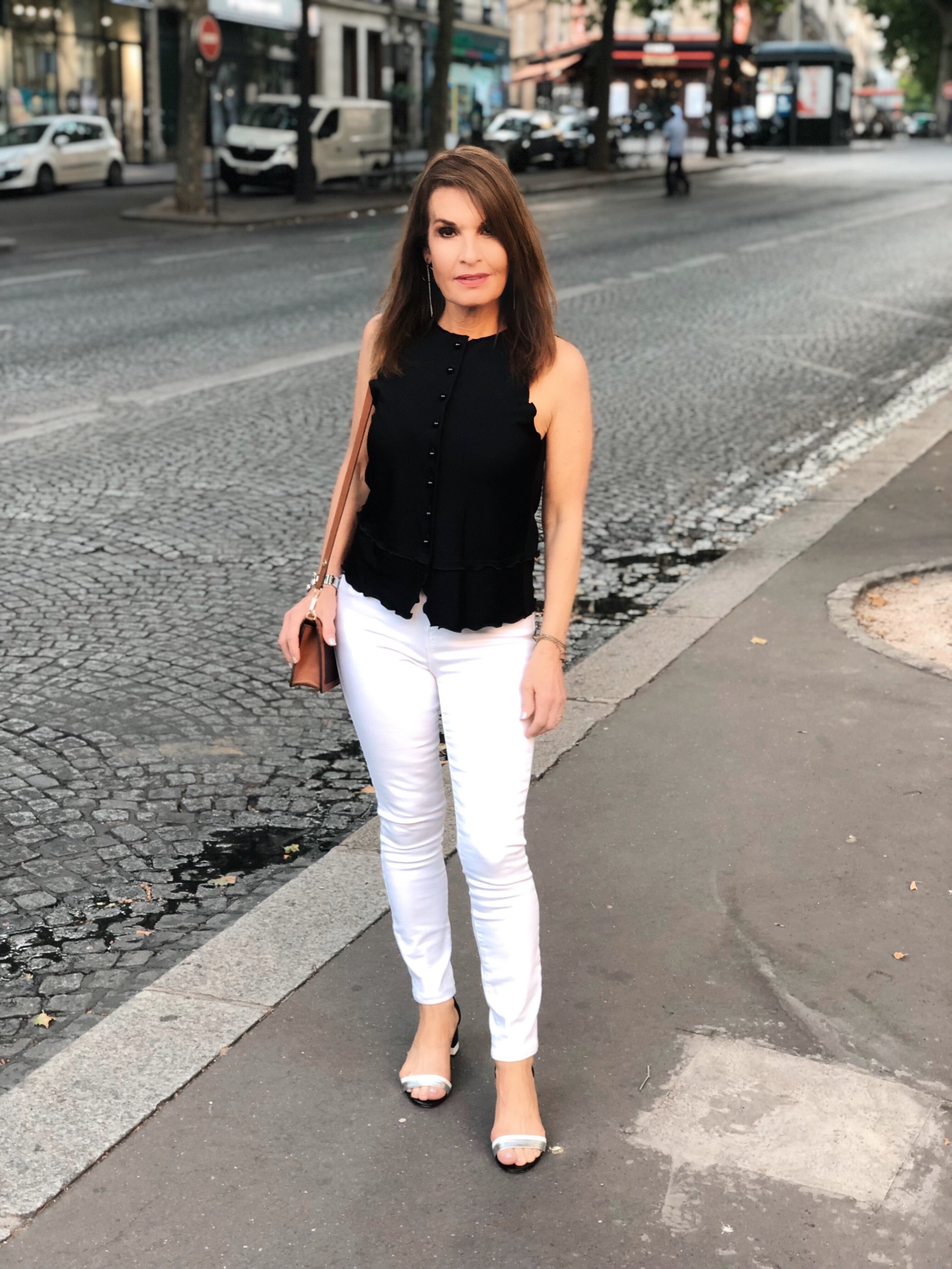 On our way to the French restaurant, Substance, where we had the delicious green gazpacho soup which inspired the one featured on this week's food post! I am wearing the Armani Top, L'Agence Jeans, Pierre Hardy Sandals, Louis Vuitton Beltbag worn as a shoulder bag, Merav Shavit Earrings.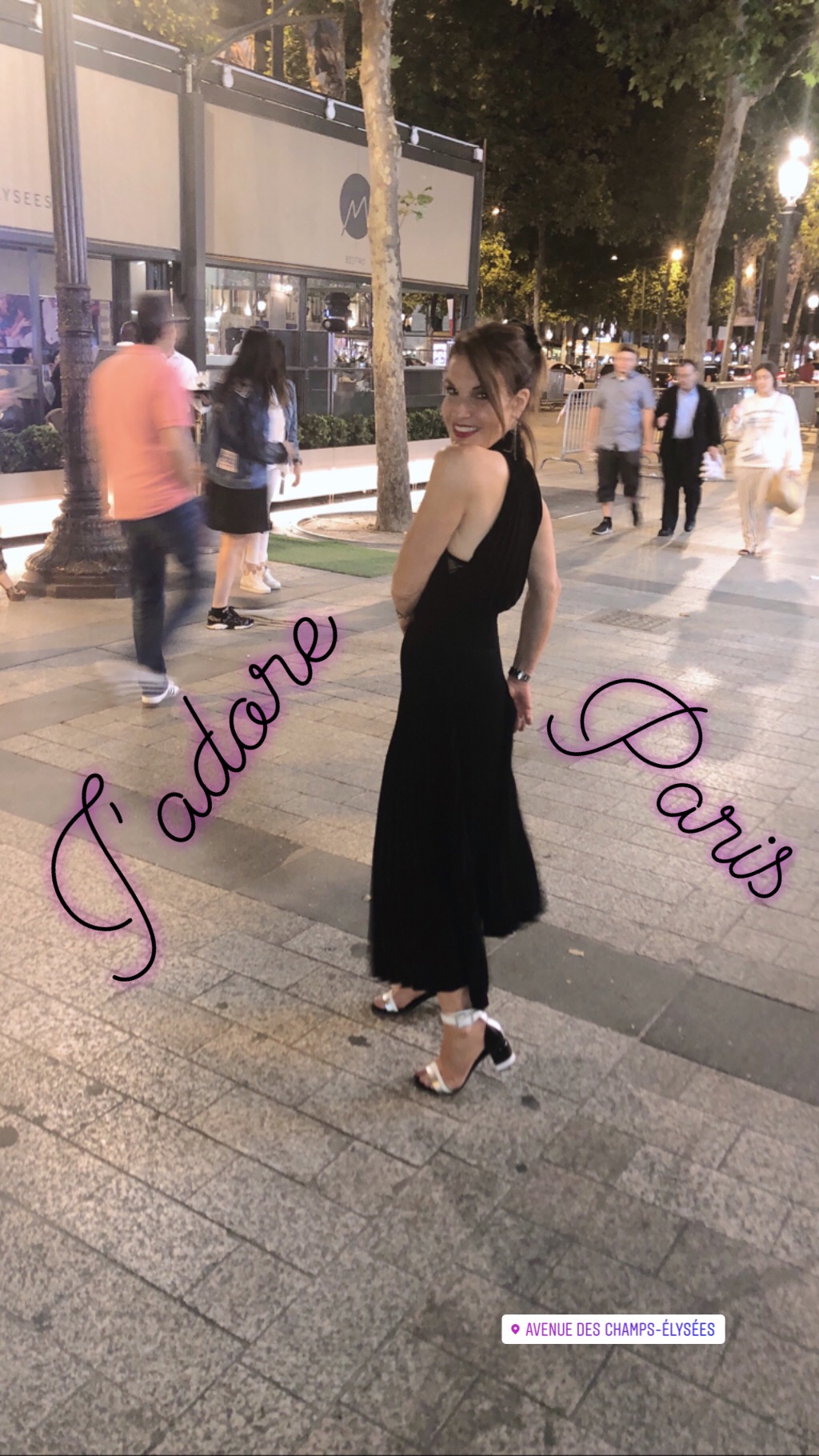 Our overnight stay in Paris featured an evening stroll down the Champs! Here I am in my ALC Dress and Pierre Hardy Sandals.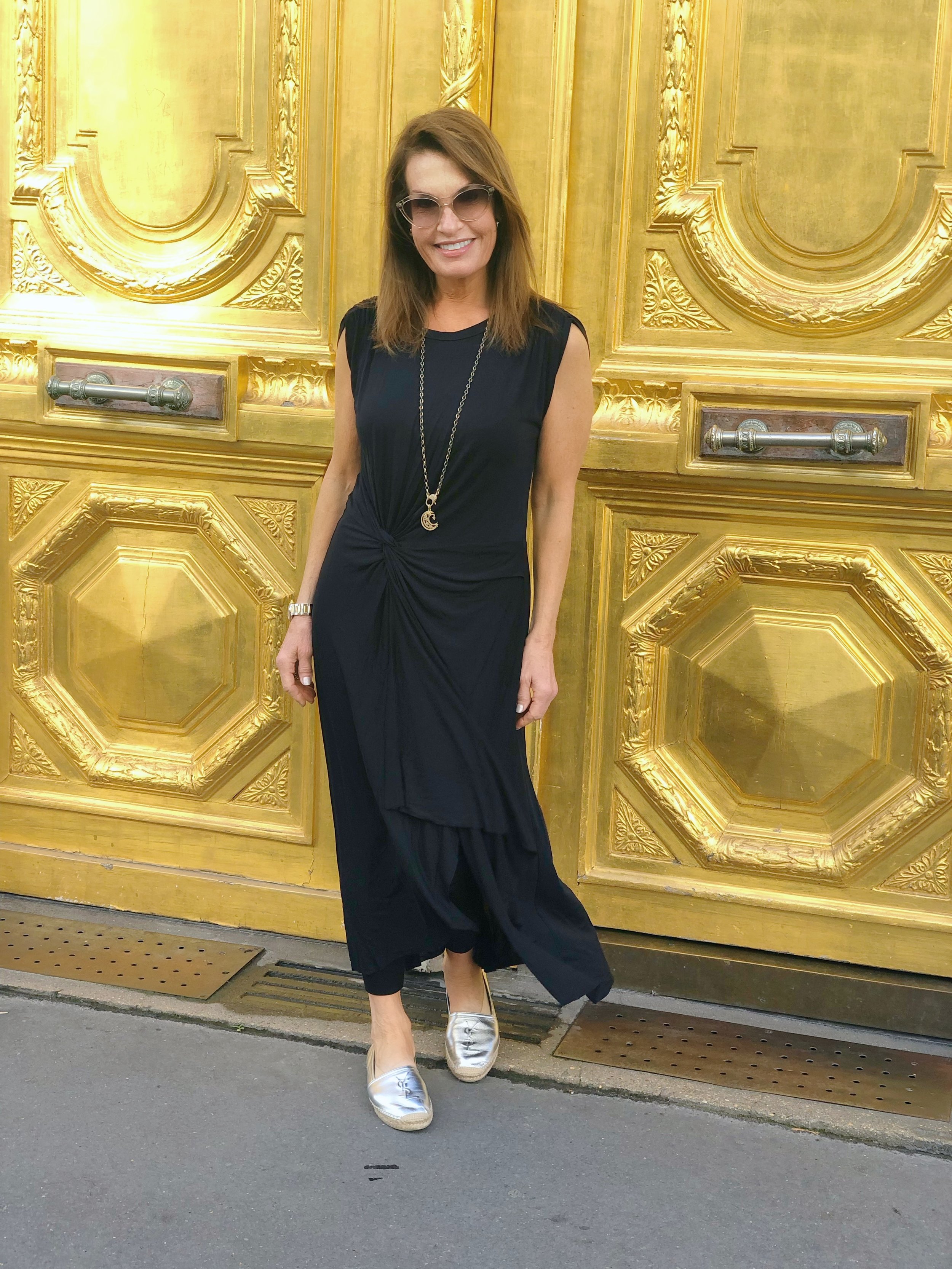 Who wouldn't pose in front of great door… the many that exist in Paris! On the chilly morning of our departure I threw on my ATM leggings, in which I traveled to and from Europe. You can see them peeking out from under this great dress. Here I am dressed in my ALC Dress, YSL Espadrilles, Safia Day Necklace, and Tom Ford Sunglasses.
Who wouldn't take advantage of the wonderful photo worthy street corners of Paris. Thanks to my patient hubby, Jeff, we captured some fun moments.
Here I am wearing my ALC Dress, Safia Day Necklace, YSL Espadrilles, Spinelli Kilcollin Ring, and Cabi Earrings.