The beauty of a crostata, which is basically a pie baked on a baking sheet, is that it can be filled with almost any fruit. I love rhubarb for its ability to elevate the taste of the fruit with which it is paired. After tasting this crostata, I exclaimed, "I have outdone myself!" Both impressive looking and incredibly delicious, this is a hostess winner!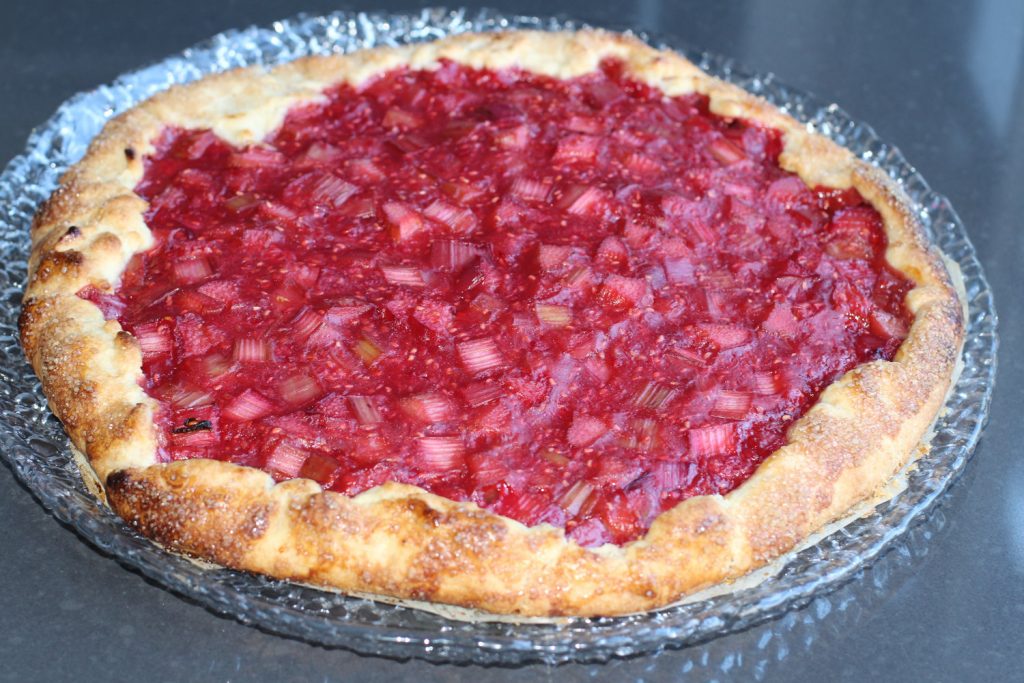 Ingredients:
For The Pastry:
2 cups of all-purpose flour
1/4 cup of granulated sugar
1/2 teaspoon of kosher salt
1/2 pound, 2 sticks, of very cold unsalted butter, 1/2 inch diced
1/4 cup of ice water
For The Filling:
1/4 cup of cornstarch
4 cups (1/2 inch thick) of sliced fresh rhubarb (1 1/4 pounds)
8 ounces of fresh raspberries
2/3 cup of granulated sugar
1 teaspoon of grated orange zest
1/4 cup of freshly squeezed orange juice
1 large egg, beaten with 1 tablespoon water for egg wash
turbinado or demerara sugar, such as Sugar In The Raw
Directions:
For the pastry, place the flour, sugar and salt in the bowl of a food processor fitted with a steel blade. Pulse a few times to combine.
Add the butter. Pulse until the butter is pea-sized. With the motor running, add the ice water all at once through the feed tube.
Continue to hit the pulse button until all the dough comes together. Remove, wrap and chill for at least one hour in the refrigerator.
For the filling, place 3 tablespoons of water in a small bowl, whisk in the cornstarch, and set aside.
In a large heavy-bottomed saucepan, combine the rhubarb, raspberries, granulated sugar, orange zest and orange juice. Cook over medium heat for 5-6 minutes, until cool.
Preheat the oven to 425 degrees. Line a sheet pan with parchment paper.
Roll the pastry into an 11-12 inch circle on a lightly floured surface and transfer to the prepared pan.
Pile the raspberry rhubarb mixture onto the pastry, leaving a 1 1/2 border all around.
Fold the border up over the filling, pleating if necessary, and pressing lightly.
Brush the pastry with the egg wash, sprinkle just the pastry with the turbinado sugar and bake for 30-35 minutes, until the pastry is browned and the filling is thickened and bubbly.
Cool for 30 minutes and serve warm or at room temperature.