I am a girlie girl; I will choose a dress over jeans any day of the week. First off, I love the feeling I get when I wear a dress; feminine, stylish and comfortable. I don't have to pull anything up, over my "love handles" or down from my thighs and calves, as one has to do with a tight skinny jean. The debate over whether to shelve the skinny jeans still rages, but I will leave that for a separate post and stick with the matter at hand, the summer frock. During the summer season, when temperatures soar, I only wear dresses. I like to feel cool and comfortable. There is really no style of dress that I will shy away from, although my hemline is dropping, it is difficult for me to give up my mini length skirts and dresses, much like my love affair with the bikini. For me, the micro length has been shelved for good, but a length that meets somewhere in the middle of age appropriateness and flattering stills reigns.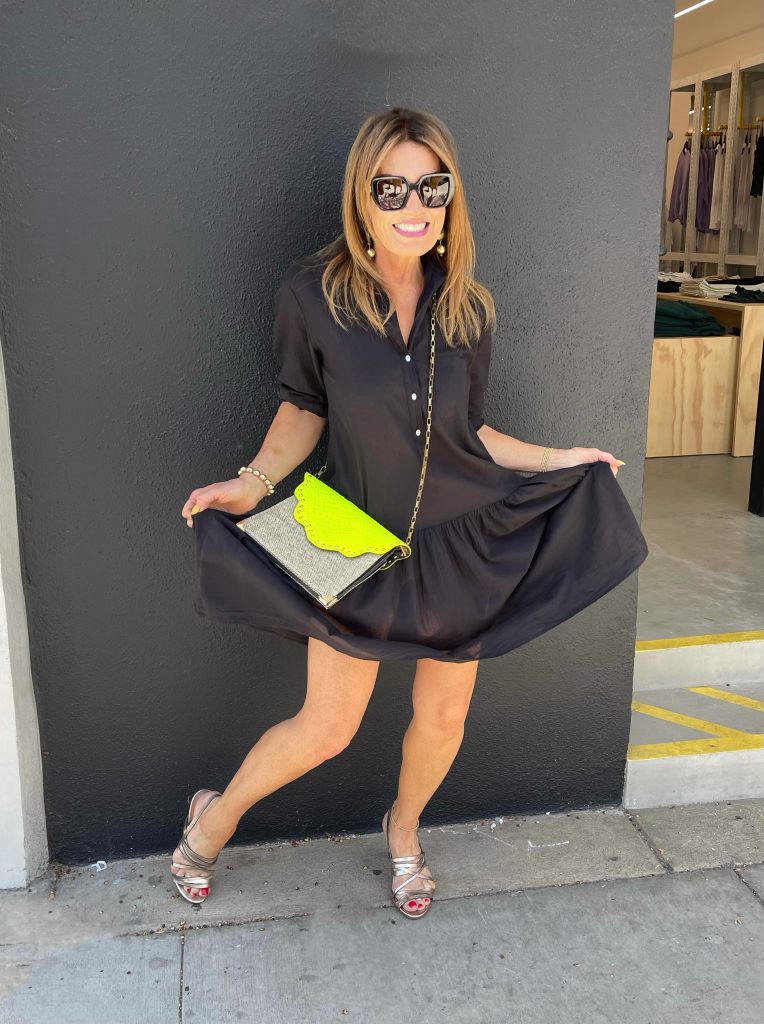 As a Grayson brand ambassador, I receive shirts and dresses to feature on the blog and my social media channels. You will recall that I just featured this fabulous linen shirt dress a little while ago and showed you two ways to style it. When I unboxed this black dress, called the Changemaker, I balked at its oversize shape and drop waist, and thought it would swallow me. However, when I put it on, right before our photoshoot, both Pam and Caroline remarked how great it looked on me, especially when I added my fabulous crossbody bag by Imemoi Paris. It tamed the largeness of the dress (I am wearing a size 1) and flattered the leg. I decided to style it with these comfortable high strappy sandals by Elaine Kim. They were surprisingly comfortable as I walked and danced my way through the streets of Beverly Hills ( a sight that is so common here in Los Angeles, that no one even gave us a second look!). You can watch my Instagram reels HERE.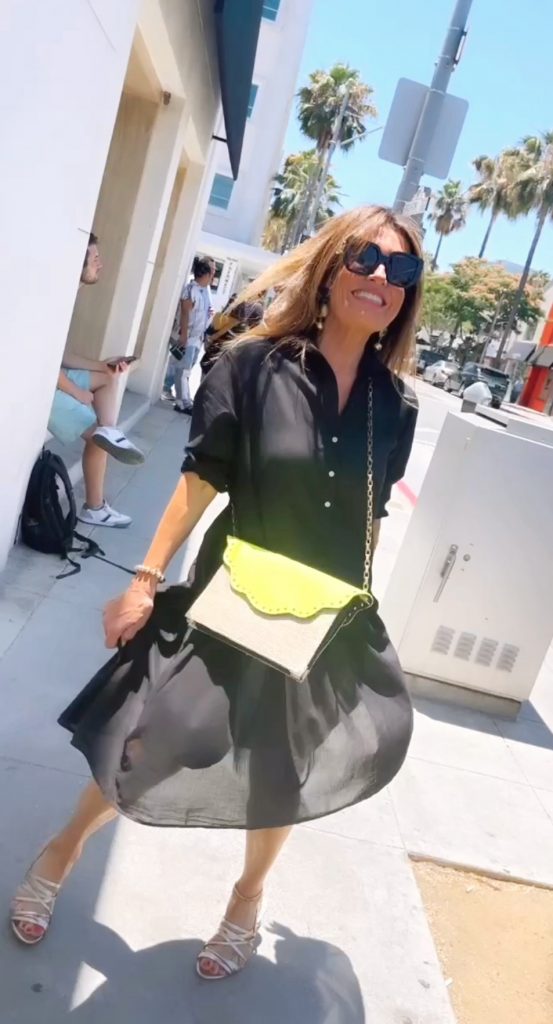 What I love about this dress, is its ease and comfort. Its generous cut is surprisingly flattering and obviously perfect for hotter days. Since we shot on a very hot day, I chose to roll the sleeves to elbow length. I often do that no matter the temperature, because I find it looks much better than when it is buttoned at the wrist. The dress is made of Tissue Cotton, which is used in their classic Hero blouses and is perfect for summer, and which I wore here on this reels. I love the lightness and softness of this fabric, and cannot help but sing its praises.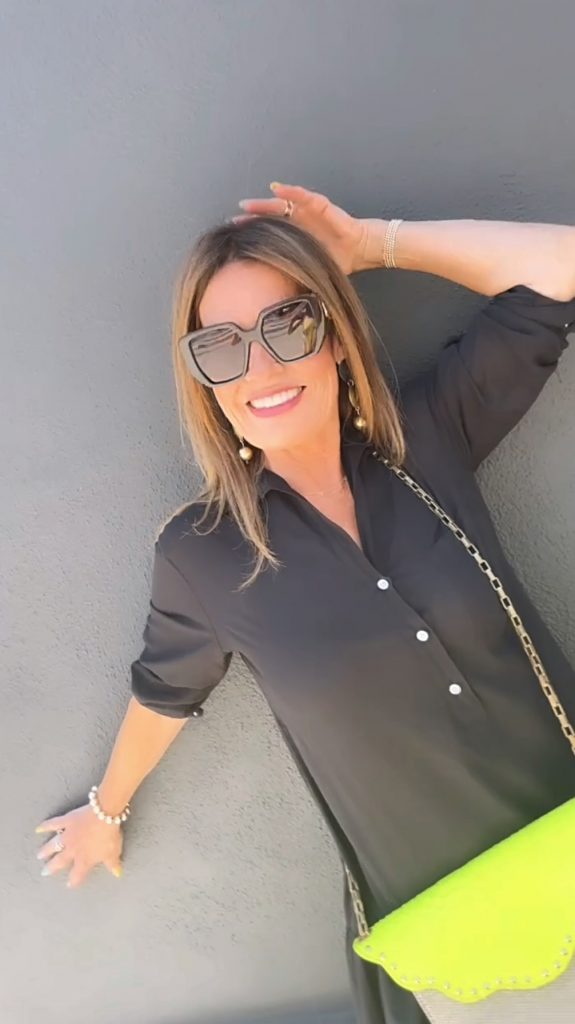 Several years ago, when Jeff and I traveled to Paris for a friend's wedding, we discovered a charming boutique called Baby Buddha just off Germaine de Près that sod beautiful boho-inspired jewelry and handbags. My eye caught this fabulous bag by Imemoi Paris and luck had it, the designer was just inches away from me. As I gushed over her bags, we spoke (I tried in my broken French, and she in her broken English…she is actually Italian, so that made the communication even more interesting!). I purchased two bags that day and we remained in touch throughout the years. In fact, she was thrilled to watch my Reels and see how I styled the dress with her bag. I have linked here website above and I encourage you to explore the many fabulous Imemoi designs!! By the way, Imemoi is "I" "me" "moi"…so clever!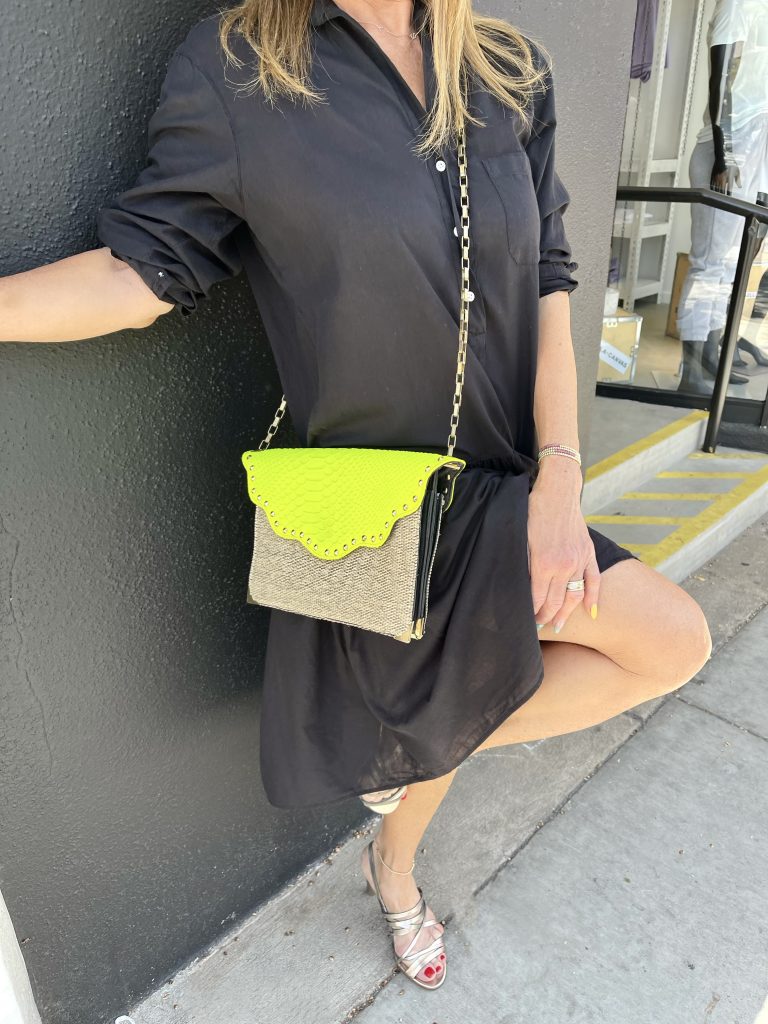 If you are looking for the perfect summer frock made of lightweight tissue cotton, and don't want to break the bank, I strongly encourage you to order this one! If you enter my code, LESLEYWOLMAN at checkout, you will receive $25 off. What makes every Grayson purchase even more special is the company's philanthropic commitment. You can help lift women up with the purchase of this button-up. Grayson donates 2% of our revenue to causes that make women stronger, and to date, has donated over $150K to female-led organizations. Now that is something to get behind! You can use my code when purchasing any of the fabulous Grayson items that strike your fancy!