I think in pink. The color has been my favorite since childhood. I am not certain that it is gender-related; my sister, Janet, who is 21 months younger than me, detested the color. I loved it and had so many clothes and dolls in that color that she never coveted any of them. Perhaps that is why we got along so well, and still do! Janet went on to become an interior designer and artist, painting in blues, reds, browns, and yellows, but never in pink. Therefore, if one is inclined to identify pink as a "girl" color, I just knocked that theory out of play. Pink, as it turns out, is the color associated with feminism; the pink ribbon is the symbol for breast cancer awareness and associated with romance, playfulness, sympathy, and compassion. Pink is a color that makes us feel accepted; it is the combination of the passion of red and the purity of white. Pink has associations with tenderness and nurturing while conveying a sense of safety and even vulnerability. All of these qualities come into play when choosing pink as a fashion color, as I believe that we choose what we wear based on our emotions. Fashion is very complex and dynamic; pink, in all its shades from pastel to shocking, covers a lot of bases.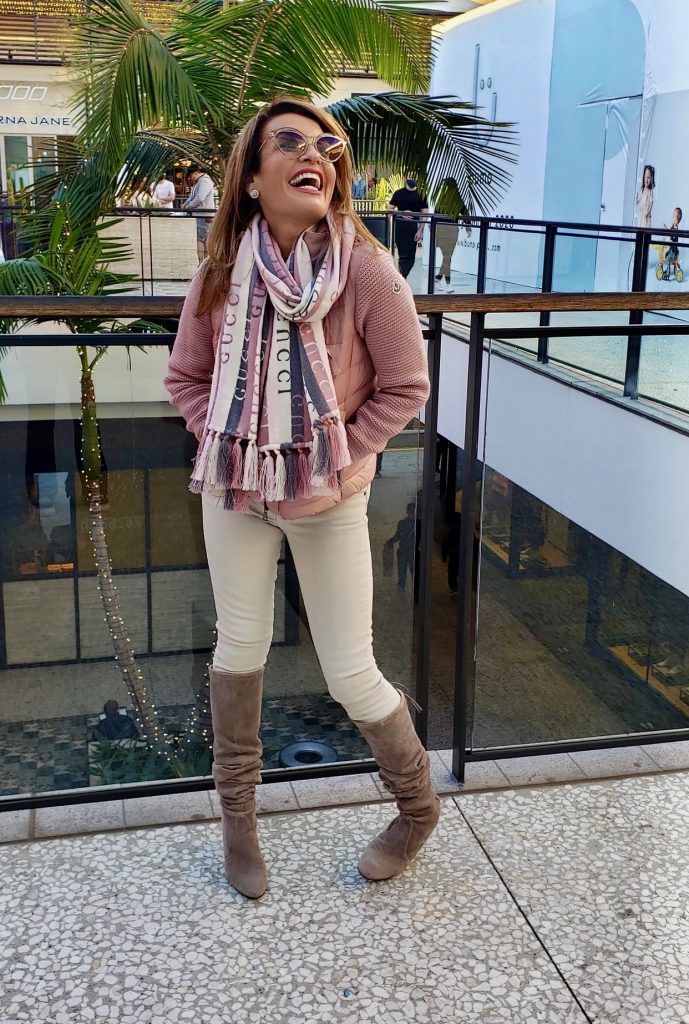 I love this dusty rose shade of pink, even though I look better in more vibrant pink. I feel good in this color and gravitate to it more often than any other shade of pink. I got this puffer jacket a couple of years ago and was wearing it at the exact moment when I spotted this fabulous Gucci scarf. Its fate was sealed the minute I asked if I could take a look at it. It was love at first sight, and I indulged myself; happily, I have worn it many times in the past month, and each time I do, I feel luxurious in it.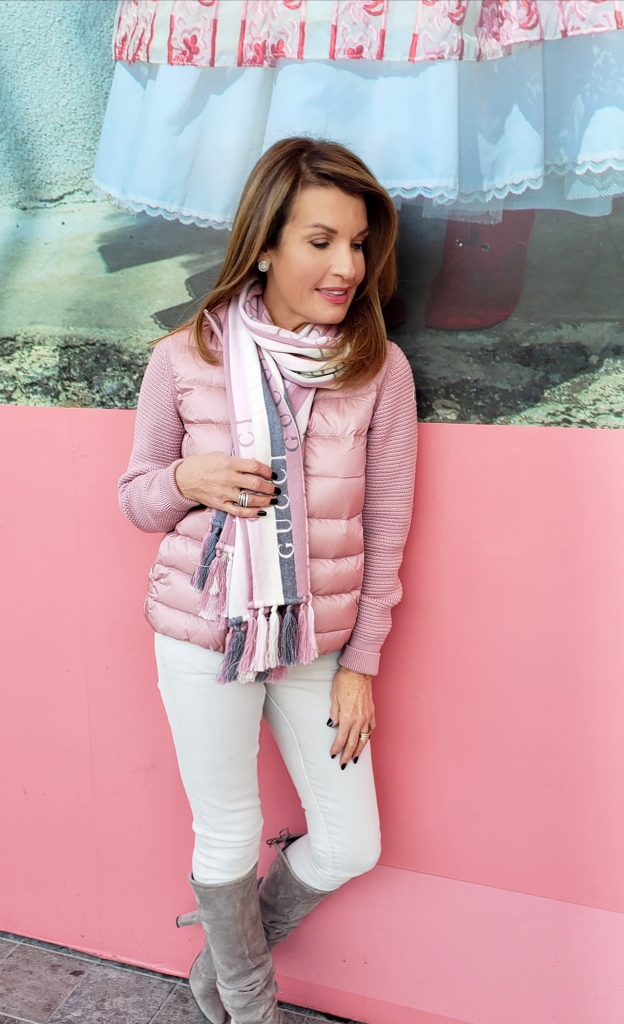 This year, I traded in my large hoop earrings for smaller studs like these by Lagos. I found that putting on and removing my mask, was perilous for my earrings; I found one on the floor of my car, and another in the foyer of my house… and one, sadly, I never found. These silver stud earrings, however, remain in place despite the on and off of my mask and they are chic and stylish.
There is nothing more flattering than an over the knee boot that can be scrunched down, thereby elongating the leg. I have owned these Stuart Weitzman boots for several years. They are available in a lower heel here. The original heel height is here.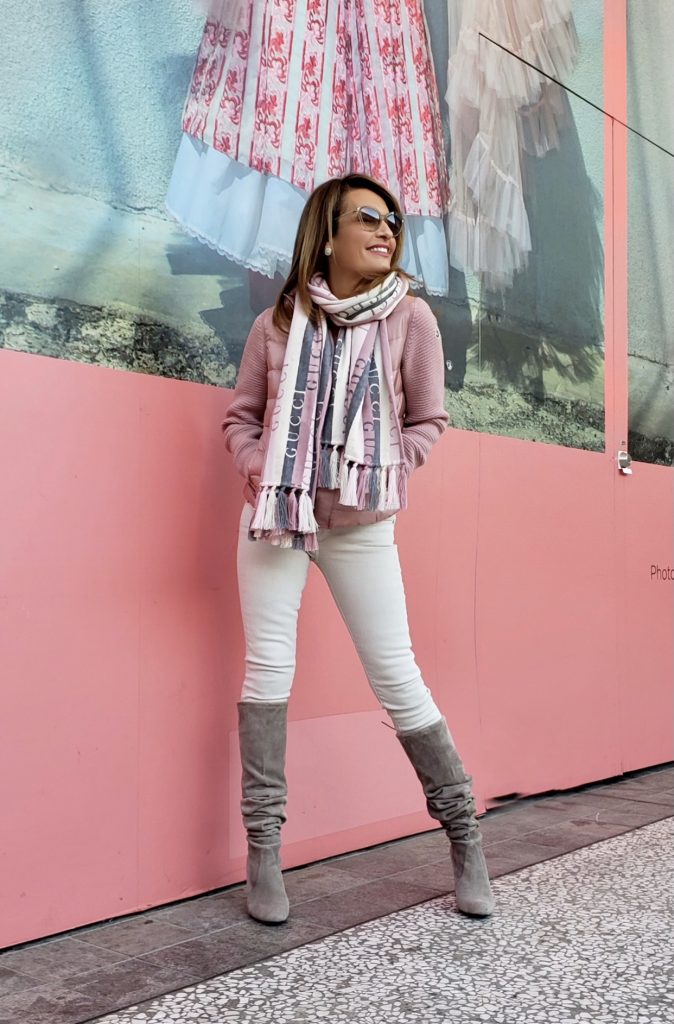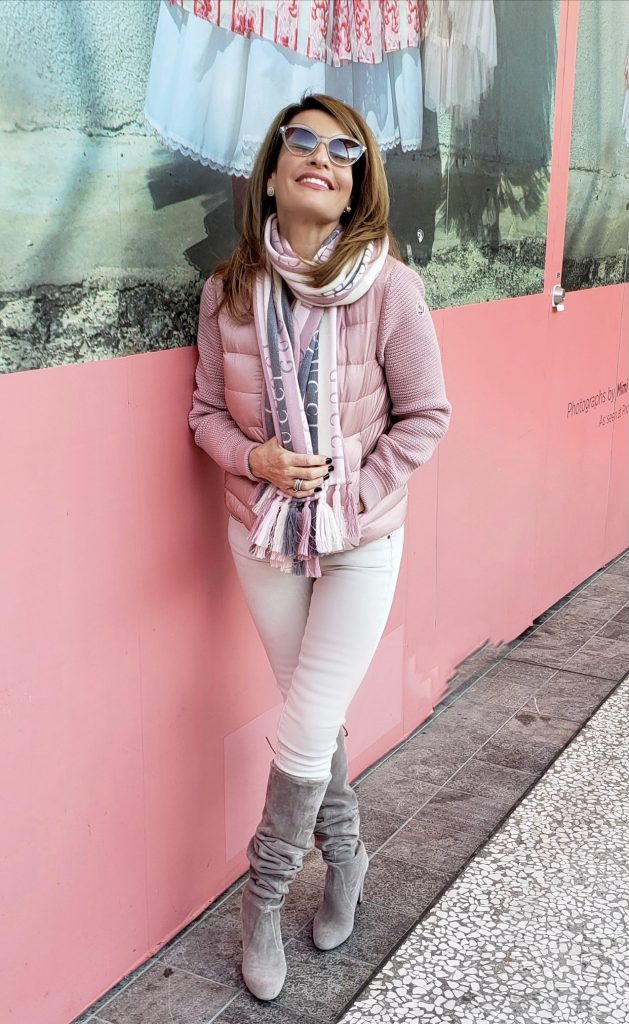 Shop The Post