"I am such a huge fan of yours!" I exclaimed just a few months ago when my friend, Janet Gunn, of the popular blog, (The Grateful Gardenia), introduced me to the designer, Elaine Kim. I was completely serious, having fallen in love with a pair of her stretchy (and oh so flattering) cropped black pants a few years ago, that I purchased at a local boutique. I never came across her clothes again until Janet posted herself at Elaine's store, and modeled a few of Elaine's fabulous pieces. "Do you know Elaine Kim?" I texted her, "I had no idea that she has her own store… can you please make an introduction?" Janet texted back, "I will take you to her store next week!"
And so it happened; the rest, as they say, is history. Elaine and I hit it off immediately, becoming instant friends. She gets me and I get her. I am so in awe of the way in which she designs, that I want to shout it from the rooftops. I have told many friends and fashion colleagues about her. And now I am hoping that you will become a fan of hers as well. Elaine designs with a purpose. She understands that women want to look good in what they are wearing, yet feel comfortable. She designs with a clever eye and a nod to architectural angles. Her clothes fit and flatter every body type (she is raking thin), and I am petite but curvy, yet her clothes fall effortlessly on both of our body types.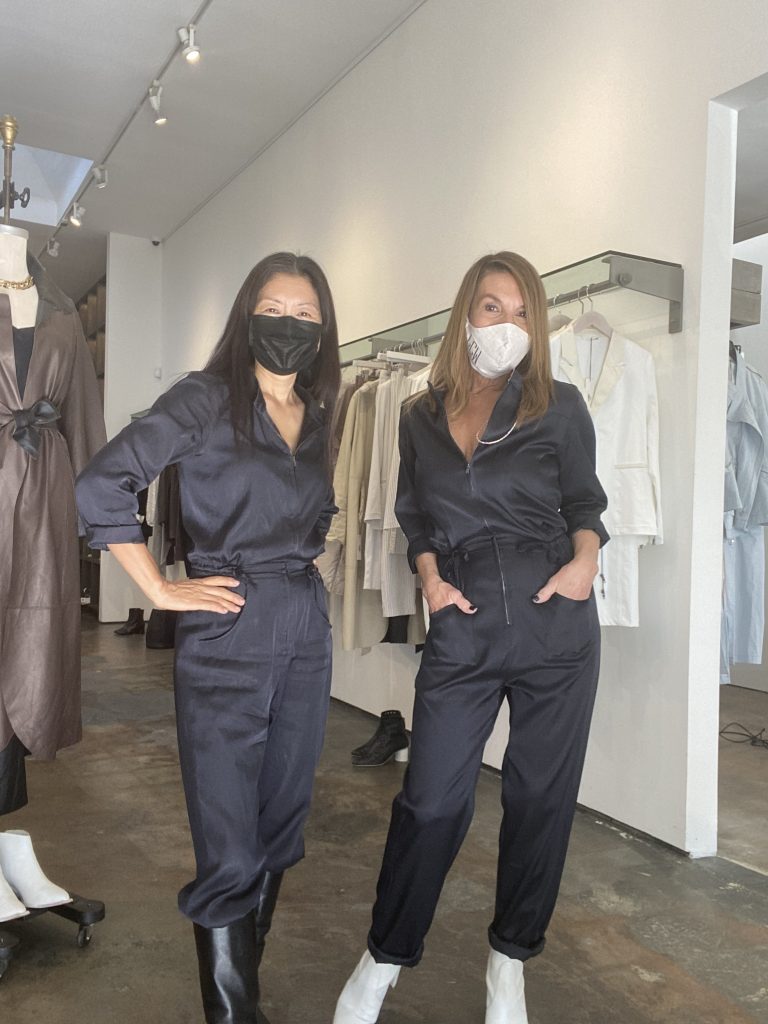 Elaine has worked in fashion for over 20 years and launched her own label in 2008. Elaine has a strong and loyal following consisting of stylists, celebrities, and now me! Her clothes have been featured in numerous publications such as WWD, W, The New York Times, Harper's Bazaar, The Wall Street Journal, Vogue, Marie Claire, and now Fabulesley! The Elaine Kim collection is comprised of 30 -50 pieces each season ( I think I own half of Fall/Winter 2020!). Elaine has stores in NYC, including Nolita and Madison Avenue, as well as a boutique at The Montage Hotel in Laguna. She does pop-ups in various locations across the country, having just finished one in Aspen last week.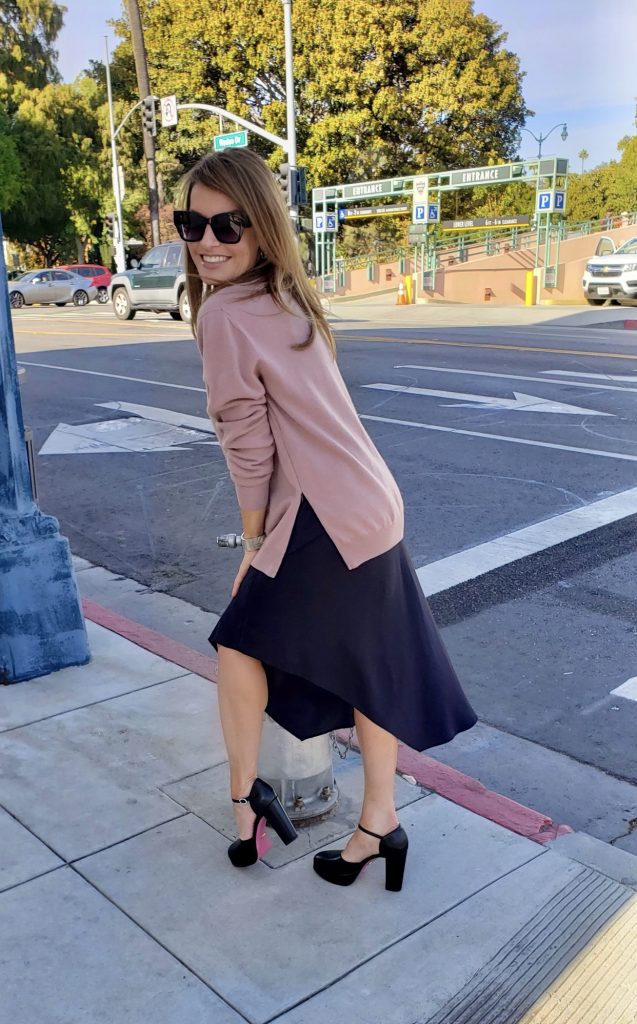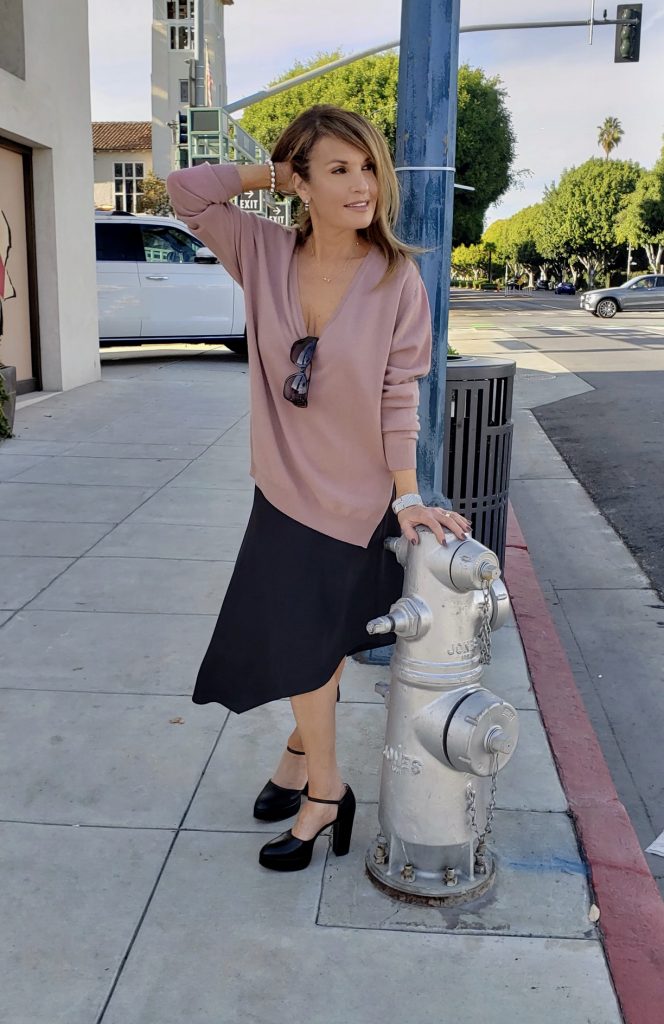 I would describe Elaine's designs as architectural. For instance, I love the angular cut of this skirt. I like to show a little leg, and this hem accomplishes that perfectly.
In addition, Elaine's clothes can go from day-to-night. If it were not for Covid quarantine, I would wear this during the day with flats; for the evening, change to a tighter fitting top, add some fun jewelry and add a heel like these Gucci platforms, a strappy sandal, or high heeled boot.
Elaine's clothes are multifunctional. If you are not a v-neck person, simply swing the sweater or dress around and wear it front to back. Elaine's tops, camisoles, and sweaters are long, covering the top of the thigh, that area that no one wants to expose in a legging.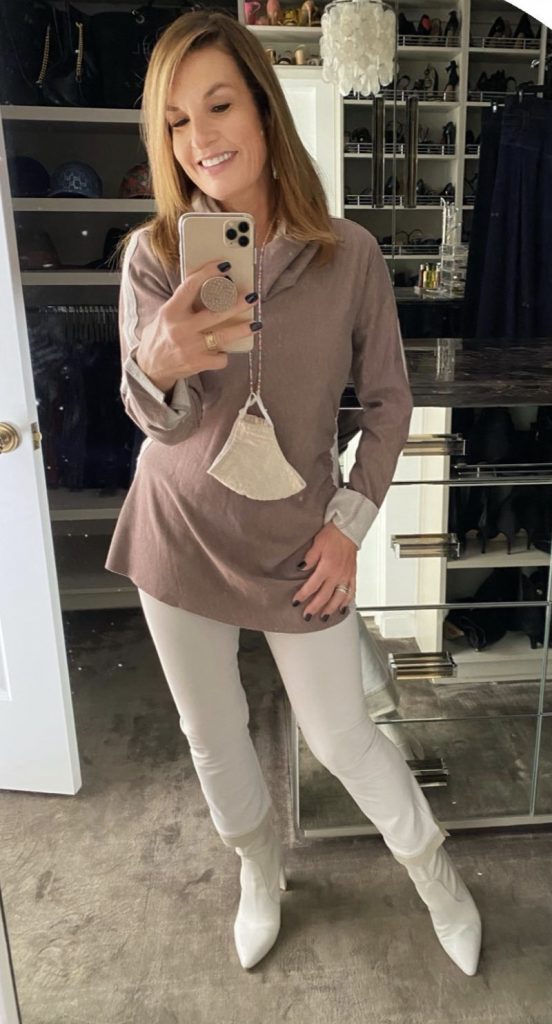 Elaine's stretch pants are designed for travel and now for quarantine. The difference between her pants and leggings or sweats is that the fabric hugs and flatters the body and one looks put together. There are coordinating jackets and tops, providing endless dressing possibilities. Her scarves have zippers; in the event that you want to swathe yourself warmly and luxuriously, it transforms into a poncho.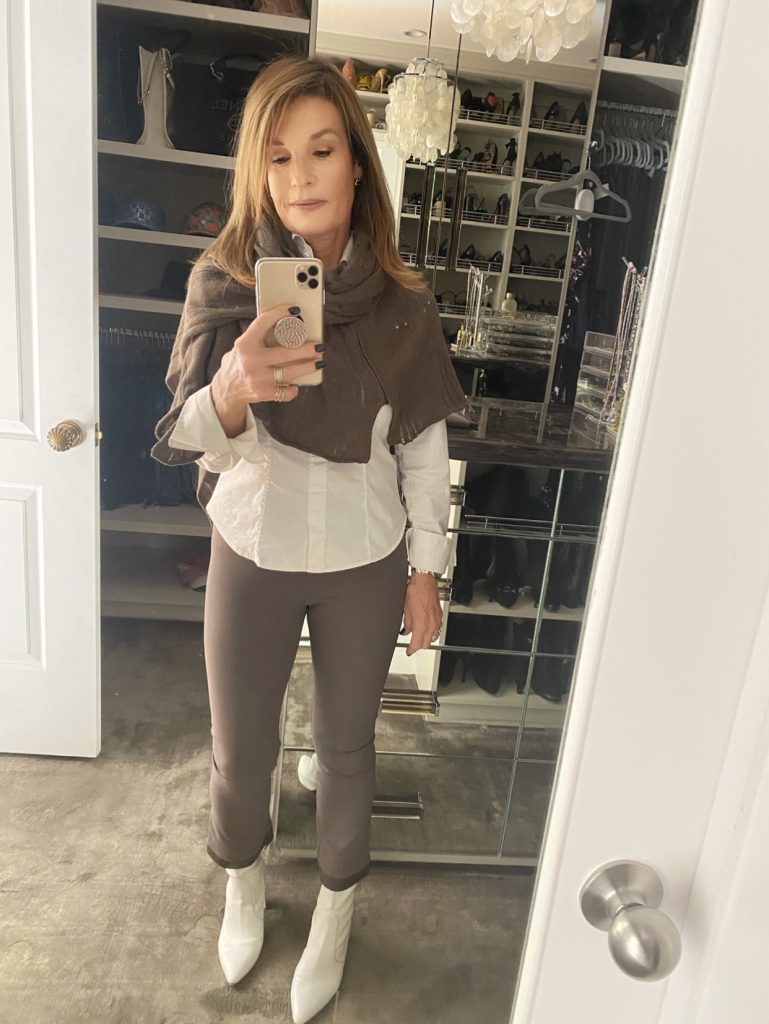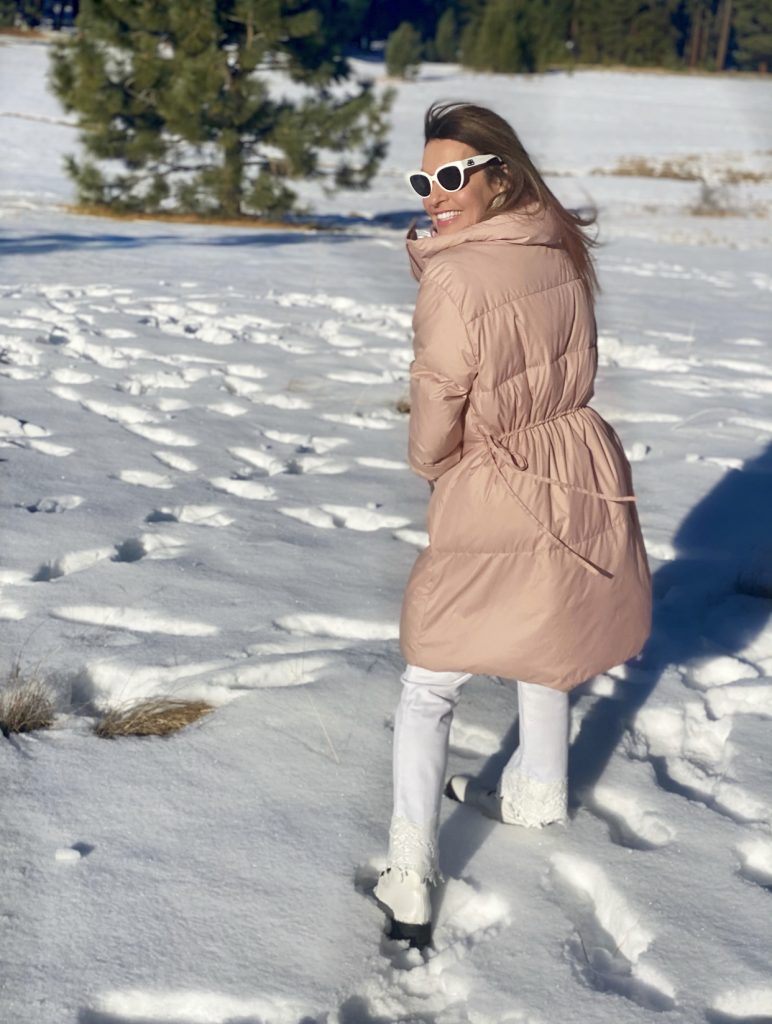 Who else but Elaine Kim, would have thought of adding a bustle to a long puffer? It has become my all time favorite purchase of the season, and the recipient of a multitude of compliments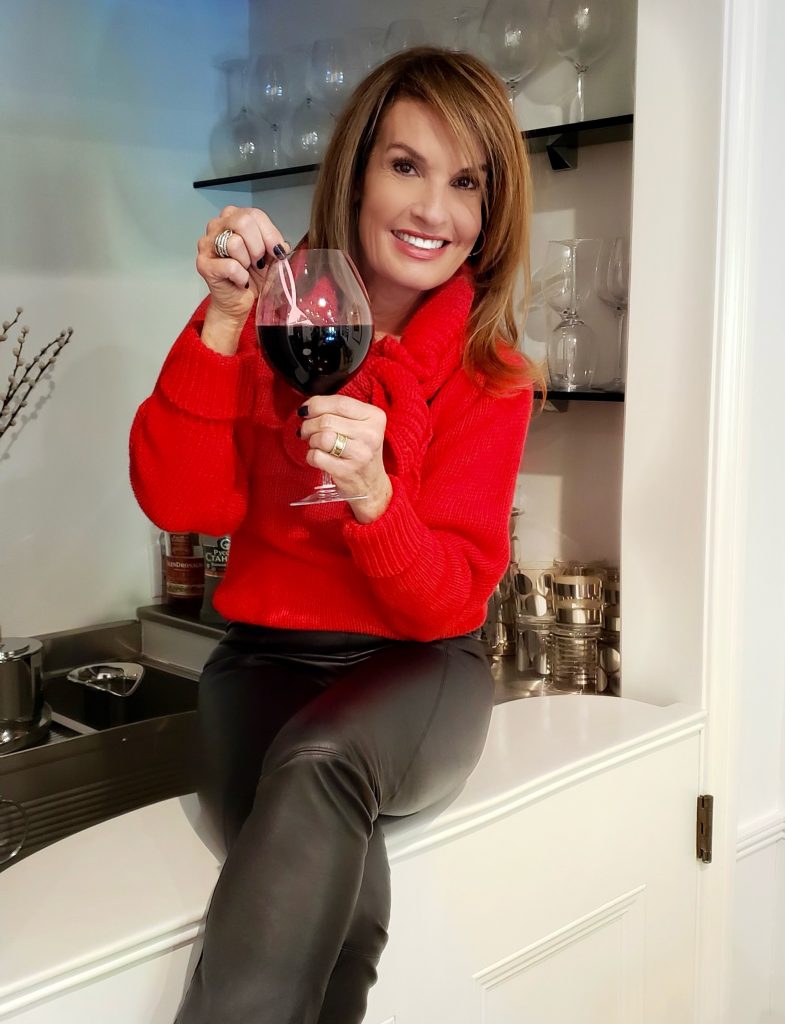 The store also carries a wonderful selection of accessories such as handbags, belts, shoes, boots, and jewelry as well as lifestyle products such as home decor and books.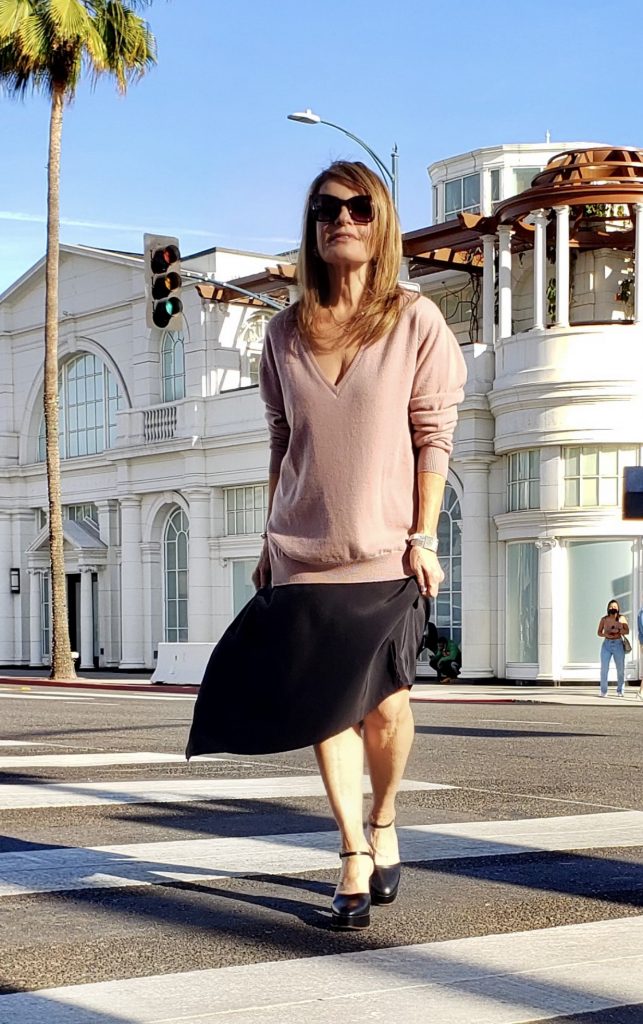 Apart from being a talented designer, Elaine is a warm and generous person. She is offering a 15% one-time introductory discount just for you! I strongly encourage you to explore the fabulous Elaine Kim Collections website and take advantage of this generous offer. Enter Lesley15 at the checkout.
Thank you Elaine!!