Clean and natural is the theme of this month's Fab Four. Starting with a multi-tasking all-natural moisturizer, serum and moisturizer for the throat and décolletage, a clean beauty makeup line with SOF, and all-natural coconut teeth whitening strips.
Burst Coconut Whitening Strips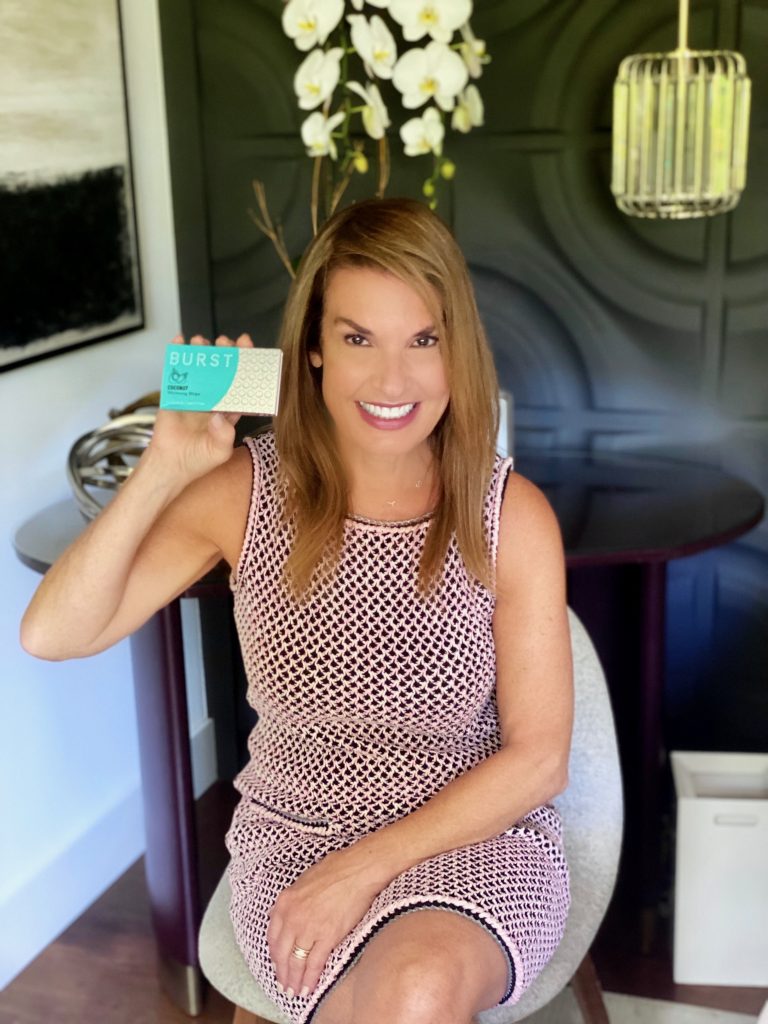 I cannot say enough good things about these whitening strips. My teeth have never been whiter, and I attribute this to these incredible whitening strips. The key ingredient is coconut. I have never tried coconut oil pulling, but there are people who swear by it. That oil combined with enamel-safe peroxide is what goes into these transformative whitening strips. I highly recommend them! Use code Burst10 at checkout!
Essentiel By Adele: Moisture For Hands, Face and Body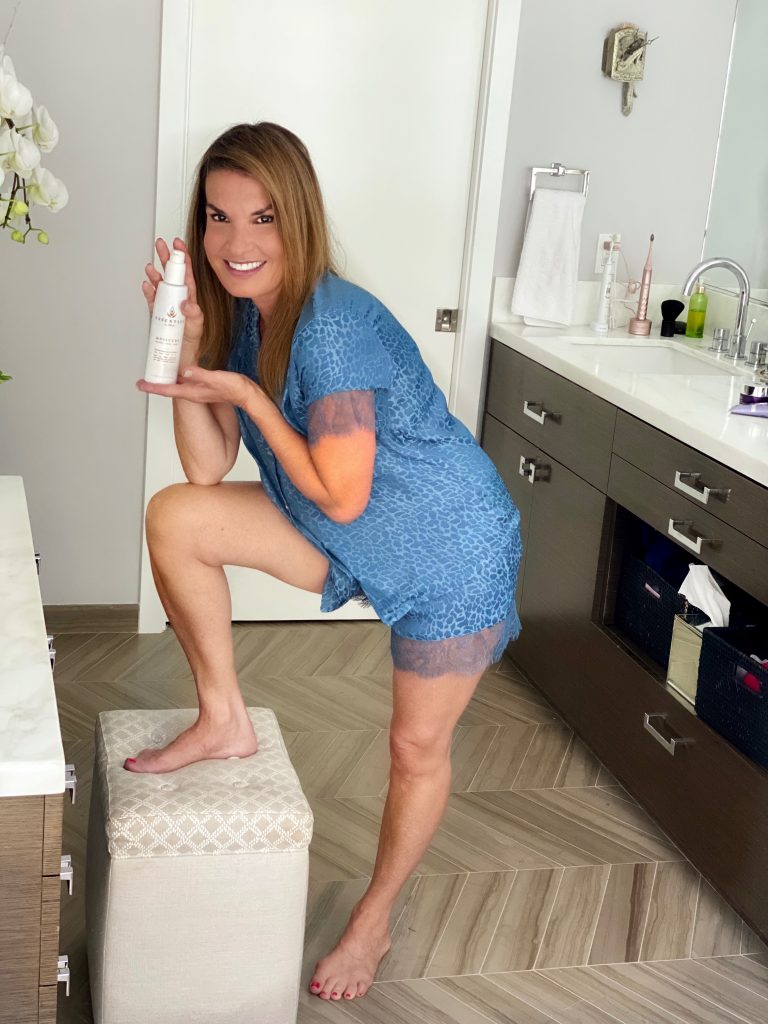 Everything about the Essentiel By Adele moisturizer is unique, from its ingredients to its creator, Adele. After reading the website, I know you will be as impressed as I was. Adele Uddo was a "parts" model; that means her hands, lips, legs and other body parts are all over magazines and billboards. Adele, whose lineage is Sicilian, is named after her beautiful grandmother, whose father founded Progresso Foods. Adele grew up on an organic commune: "If a product wasn't biodynamic or freshly sourced from the fields of France, we couldn't use it."
It is no surprise that Adele sourced the finest and most active natural ingredients for her moisturizer; Coffee Berry, Hyaluronic Acid, Raspberry Leaf, Lavender, Grape Seed Oil, and Shea are just some of the ingredients of this wonderful moisturizer which I use on my hands and body and also on my face. It has a naturally clean fragrance, and a little goes a long way.
What makes this company extra special to me is the philanthropic component. Adele donates a portion of the proceeds from every bottle purchased to the Nola Tree Project in New Orleans. Now that is what I call a beauty treatment that repairs on many levels. Use code LOVE20 and save!
Susan Posnick Cosmetics
Susan Posnick was a former makeup artist, who worked with models and Hollywood A-listers. When she was diagnosed with skin cancer, she set aside most of her celebrity makeup work to develop COLORFLO, a self-dispensing, on the go natural sun protection and healthy foundation coverage.
A recipient of a humanitarian award for her work in preventing skin cancer, Susan has received numerous awards and accolades for the development of her Clean cosmetic line. her cosmetics have been featured on major publications such as Vogue, Allure, In Style, Town, and Country among many others. I am a huge fan of the Color Duo lip pencil, the Color Essential lip color, and the Colorme Face Color.
I am looking forward to trying the rest of this clean Cosmetic line which is anti-aging, sweat-proof and water-resistant, anti-bacterial, vegan, sulfate, and cruelty-free and Vitamin enriched. Those are all positives and zero negatives! Remember to use my code lesleywolman and save 20%.
Prai Beauty Throat and Décolletage Serum and Creams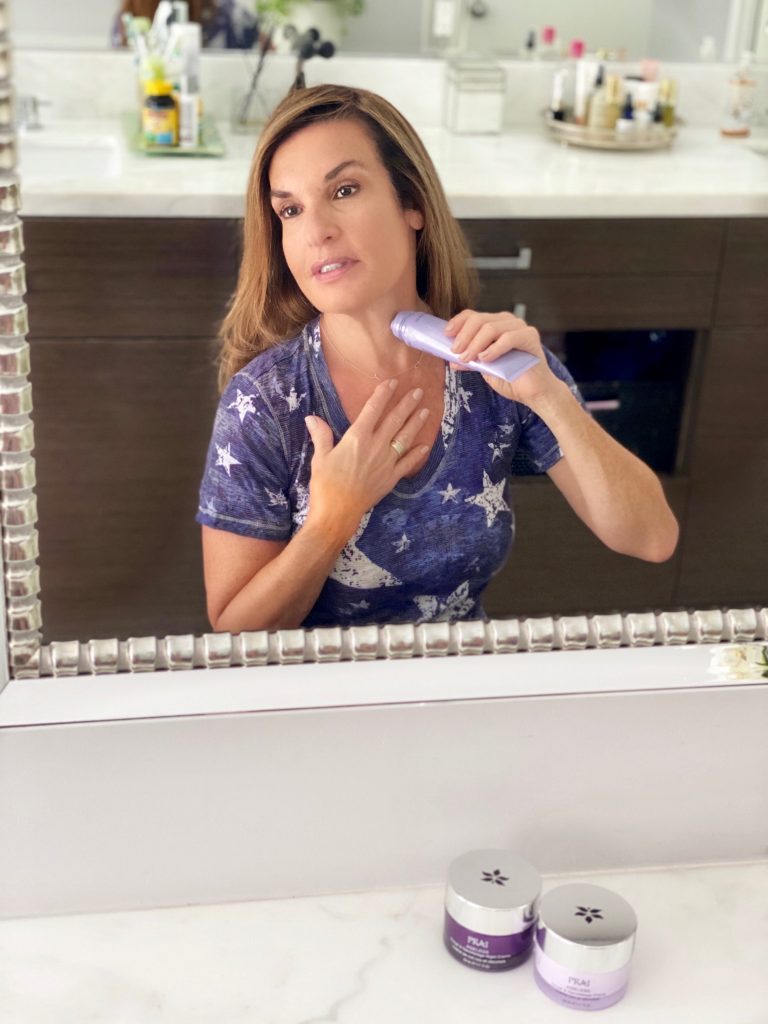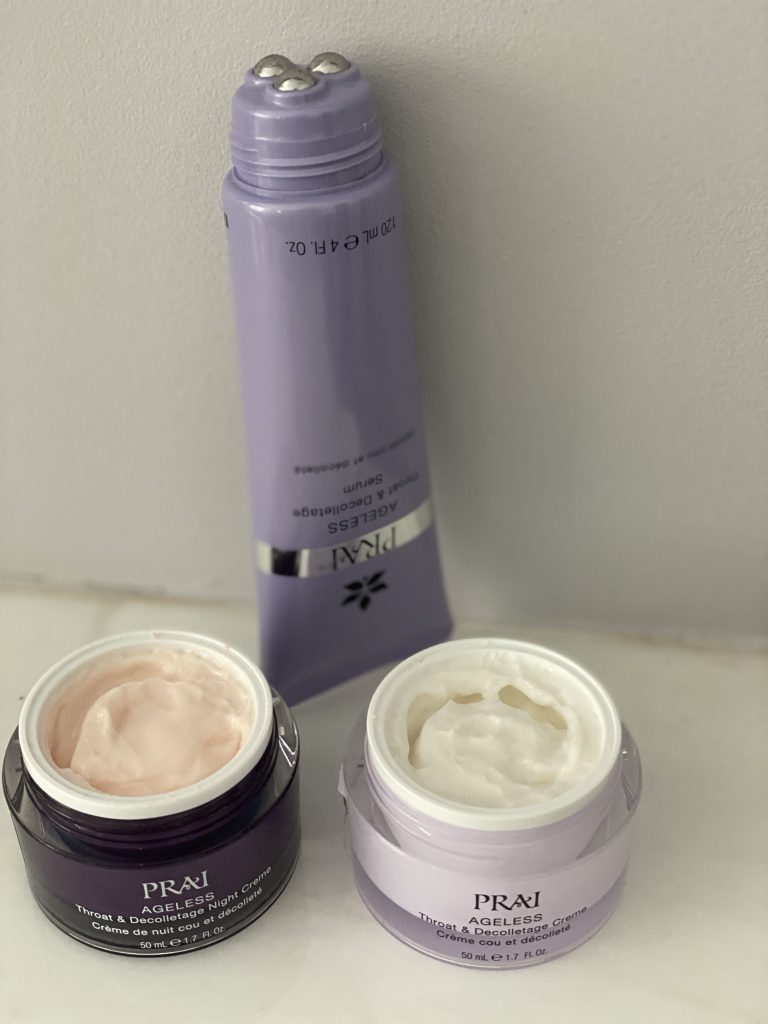 Never before have I looked forward to applying skincare, as I do with these products by Prai Beauty, a natural and Clean Beauty Skincare line that targets aging skin. The throat and décolletage areas are most vulnerable to showing the signs of aging. Prai Beauty's serums and creams target those areas in such a comprehensive way, that I can't imagine ever using anything else.
The rollerball applicator is what appeals most to me; the serum glides on with effortless precision and contains ingredients like red algae, hematite and goldenrod extract, and Prai's patented oil. Combine the serum with the day and night creams and you've got ourselves a triple threat! Not only are these products transformative, but they are exceptionally well priced; use my discount code and you can't afford to try them!
Prai Beauty understands what it means to give back: with every purchase made, Prai donates to Prai for Paws, which helps end animal cruelty all over the world. Use code LESLEY20 at checkout and save!