Do you dress your top half only for a zoom call? Are you in a blouse and leggings/sweatpants? If you answered "yes," then please read on. I am the type of person who dresses for a zoom meeting..hair, makeup, outfit, and lighting. As I stated in my article, "How To Look Your Best On A Zoom Call," you should appear on screen just as you would if you at the actual meeting.
You would never attend a meeting in sweat pants, messy hair and no makeup would you? I think not. You would look put together, chic and tidy. This dress by A.L.C is all of the above. It is chic, simmer-ready, and comfortable and on sale!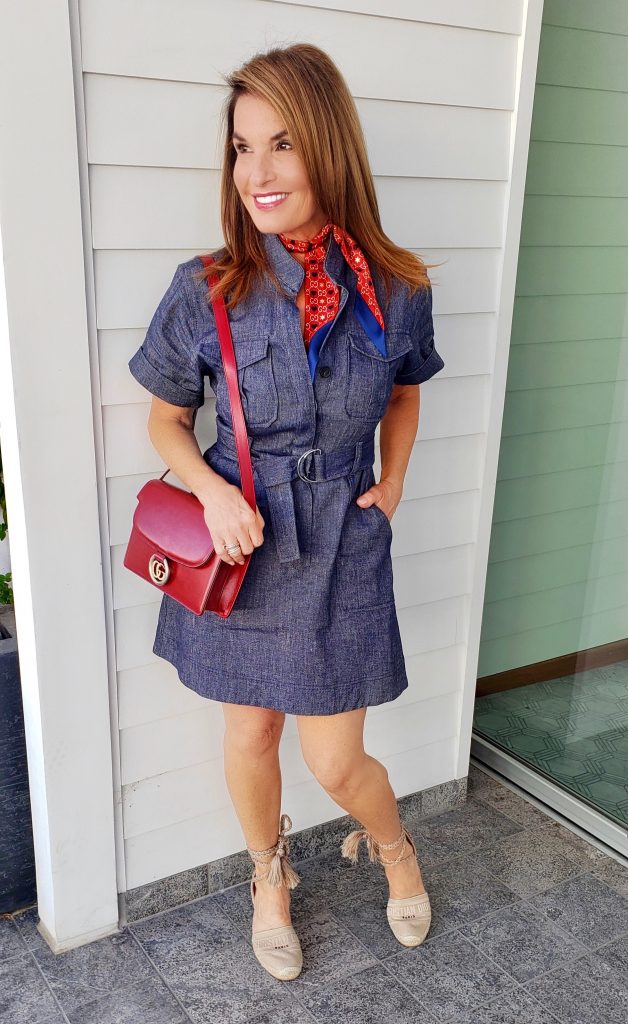 The addition of a scarf steps up any denim game, and here it elevates the dress to chic heights. And a scarf is the perfect accessory to add to your top because you turn a repeat blouse into a whole new item! The nude espadrilles are the perfect finishing touch, since they are extremely comfortable and elongate the leg. I will admit that no one can see your feet or your handbag, on a zoom call, but just the knowledge that you are fashionably fabulous from head-to-toe will boost your Zoom confidence!