Ever since I was a young girl growing up in Canada, I wanted to live in the United States. Don't get me wrong, I am a proud Canadian and a proud Jewish Canadian, but there was something very attractive and enticing about our neighbor to the South. My grandparents were the first snowbirds that I knew, spending the long Canadian winters in Los Angeles and eventually Palm Springs. My grandmother's sister married an American and moved to Los Angeles, so it was only natural that she'd found my grandparents a winter retreat in La La Land. They would return to Winnipeg all bronzed and glowing, bringing me a treasure trove of things that you could only get in the States; from food to books to autographed photos of The Monkees, and of course, clothes! It all seemed so glamorous to me, as I hung on every one of my grandmother's words. A small seed was planted inside of me, one that I would spend the next twenty years nurturing and cultivating until it grew into a reality.
The second reason I wanted to live in the U.S. is that as the song says, if "I could make it there, I'd make it anywhere." And I wanted to be "a part of it," meaning the entertainment industry. Having been drawn into the attraction at the tender age of four, when I took my first steps onto a stage as the Wicked Queen in a Rochester, Minnesota neighborhood production of "Snow White," I was smitten with a love that has lasted for all of these decades. I knew that the success of Canadians like Joni Mitchell, Neil Young, and The Guess Who was due to having crossed the border, and I wanted in as well.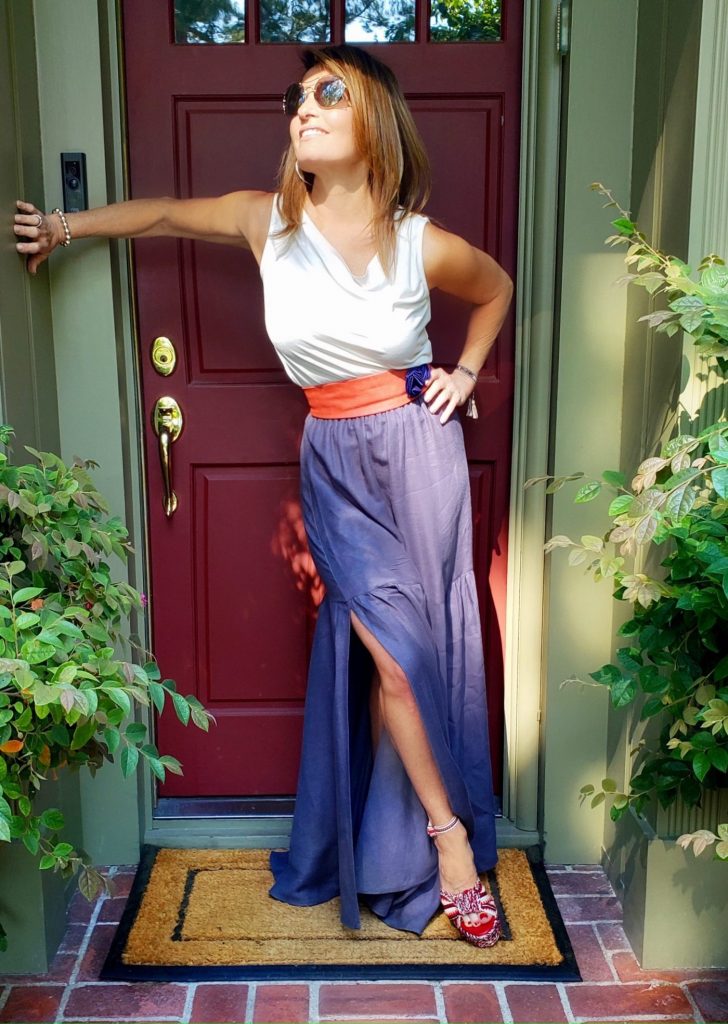 Fast forward to 1990; I was cast in the Broadway revival of "Shenandoah," and obtained my green card. I was in the city that never sleeps; I felt a combination of relief and joy and a strong sense of accomplishment. I love this country and everything that it stands for. It is indeed the land of opportunity, where dreams can become reality. It is a place where, if you roll up your sleeves and get to work, things can work in your favor. There isn't always a pot of gold at the end of every rainbow, and we are living through tough times now, but there is a sense of confidence and determination amongst Americans that propels them forward like no other people I have ever encountered. And that is what makes America great to me.
So it stands as reasonable that on this day, the Fourth Of July, I would choose to wear an outfit that reflects the colors of this great nation. Moreover, I would choose to wear American brands like Chaser and Michael Stars. Chaser reached out to me a while back. They are based out of Los Angeles and their clothing is creative and affordable (this skirt is on sale for $75.00). I chose this skirt because I have nothing like it in my closet. I love the fact that it is slit up the sides providing it with a built-in swagger when I walk. It is flattering and easy to wear. Check out the Chaser website for men's and kid's clothing as well. Everything is cute and stylish and their price point is fantastic, especially now when they are having their Fourth of July sale!
I paired the skirt with this cowl neck sleeveless top by another American fashion brand, Michael Stars. I love the way the luxe fabric drapes effortlessly. I added this stretch belt that I purchased many years ago in Paris. It cinches me in and defines my waist and of course, its red white and blue colors are thematically perfect.
When you find something that works perfectly, purchase it in every color; that's what I did with this Michael Stars top, which I also own in black. I am sure that everyone has something by this versatile brand… from t-shirts to dresses, Michael Stars' clothes are comfy relaxed and also affordable. I love their business philosophy in that they produce most of their clothing in Los Angeles to ensure quality production and provide fair wages for the community. Now that's something I can slip into!