I have been searching high and low for a Fourth of July dessert; you know the kind, something fruity with all the colors of the flag. As I have made a commitment to feature Black businesses, arts, and culture on my blog, this week I am featuring the award-winning baker, author, food photographer, stylist, and recipe developer, Jerelle Guy. Jerelle received her Masters in Gastronomy from Boston University and is the author of the cookbook, "Black Girl Baking," which received a 2019 James Beard Award nomination in the baking category. I highly recommend you feast your eyes on her esthetically pleasing Instagram page @chocolateforbasil.
Jerelle's original recipe calls for strawberries and greek yogurt piled on a sumac granola crust. I modified it by adding blueberries and eliminating the sumac. The star of this tart is Jerelle's crust, all gluten-free and made with unprocessed sugars: coconut and dark brown sugars and maple syrup sweeten this oat and nutty crust. The result is a tasty firework, perfect for the 4th of July!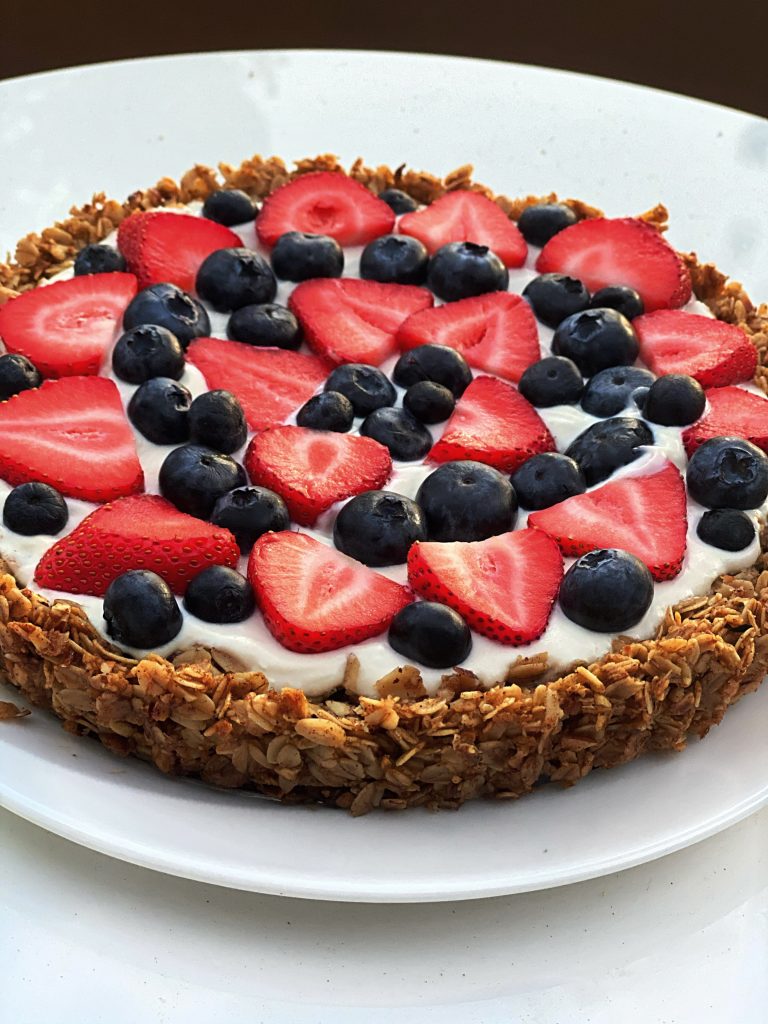 Ingredients:
1 1/2 cups of rolled oats
1/4 cup of chopped sliced almonds
1/4 cup of chopped hazelnuts
3/4 teaspoon of salt
1 teaspoon of ground cinnamon
1/4 cup of olive oil
1/4 cup of maple syrup
1 tablespoon of coconut oil
1 tablespoon of dark brown sugar
1 tablespoon of coconut sugar
4 cups of greek yogurt with honey
1 cup of sliced strawberries
1 cup of sliced blueberries
Directions:
Preheat oven to 350 degrees.
Combine the oats, almonds, hazelnuts, salt, cinnamon, olive oil, maple syrup, coconut oil, and sugars in a bowl. Mix well.
Press into an 8-inch tart pan. Make sure you press the crust all the way up the sides.
Bake in the oven until golden brown, approximately 20 minutes. Check often.
Remove and allow to cool completely. Fill with the yogurt and top with thinly sliced strawberries mingled with blueberries, arranged in your favorite July 4th pattern!
Cover and refrigerate for 2 hours or up to 2 days, or, if you can't wait, serve immediately!