This post is a double feature so please make sure you read to the end!
It's almost Valentine's Day and I am dressing the part. I have been waiting until now to post this adorable cozy sweater by Rails. I fell in love with it in August at one of my favorite boutiques, "Yellow Dog," and waited for the right moment to present it here on the blog for Valentine's Day. What could be better for Valentine's Day than a brand new pair of red jeans that are cropped higher in the front than in the back? This is why Cabi calls them the "High Low Crop!" They fit beautifully and are featured in their current Spring collection. My dear friend, Lois Kolker who has been a Cabi stylist for many years, will be selling the Spring 2020 collection at my home on February eighteenth. If you would like to come by and shop, please let me know!
I decided to go for it and pair them with high red pumps, probably because I felt like celebrating the fact that my foot has healed! Fear not, they were only on for fifteen minutes during the time that it took to shoot this outfit. These vintage Prada sunnies are one of my favorite finds, and I quickly scooped them up as I adore anything tortoiseshell. You never know what you might come across in vintage stores, so it's always wise to look carefully!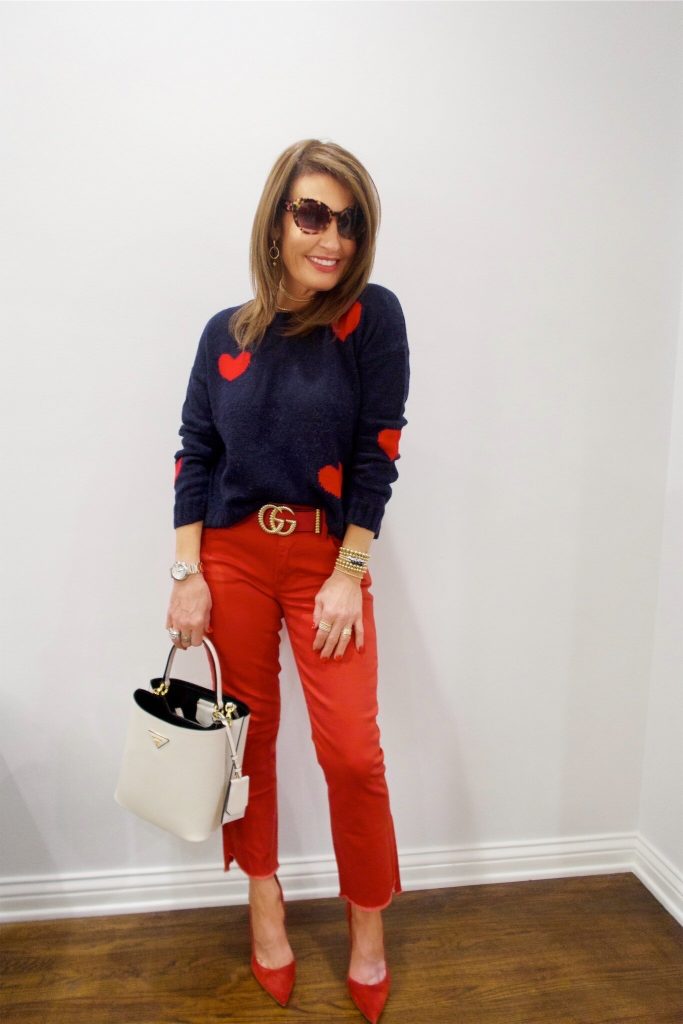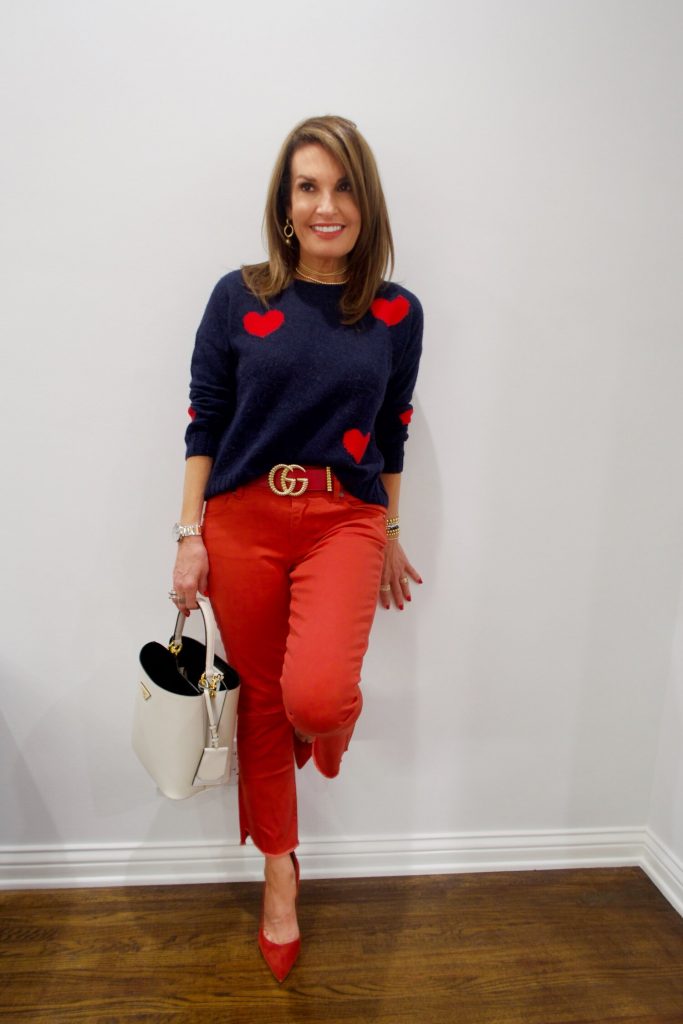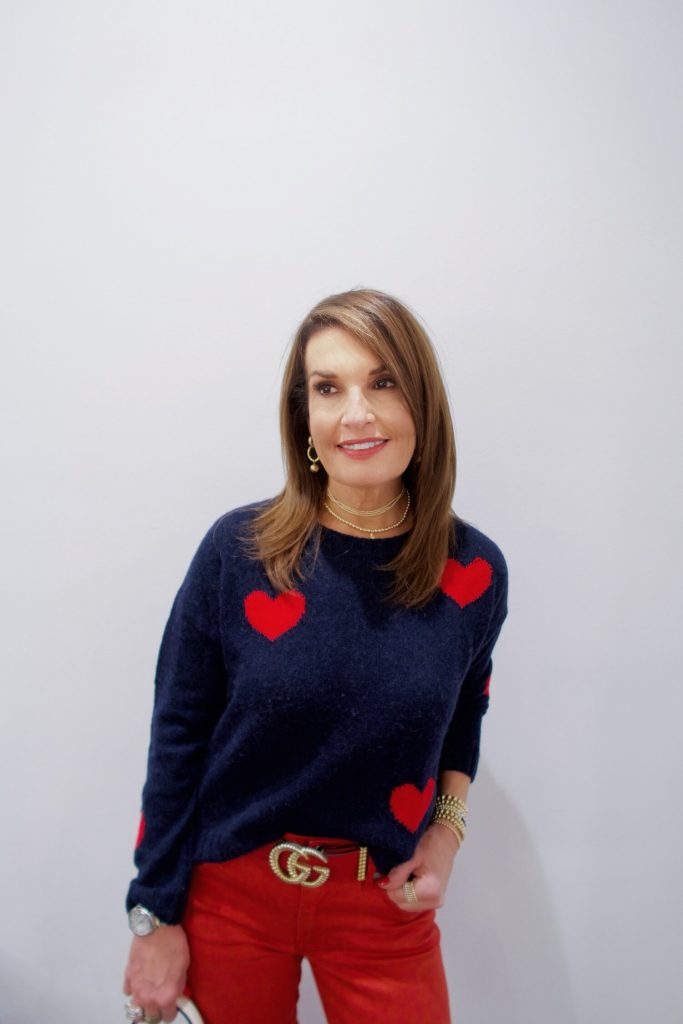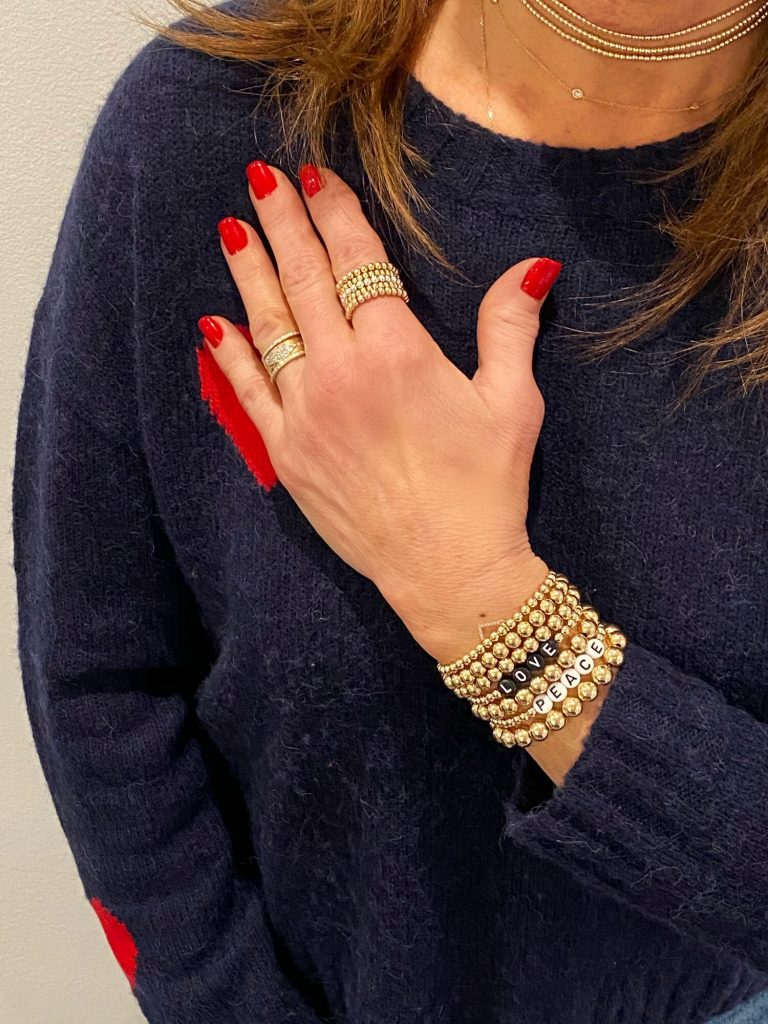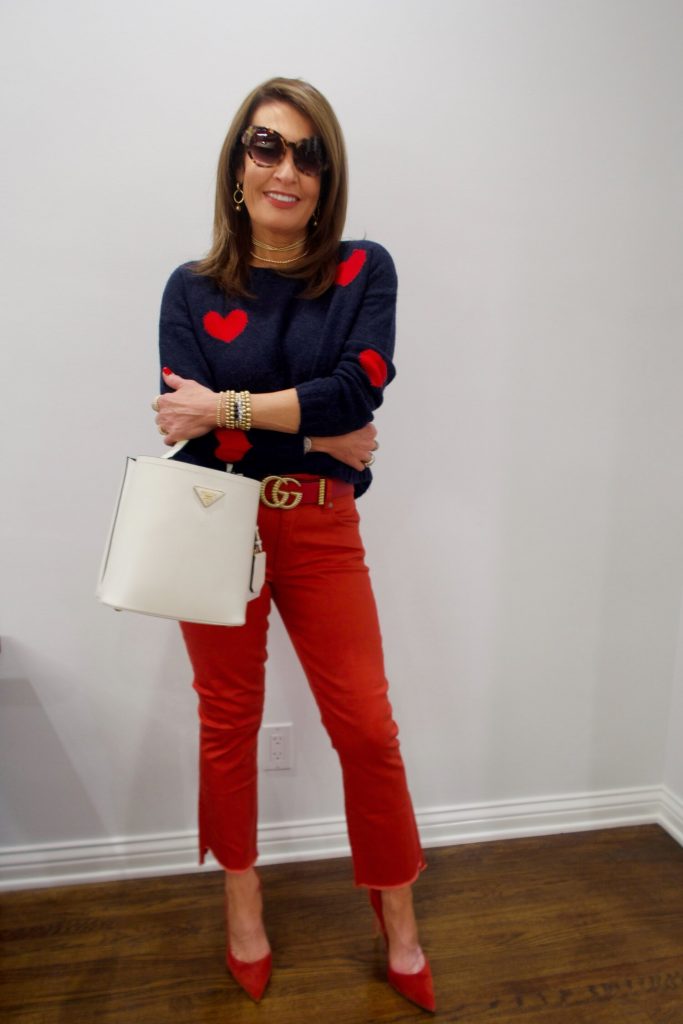 Now let's discuss the jewelry I am wearing. As you know, I am an enormous fan of Molly Rabbanian's jewelry line, Jewels By Molly Sydney. She has taken the gold bead stretchy bracelet to new and creative heights. She now does stretch rings, necklaces, chokers, themed and named bracelets for children as well as adults, initial bracelets, chokers and the list continues to grow! She has branched into box chain necklaces that double as bracelets, and thin gold necklaces interspersed with initials. My cousin has a delicate gold necklace interspersed with each initial of her 5 grandchildren, making it special and unique.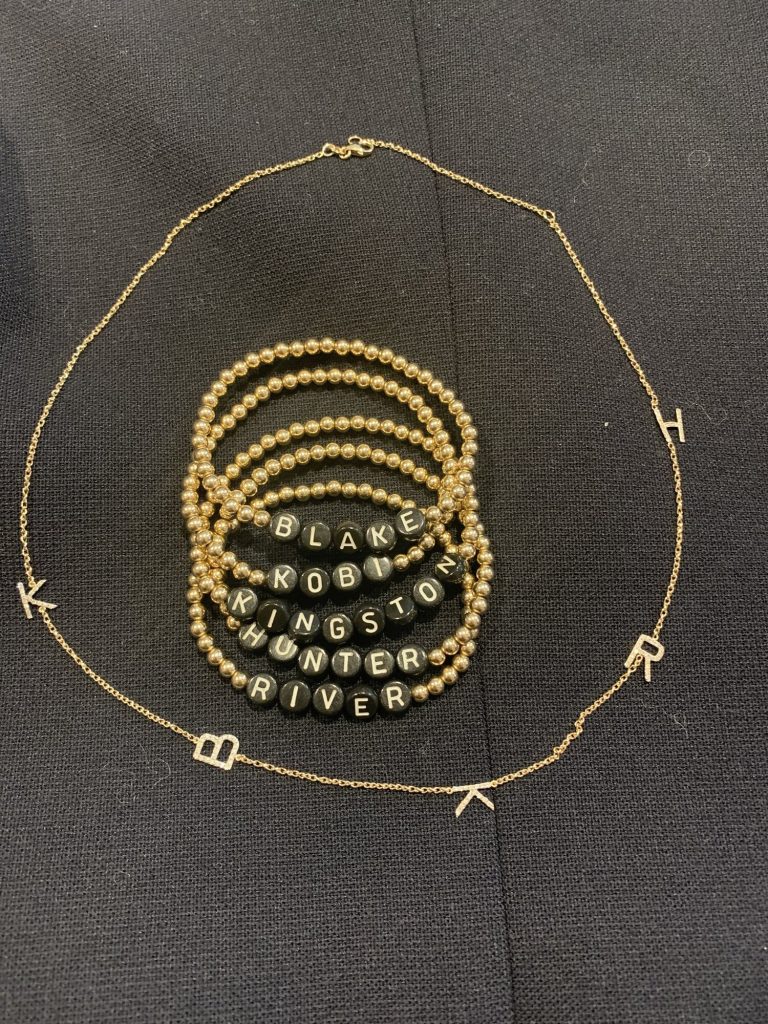 Molly is a former makeup artist and now the mom of two little girls, her foray into the jewelry design business is an Instagram success story. Molly began posting her creations on her Instagram page, and almost overnight, her "hobby" became a thriving business. She sells privately but has been a featured designer in many fundraising events throughout the city. Molly's jewelry is extremely well priced and would make great Valentine's Day gifts as well as mother's day, even father's day as she does bracelets for men, birthdays and thank you gifts. You must check out her Instagram page or simply message her through Instagram to speak with her directly. She is the loveliest person and will truly go out of her way to make sure that her customers are happy and satisfied. To quote Molly, her line "wears like fine jewelry, but is an affordable to feel good jewelry." I think Molly is a treasure, and that is why I am showing off my trove!
Molly is generously offering a 10% discount on any orders coming from this post. Please direct message her through Instagram and use Fabulesley in your message.