I had a morning meeting and I was late. I went through my usual routine, was on the bike at seven-thirty, into the shower by eight-thirty, washed my hair, got dressed and realized there was not enough time to blow dry and style my hair. So I did what any fashionista who finds herself short on time would do, I threw my hair into a high ponytail and found a lovely scarf to wrap around the elastic. Now I will admit that I have never done this before. I was highly annoyed with myself that I shampooed my hair knowing that there would never be enough time to dry it, but somehow, the clean smelling aspect of this exercise won the inner battle. I have always wanted to try this look and was quite pleased with the results!
Let's return to the outfit, shall we? 
These adorable striped cropped jeans are by AG. They have almost zero elasticity, so they require a few deep knee bend and lunges, I refer to this as the jean dance, to work them in a bit before trotting out the door. I picked up this white sweater by Autumn Cashmere on my recent trip to Winnipeg at my favorite store,  Danali. I love the airiness of it and the length is perfect since it hits right at the hip. I will continue to sing the praises of these Stuart Weitzman mules for the entire season. They are sleek, comfortable and so easy to wear. You will have them on repeat all summer and into fall. Stuart Weitzman also makes a cute white mule that is more of a bootie!
Later that day, after we shot these photos, I decided not to re-do my hair for an evening meeting and continue with the high ponytail look. When we were checking attendance, I quickly called out, "I am here, I just don't look like myself!" Everyone laughed and some people told me that they didn't recognize me at first glance. Hmmm, I thought "how interesting" and perhaps it is even useful for the future!
Autumn Cashmere Sweater, AG Pants available at Yellow Dog LA, Stuart Weitzman Mules, Gucci Shades, Fendi Bag, Jewels by Molly Bracelets, Tous Watch, A World Curated Scarf.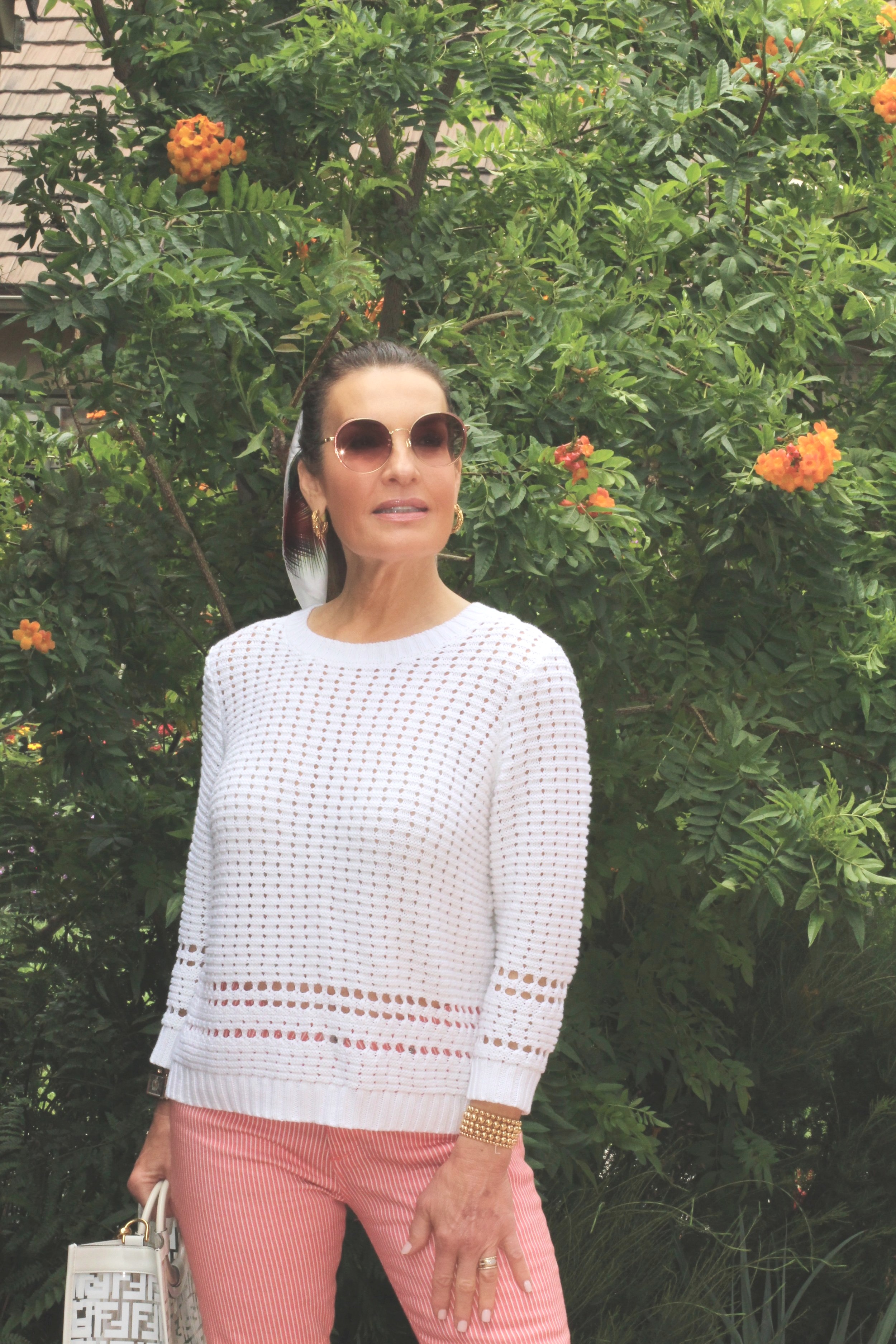 Wearing the Spanish Pink lip color by Tom Ford