This is a new twist on a family pasta favorite that I have been making with penne pasta since my kids were little. I updated it by adding wilted spinach and artisinal pasta, for a more grown up appeal.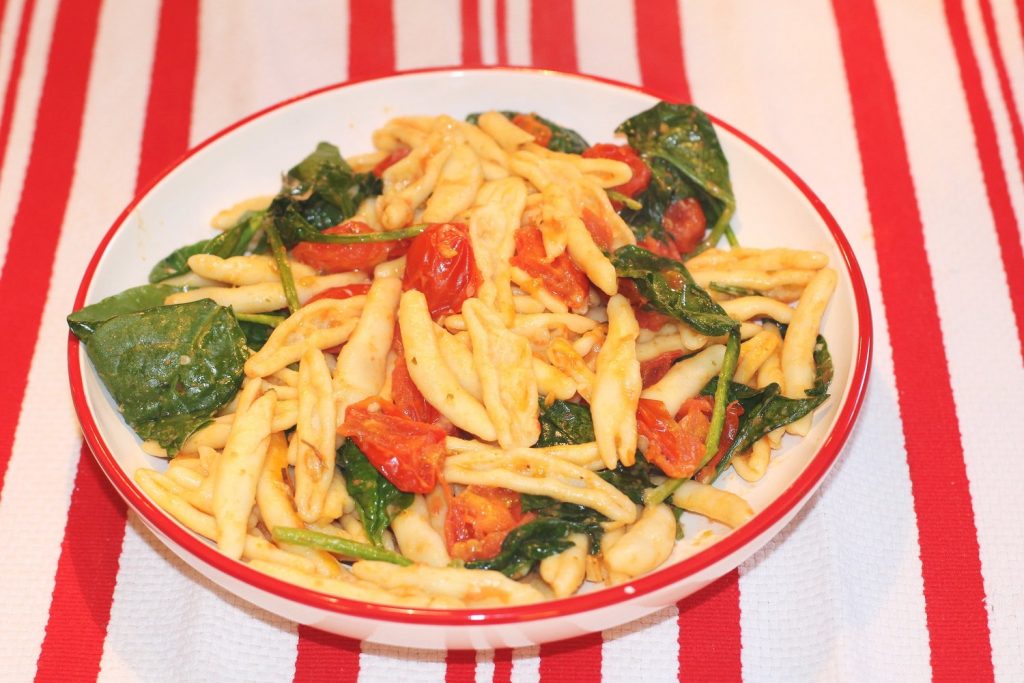 Ingredients:
salt and pepper
1 pound short pasta of your choice. I found this one at Trader Joe's
1/4 cup olive oil
2 garlic cloves, thinly sliced
2 cups cherry tomatoes halved
1 bag or bunch of spinach washed and trimmed
1 teaspoon dried oregano
1/4 teaspoon crushed red pepper (optional)
1/4 cup Parmesan or DF cheese plus more for serving
Directions:
In a large pot of boiling salted water, cook the pasta until al dente, about 13-15 minutes. Drain pasta.

Meanwhile, in a large skillet, heat the olive oil over medium heat. Add the garlic, and cook, stirring until just golden, about 1 minute. Add the cherry tomatoes, oregano and crushed red pepper (if using), 1/2 teaspoon of salt and 1/4 teaspoon of pepper. Reduce the heat to low and cook until the tomato juices run..about 3 minutes.

Add the cooked pasta and 1/4 cup of parmesan or DF cheese to the skillet and toss to combine. Transfer to a large serving bowl and toss in the spinach until the leaves are wilted. Add more cheese to taste. Serve immediately.