This is a summer salad that will be on repeat all season. Easy to prepare, it is delicious with or without the chicken.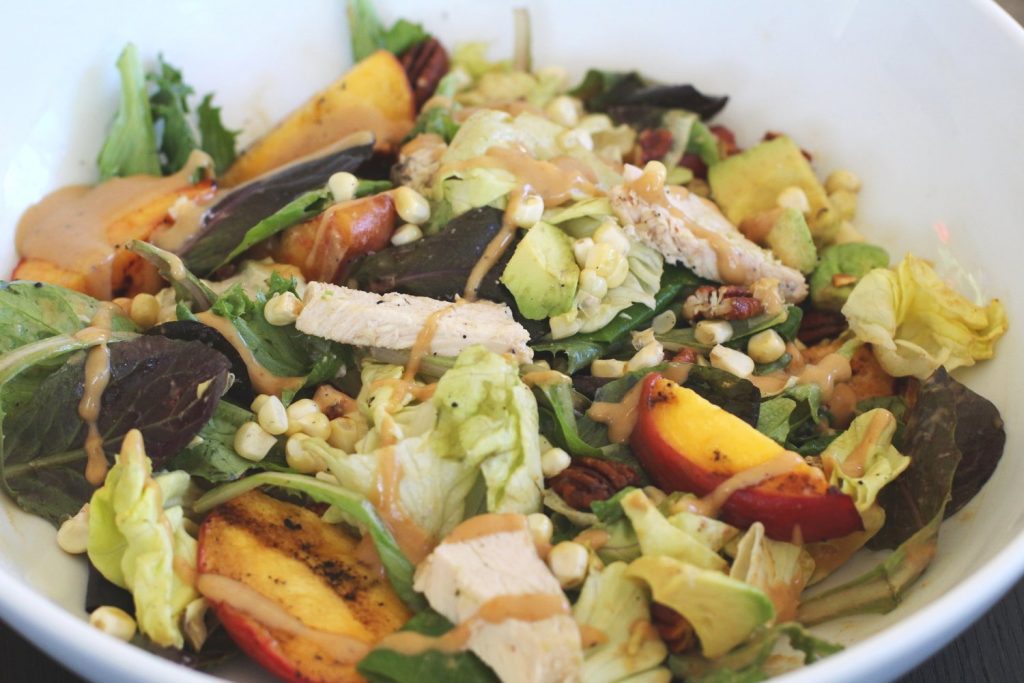 Ingredients:
Cashew Dressing:
1/4 cup cashew butter
2 tablespoons unseasoned rice vinegar
2 tablespoons olive oil
2 teaspoons Dijon mustard
1 1/2 teaspoons Grade A maple syrup
1 medium clove garlic
1/2 teaspoon sea salt, plus more to taste
A few grinds of pepper
Pinch of cayenne pepper
Salad:
1 1/2 pounds boneless skinless chicken breasts
(vegan option: blanched green beans)
Olive oil for brushing chicken, peaches and corn
1/2 teaspoon paprika
1 teaspoon sea salt
Freshly ground pepper
3 medium size firm but ripe peaches, pitted and quartered
3 ears of corn husked and silks removed
6-7 ounces lettuce of choice, either Romaine, Butter or mixed greens
1 large avocado, peeled, pitted and cubed
1/3 cup sweet and spicy pecans or candied pecans, such as Trader Joe's prepared pecans.
Directions:
Prepare the dressing: Place 1/4 cup of water and all the ingredients in a high powered blender or hand held food processor and blend until smooth and creamy. Taste for seasoning. Refrigerate until ready to use. The dressing will thicken as it sits, especially overnight.

Lightly brush the chicken with oil, salt and paprika and either grill on the BBQ over medium to medium high heat OR add a tablespoon of olive oil to a heated frying pan and cook for about 5-7 minutes per side, depending on thickness. Alternatively, you can use a precooked rotisserie chicken or cooked, cold leftover chicken.

Brush the peaches and corn with oil and grill on BBQ or in a cast iron grill pan for a minute or two on each side so that they have light grill marks. Then slice the peaches crosswise into thirds or fourths ad cut the corn kernels off the cob.

Slice the chicken crosswise into 1/2 inch slices or as desired. Place the greens in a bowl. Add the corn, and drizzle the dressing lightly to coat and toss. Arrange on a platter and top with the peaches, avocado and pecans. Drizzle with additional dressing and serve.
Serves 6