This is my absolute favorite dessert! It takes absolutely no time to make and is so delicious that you will have it on repeat forever! This dessert can be made vegan and gluten free by substituting gluten free flour for regular flour, and non dairy margarine like Nature's Balance, for butter. You can also substitute coconut sugar for brown sugar. No matter how you prepare it, the taste is superbly delicious!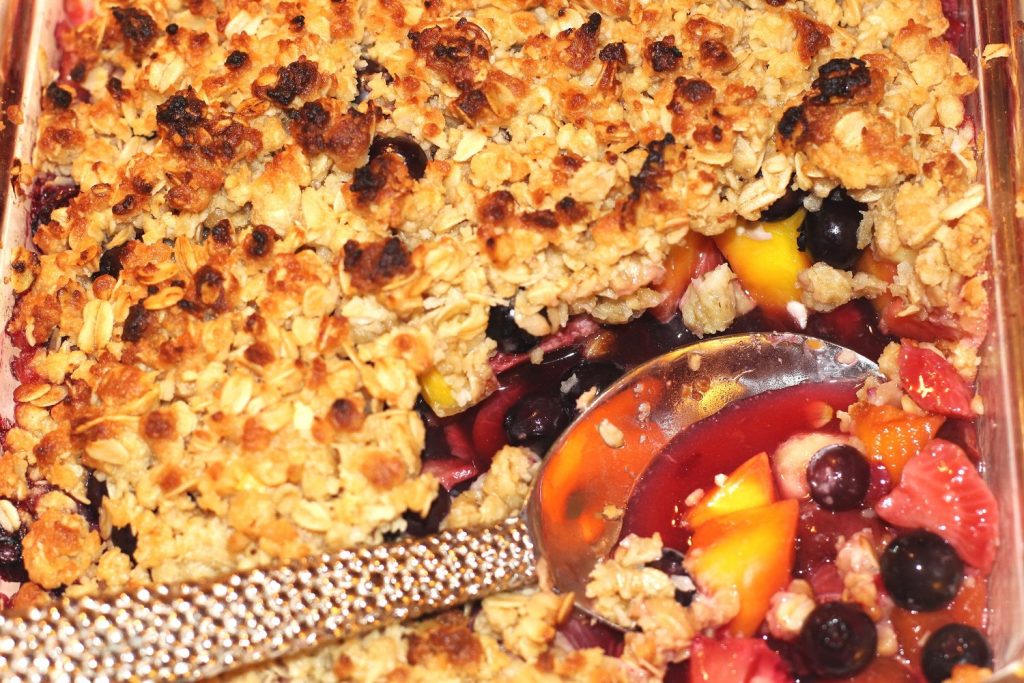 Ingredients:
Whatever different fruits you like:
I used blueberries, cherries, strawberries, pineapple and mango
(about 5-6 cups for a 9X11 inch pan)
1/4 cup brown sugar or coconut sugar
1 cup flour or gluten free flour
1 cup rolled oats
1/2 cup unsweetened shredded coconut
1 tablespoon cinnamon
1/2 cup melted butter or dairy free margarine
1 tablespoon honey
Directions:
Preheat oven to 400° F
Chop bigger fruit into bite sized pieces, pit the cherries, and mix together the different fruits.
Mix the dry ingredients in bowl, then stir in melted butter and honey.
Cover the bottom of the baking pan with the fruit and sprinkle the cobbler topping over.
Bake in oven for 15 minutes. If the topping gets too brown, tent it with foil and bake until the fruit begins to bubble (about 10 minutes more).
Serve hot or cold, with or without vanilla ice cream!