If you have never tried The Beyond Meat Burger, I insist you do it today. This Vegan burger rivals any beef burger I have eaten. We created our's with caramelized onions and an aioli sauce. The results were amazing!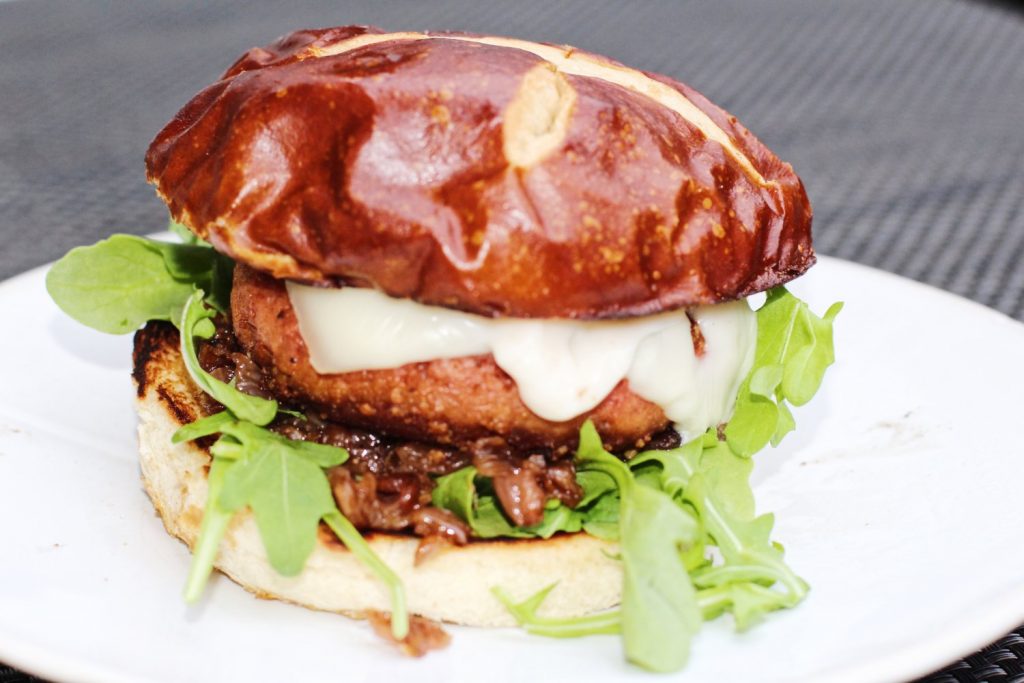 Ingredients:
4 Beyond Burger patties (2 packages)
3 cups arugula
Caramelized Onions (recipe below)
4 slices of cheese of your choice. (we used Jarlsberg lite)
4 hamburger buns (we used preztel hamburger buns)
Garlic aioli
Plant-based Caramelized Onions Recipe:
1 tbsp vegan butter
OR olive oil cooking spray
1 large yellow or red onion
1 tbsp sugar or coconut sugar
1 tbsp balsamic vinegar
2 cloves garlic, minced
2 teaspoons fresh thyme
Plant-based Garlic Aioli:
⅔ cup vegan mayonnaise
2 garlic cloves, minced
1 teaspoon lemon juice
¼ teaspoon sea salt
2-3 tablespoons water (optional to thin)
Directions:
Vegan Caramelized Onions Instructions
Over medium-low heat, melt the vegan butter in a thick-bottomed stainless steel or cast iron pan. Or coat the pan with olive oil cooking spray. Add the sliced onions and cook for 10 minutes to soften. Add a pinch of salt and the sugar, then reduce the heat and continue to cook the onions for 30 minutes to one hour until they are deep amber in color and caramelized. Stir them often enough so that they don't burn, but not so much that they won't brown.
Finish off with the balsamic vinegar, thyme, and garlic. Cook for an additional 3 minutes and set aside.
Vegan Garlic Aioli Instructions
Add vegan mayonnaise, garlic, lemon juice, and sea salt to a blender or food processor. Process until smooth. Scrape down the sides and then added as much water as needed. Blend and repeat until desired consistency is reached.
Refrigerate in an airtight container until ready to use. Vegan aioli will last up to seven days in the refrigerator.
Burger Instructions
Cook Beyond Burger according to package instructions. 2-3 minutes before patty is finished cooking add a slice of cheese and allow it to melt. Covering the frying pan speeds this up.
Toast hamburger buns for 2-3 minutes, in the pan. Top with beyond burger patty followed by caramelized onions, fresh arugula.
Spread garlic aioli on top half of bun half and enjoy!