Here is a fabulous recipe for salmon that you can prepare on the BBQ or in the oven. You can also use low-sodium tamari sauce as a healthier alternative. tamari is also gluten-free.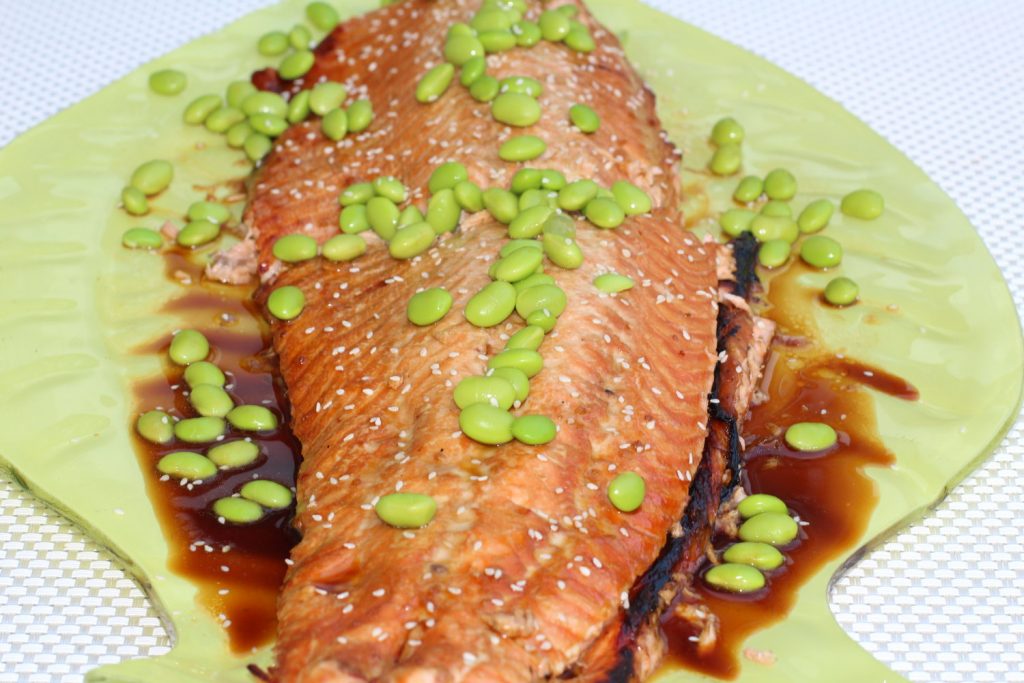 Ingredients:
1 skinless salmon filet, you can remove the skin after grilling on BBQ in foil.
2 cloves of garlic, minced
1/2 cup of regular or low-sodium tamari sauce
juice of 1/2 orange
3 tablespoons of raw honey
1/2 teaspoon of toasted sesame oil
3 tablespoons of sesame seeds
1 1/2 cups of frozen, shelled edamame, thawed and brought to room temperature or fresh refrigerated edamame, I use the ones from Trader Joe's.
Directions:
Whisk together the tamari sauce, orange juice, garlic, honey and sesame oil in a bowl.
Place the salmon in a 9 x 13 pyrex dish and pour half of the marinade over the fish. Refrigerate for up to 30 minutes.
Preheat the oven to 400 degrees or fire up the BBQ to medium.
When the fish is ready to be cooked, if you are opting to cook in the oven, remove it from the marinade and place it on over on a parchment-lined baking sheet covered with aluminum foil.
If you are grilling on the BBQ, place the fish on top of a piece of aluminum foil, set the heat to medium and close the lid. 
Cook until the fish flakes when prodded with a knife but is still moist or to your liking.
I prefer my fish cooked all the way through. This should take 10-15 minutes for either the BBQ or the oven.
Remove the salmon from the oven or the BBQ and let cool for about 5 minutes, and transfer to a serving platter.
Pour the remaining marinade over the fish and sprinkle the edamame and sesame seeds evenly over the top.
Serve immediately. Serves 4-6.