This chicken dish is so delicious that I will be cooking it on repeat in our house from now on! This recipe is from The Silver Platter Cookbook by Daniella Silver and Norene Gilletz.
Ingredients:
2 chickens (about 3 pounds each), cut into eighths
kosher salt
freshly ground pepper
2 teaspoons of dried basil
1/4 cup of honey
Topping:
2 tablespoons of olive oil
3 large leeks, thinly sliced
2 red bell peppers, halved and thinly sliced
2 mangoes, peeled and thinly sliced
1/2 teaspoon of kosher salt or to taste
freshly ground pepper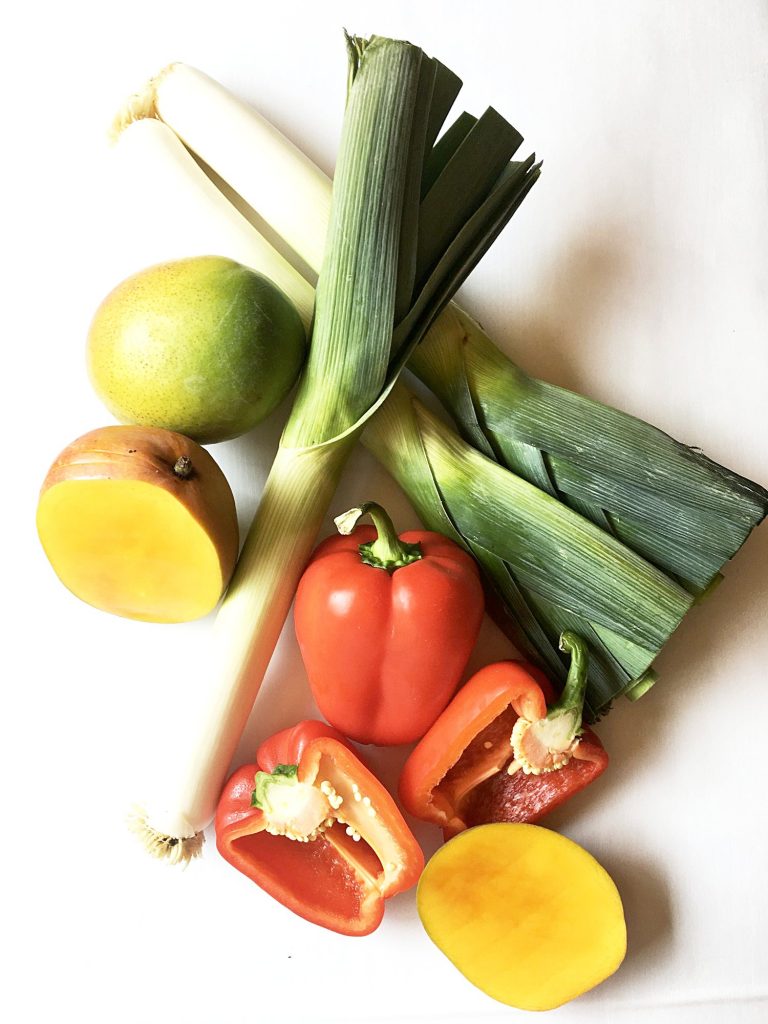 Directions:
Preheat oven to 400 degrees. Coat a large roasting pan with nonstick cooking spray.
Trim and discard excess fat from chicken pieces. Arrange chicken skin side up in a single layer in prepared pan.
Sprinkle with salt, pepper, paprika, onion powder, and basil. Drizzle honey over chicken. Rub chicken on all sides. To coat with spices and honey. This can be prepared up to 24 hours in advance and refrigerated, covered.
Roast uncovered for 1 hour and 20 minutes until cooked through and juices run clear. Baste occasionally.
Topping: Meanwhile, in a large wok or skillet, over medium-high heat, sauté leeks and red peppers for 7-8 minutes, until golden. Stir in mangoes. Season with salt and pepper; cook until heated through (about 3 minutes). 
Transfer chicken to a serving platter; pour on topping.