What do a silk mini dress and ribbed knit midi dress have in common? In addition to their color, quite a lot! At first glance, this crinkled silk dress from French designer, Zadig and Voltaire and this knit ribbed dress by Aussie designer, Dion Lee, couldn't be more unlike. One is casual and very short, the other is long and lean and slightly dressier. As with anything fashion-related, I always urge you to go beyond the obvious and reimagine your clothes so that you can repurpose them, to add more wear to the item.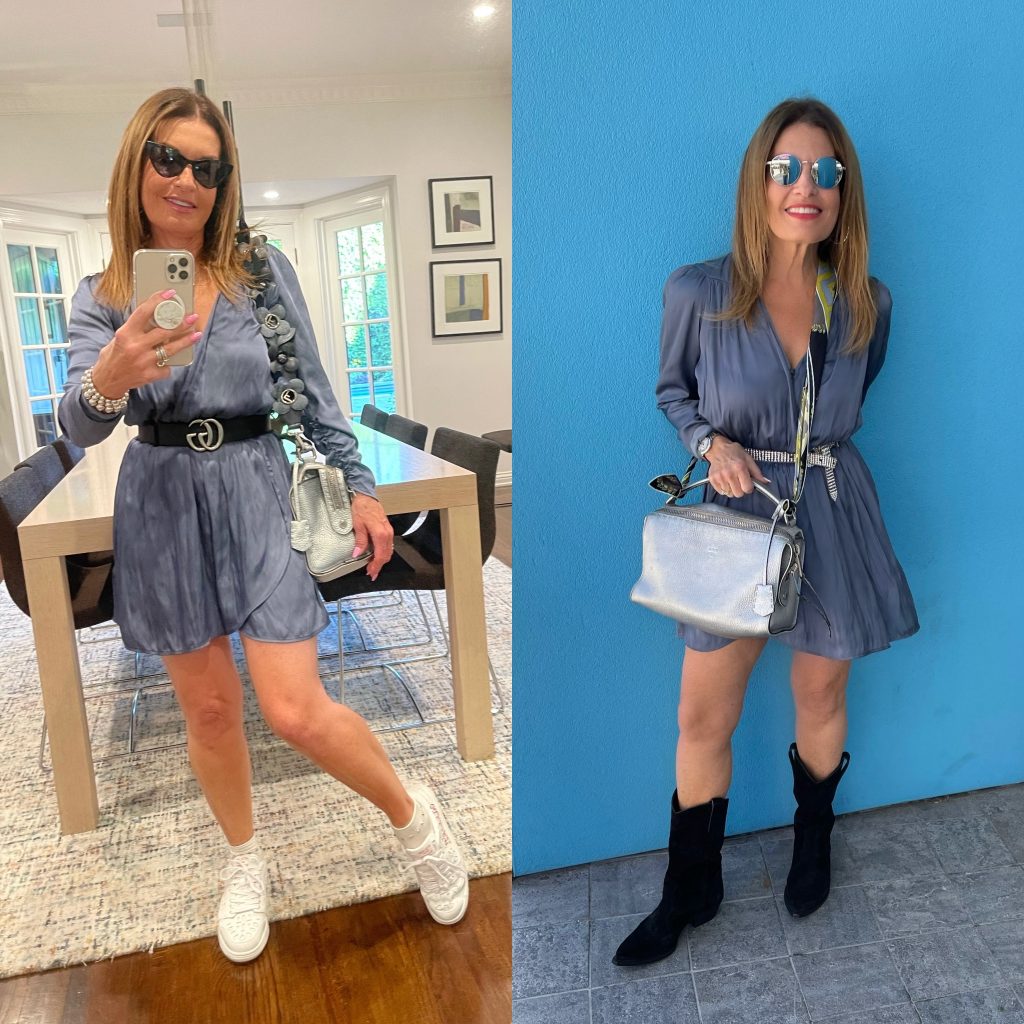 You may recall that I wore this dress a couple of months ago in this post. Belting it adds needed definition to my waist, however, the belts of choice are totally different. The Gucci leather belt is simple yet effective. Its width and color offer more definition. The rhinestone belt on the right, by Cabi Clothing, adds whimsy to this look, and the cowboy boots take it to an entirely different place, in deference to the socks and sneakers in the first look. I think that both work well and are equally functional. This rhinestone belt is very useful and versatile, as I am about to explain in the next set of photos.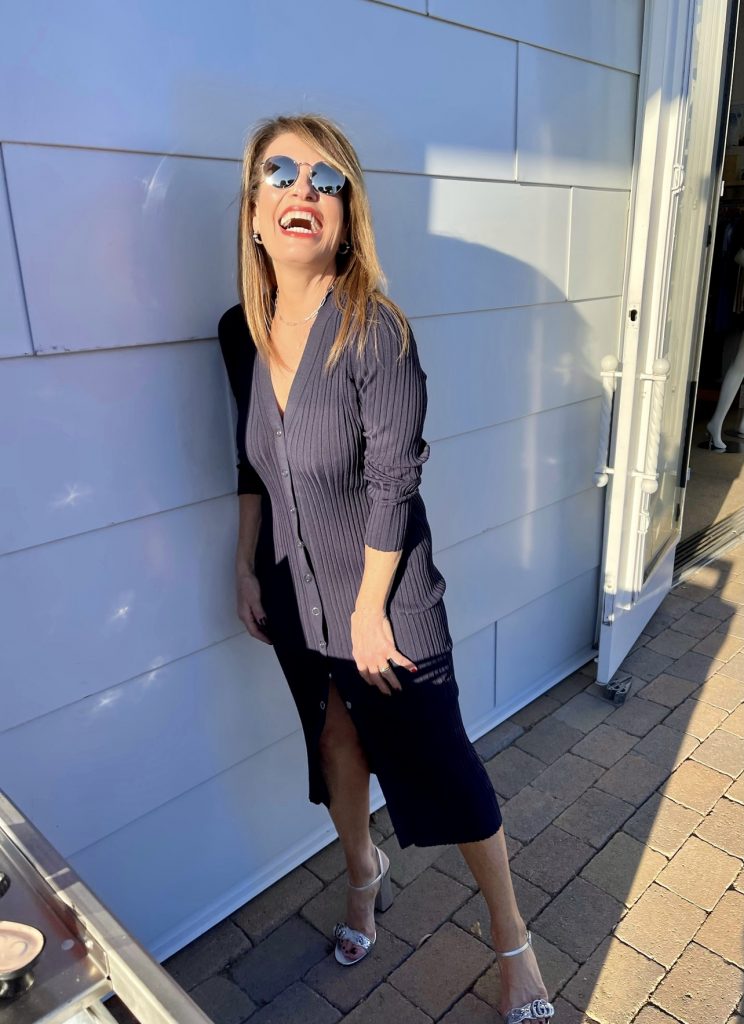 This dress by Dion Lee is striking and chic. It is flattering and surprisingly forgiving. You will notice that the fabric does not hug the body. It is slightly unstructured and loose at the waist. Once I jut out my hip and place my hand at my waist, I can create the definition I want for the photo!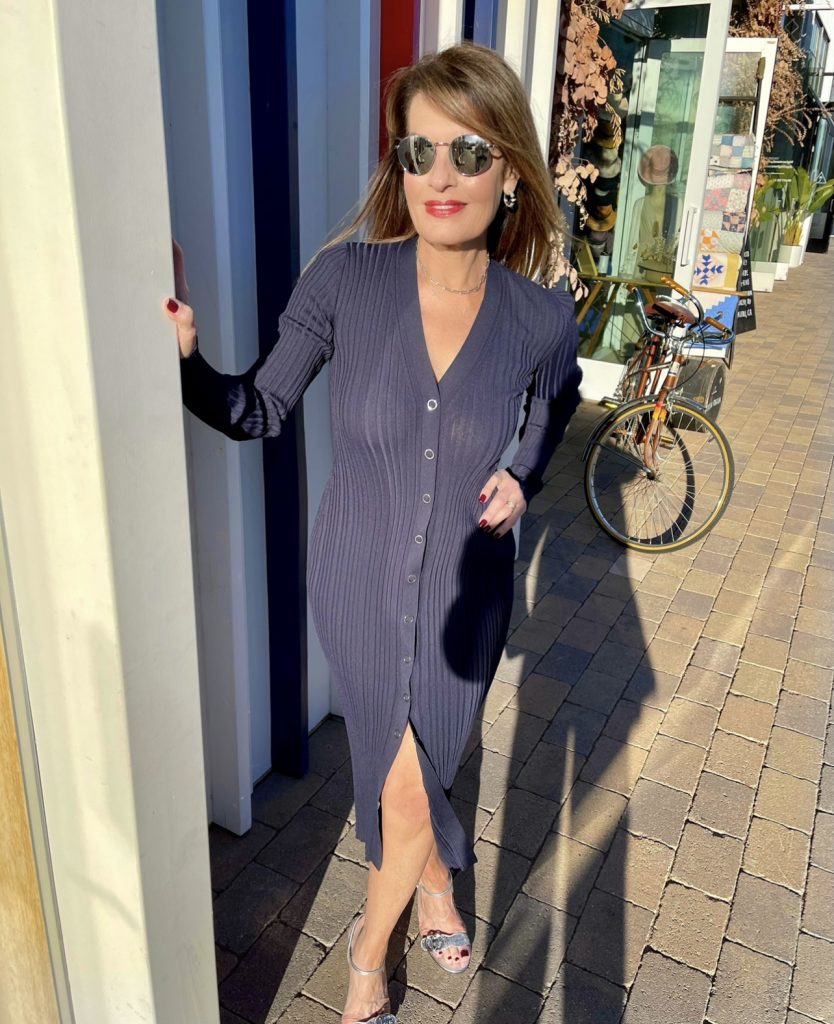 I will be wearing this dress in New York this week at the Broadway opening of Lackawanna Blues. I plan to use the rhinestone belt to cinch the waist and add some dressiness and pizzazz. Unfortunately, Cabi no longer sells this belt, but I found one on Amazon and it is equally as fabulous and well worth the investment, since the price is low, at $15.99!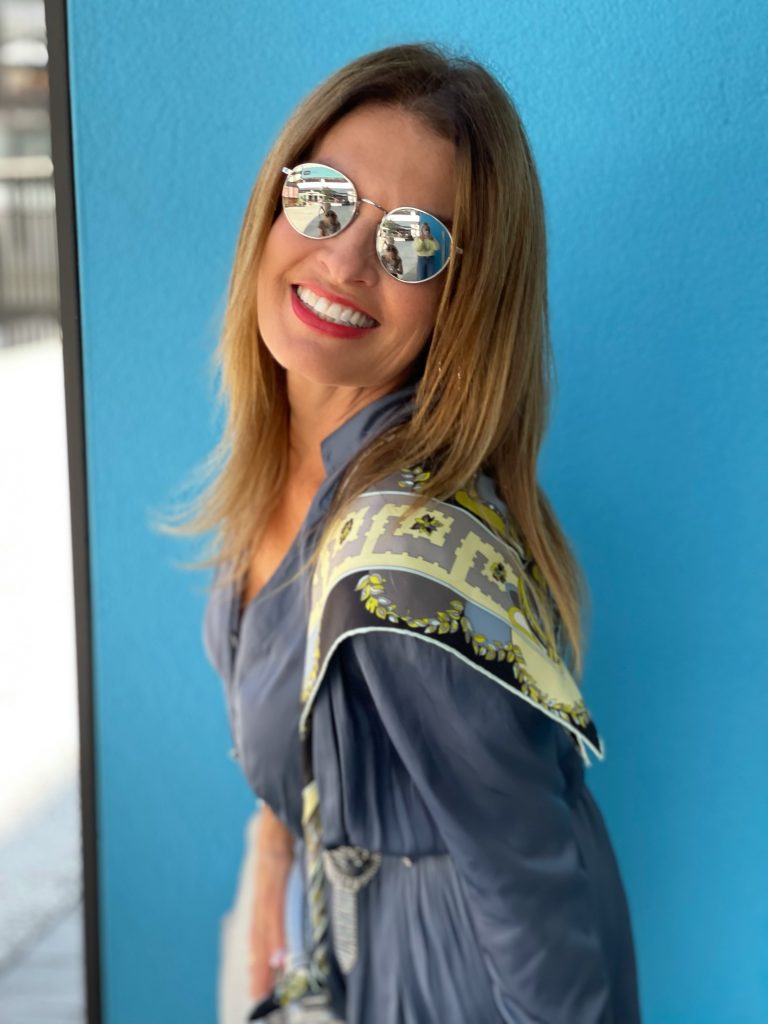 Lets talk about this scarf. I actually would love to take credit for its newest incarnation, but all the accolades must go to my friend and photographer, Pam Davies. We were about to shoot the dress when I asked Pam which strap she preferred? The original silver strap or the floral guitar strap, pictured below.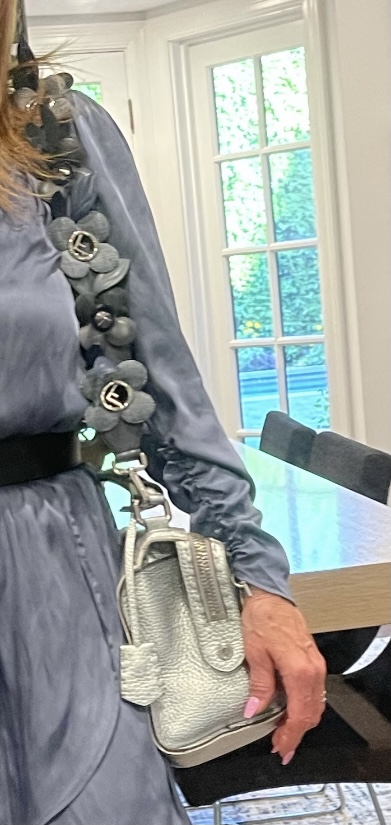 Pam looked at both straps and said, "Neither…let's try tying your scarf to each hook and see how that looks." The use of the scarf this way is pure genius. It added so much to the look of the dress, as it draped over one shoulder. This is definitely something to consider the next time you are thinking of changing a purse strap.
I might just add this scarf to the knit dress, for a daytime look with black pumps or slingbacks. But for the evening, I plan to keep it glam with these high silver sandals!
I could possibly wear the dress with these cowboy booties, but I likely won't, since I am a tad too short to be able to pull that off. However, if you are someone who is 5'6 or taller, I would definitely go for it. And I have the best news…these YSL boots are wildly reduced by 60%! They are still a splurge, but not nearly as much as their original price.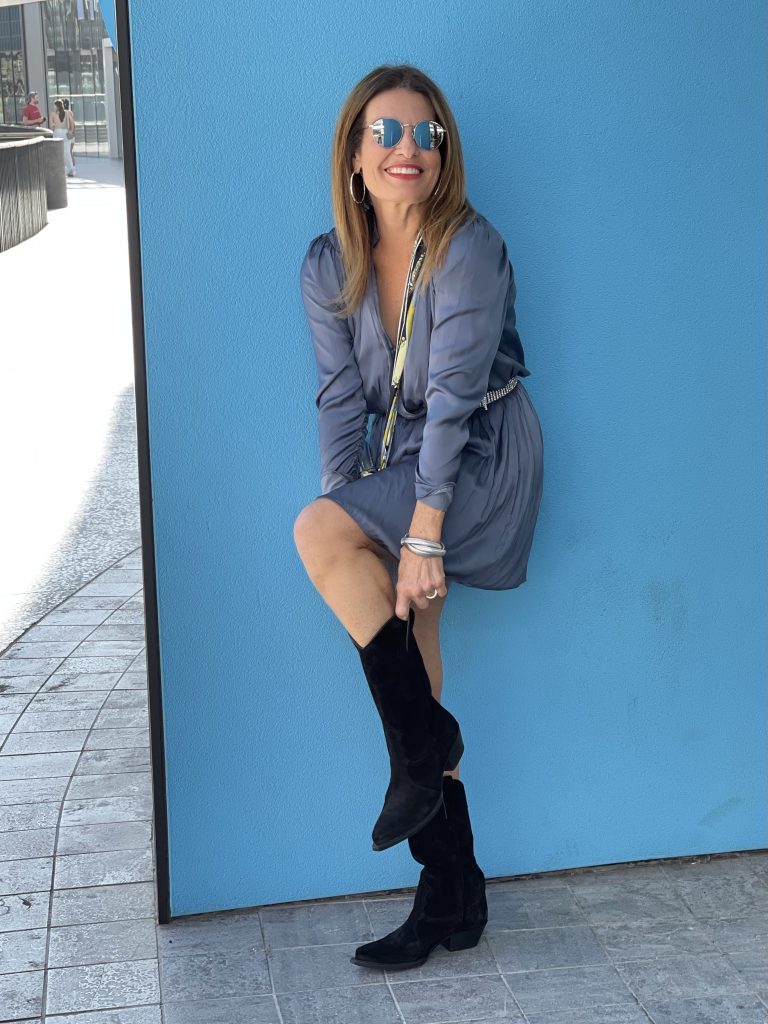 I hope that this post inspires you to reimagine some of your clothes. It is fun to do and gets your creative juices flowing, which in turn can help alleviate those fashion blues.
Shop The Post