Whenever I pack for a trip to New York City, I am careful to try everything on and plan each outfit for each day. This trip would be our first to the city since the summer of 2019, and as hard as that is to believe. And since it is New York Fashion Week, I took extra care in choosing my attire. Here are the highlights for both Day and Night. We came to the city because Serena produced a dance show at a small theater in the Village. She also choreographed and danced in one of the six numbers…it was a huge success!!
Outfit #1
Since I purchased this entire outfit through Bloomies, it made sense to shoot these photos near the 59th street store, as an homage to my one-stop-shop! I cannot say enough good things about these shoes, which you will notice I also have in black (in the photos below); that is because they are incredibly comfortable and très chic. The slingback and tiny heel add to the charm and appeal, not to mention the comfort level! They were definitely a splurge, but I have no regrets and neither do my feet. I have been wanting to wear this romper all summer, and so I unveiled it here, at last. I love the print and ease of it, except for bathroom runs, which are tricky for any romper/jumpsuit; all but for the sake of fashion, I always say!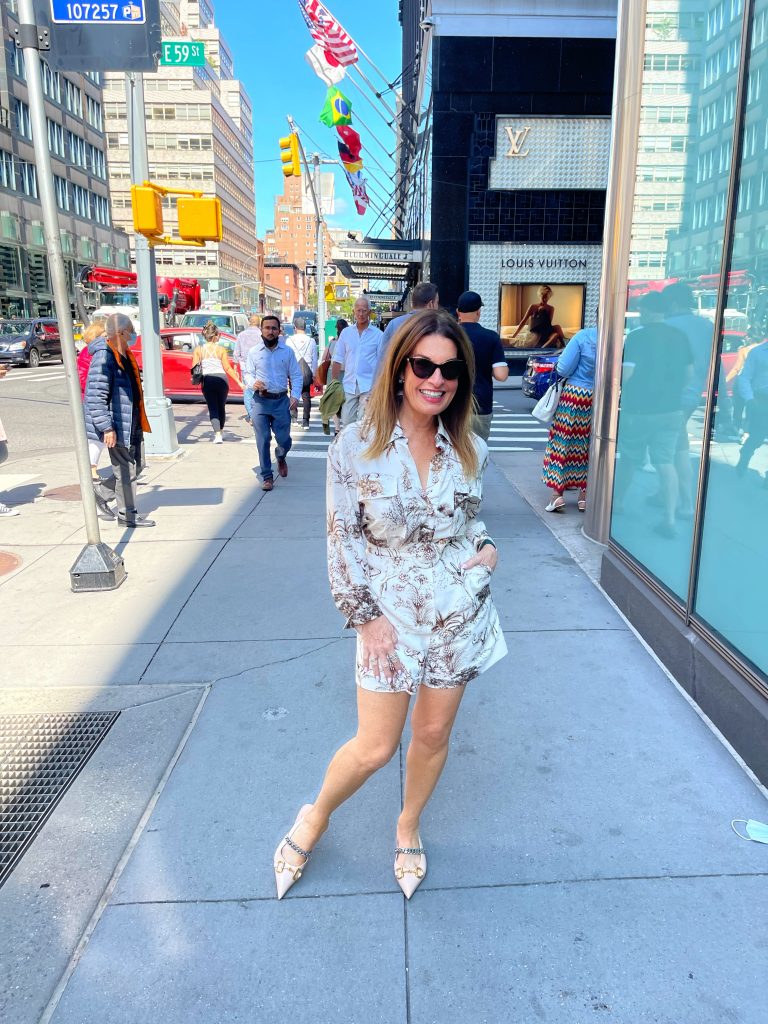 Outfit #2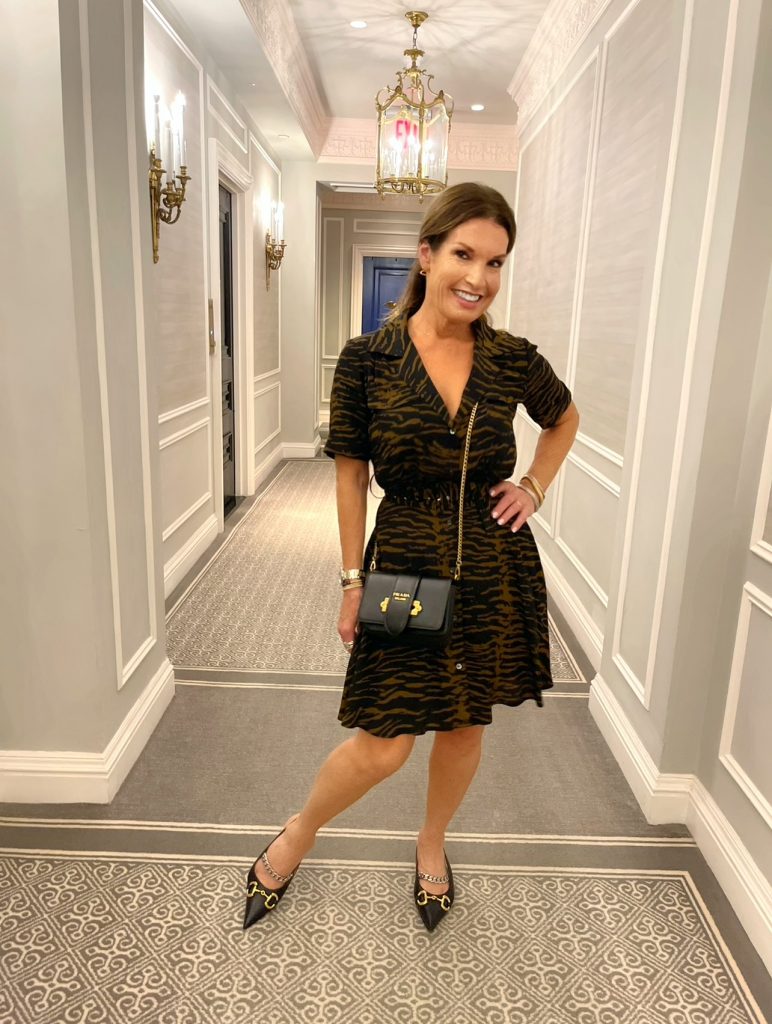 This dress, by Staud, was a score. It fit me perfectly with absolutely no need for any alteration…which I consider miraculous since I am always in need of shortening whether it be a hem or sleeves. I love this dress for its mahogany zebra print and classic lines. Try as I may, I could not locate this version for you. However, I did find it in a maxi length which you could easily shorten. This is a great transitional print and happened to be perfect for a warm late summer New York City night, something we almost never get in Los Angeles. In addition, it packed perfectly, with nary a crease, making it perfect for future travel.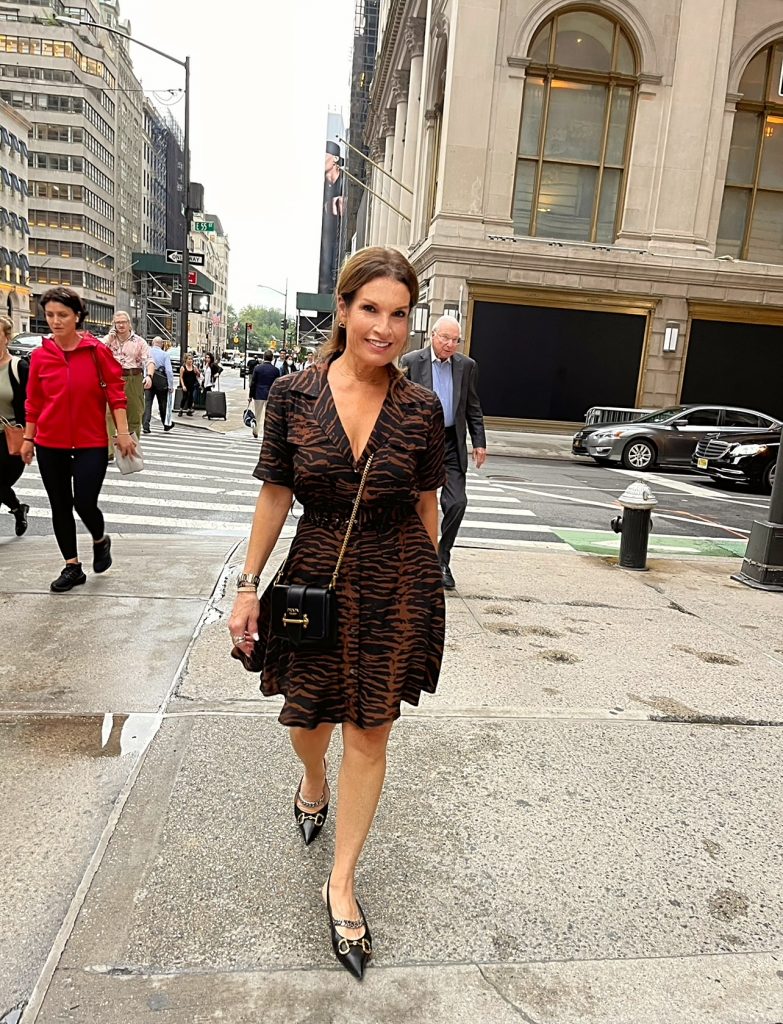 Outfit #3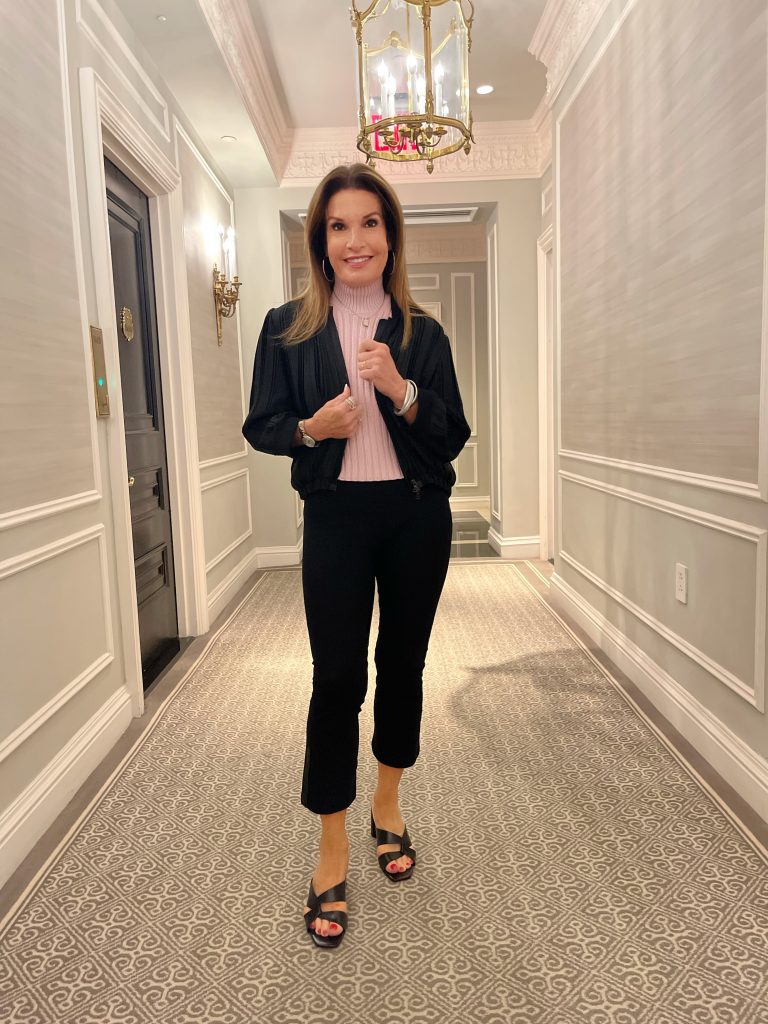 I have owned these black cropped flared leggings for so many years, that I cannot pinpoint when I purchased them, but they preceded my first encounter with my new friend, their designer, Elaine Kim. I actually found them at the Pacific Palisades boutique, BOCA, and I have been wearing them ever since. These pants travel beautifully and are super flattering. You can pair anything with them and they look chic and sophisticated. In winter I simply add a sweater and boots and I am good to go. I just purchased this turtleneck sleeveless sweater at Zara here in New York; I love the color, especially when paired with black. This silk bomber jacket has been in my wardrobe for a few years. It packs and travels well and elevates any outfit beautifully. As you can see from the photos below, a bomber jacket in a chic fabric can be worn with flared leggings as well as over a dress.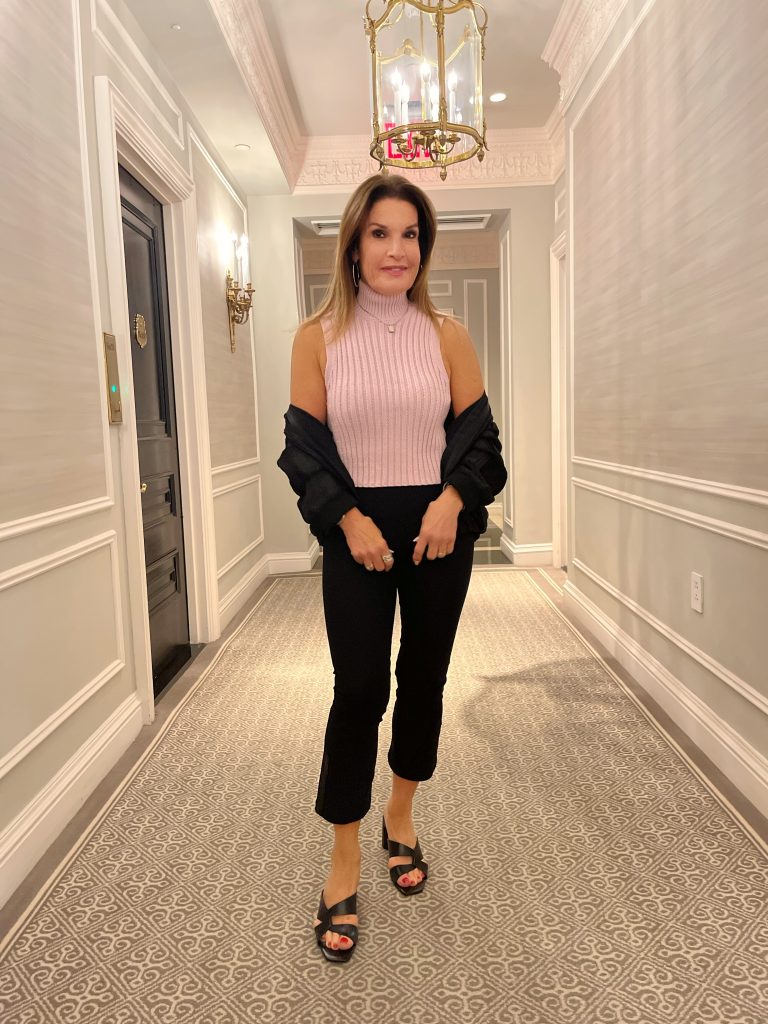 Outfit #4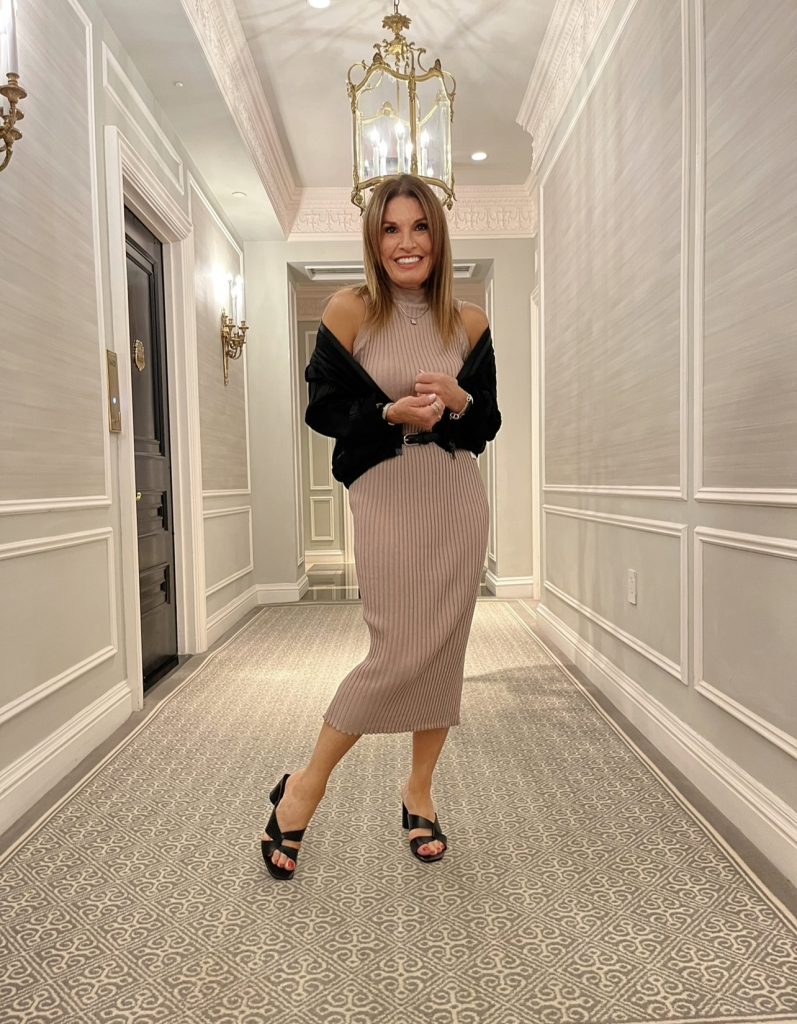 When we arrived in New York, we headed straight to Serena's to hug and kiss her! She showed us what she planned to wear for her "after the show dress"…a micro mini zebra print vintage dress. I, of course, complained that it was too big on her and that afterward, she should have it taken in to show off her waist. But her legs are so gorgeous, that I said, "wear it, because all the attention is going to your legs." Not that I had nothing to wear, but I wanted to look like the "mother of the producer," and for some reason, all of the dresses I packed were short. Additionally, the nighttime temperatures were going to dip and I would need something a tad warmer and jacket friendly. Not wanting to spend any big money, I headed to my new haunt, Zara. It was there that I found this dress, whose color I fell for instantly. It was slightly loose on me so I grabbed a belt from a nearby nook to cinch it at the waist. I had my eye on these black sandals back in LA, but they didn't have my size; so when I spotted them here in NYC, I grabbed them! The entire outfit rang up for less than $150 tax included, and I felt vindicated and appropriately attired.