There is nothing as refreshing or satisfying as Gazpacho unless it's watermelon Gazpacho. The sweetness of this cold soup pleases appetite and satisfies like no other of its kind. hat's better, this recipe can be tossed into a blender and be ready to be quaffed in minutes. I try not to puree it to smoothie consistency, preferring instead, to keep it slightly chunky in texture. Enough said…get to it!
Tap to print
Ingredients:
1 small or 10 cups of cubed fresh watermelon
3 large Roma tomatoes, halved and cored*
1 small (1/2 pound) cucumber, peeled and seeded
1 medium red bell pepper, cored
1/2 small red onion, peeled
2 small garlic cloves, peeled
1/3 cup of packed fresh mint leaves
3 tablespoons of olive oil
3 tablespoons pf sherry vinegar
1 teaspoon pf fine sea salt
1/2 teaspoon pf freshly-cracked black pepper
1/2 teaspoon of ground cumin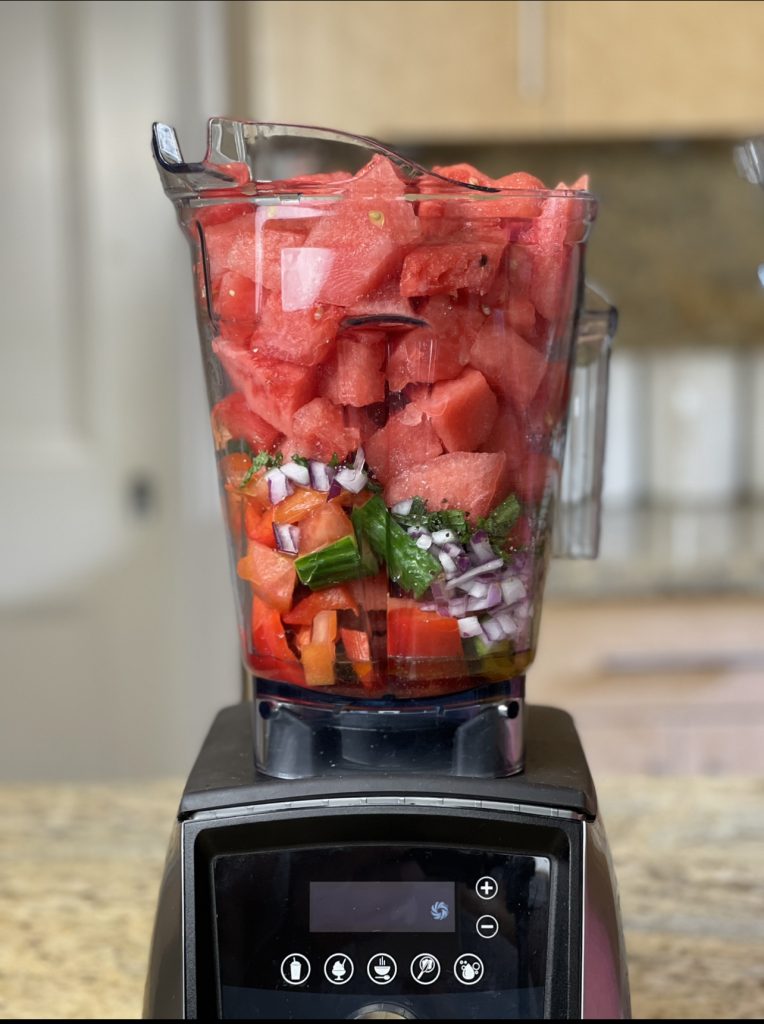 Directions:
Combine all ingredients together in a blender or food processor.  Puree for 1 minute, or until the soup reaches your desired consistency.  Taste and season with extra salt, pepper, and/or cumin if needed.
Refrigerate in a sealed container for 4 hours, or until completely chilled.
Serve cold, topped with your desired garnishes.