I came across this recipe in the NY Times and thought it would be perfect for an upcoming cooing Instagram reel, my latest obsession. I am always looking for healthy low maintenance eats that can be ready quickly and this one fits the bill. Little did I know that aside from being easy to prepare, it is even easier to devour. Just ask Jeff! Made of nuts, dried fruit, and pats, sweetened with maple syrup and rolled in coconut, they make a great on-the-go breakfast, snack, or dessert.
Ingredients
1 ½ packed cup of pitted, Medjool dates
1 cup of roasted almonds
¼ cup of maple syrup
1 teaspoon of pure vanilla extract
½ teaspoon of kosher salt
½ cup of dried cherries
½ cup of old-fashioned oats
½ cup of raw shelled sunflower seeds
⅓ cup of unsweetened finely shredded coconut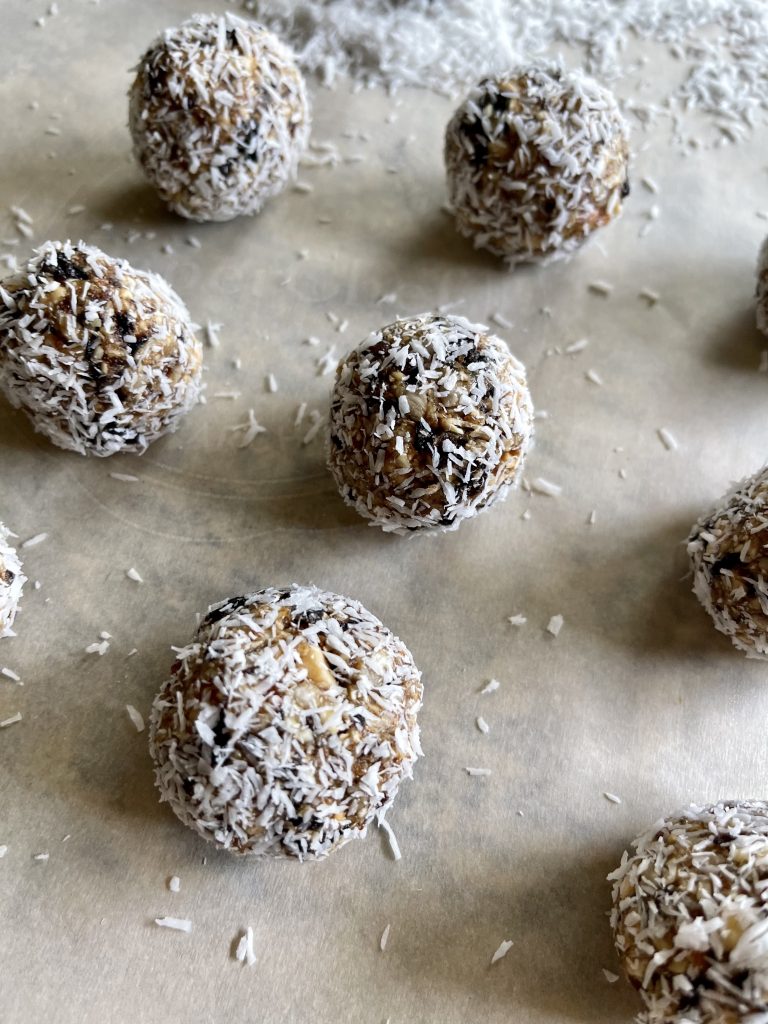 Directions:
Line a work surface or baking sheet with parchment or wax paper.
Pulse dates, almonds, maple syrup, vanilla, and salt in a food processor until the mixture forms big sticky clumps. You want chunks of nuts left. Pulse in cherries, oats, and sunflower seeds, scraping the bowl occasionally, until the mixture forms a shaggy mass around the blade.
Put the coconut in a shallow dish. Use a 1-ounce (1 1/2-tablespoon) cookie scoop or a heaping tablespoon to scoop the mixture into about 24 mounds and place on the parchment paper. Roll the scoops into balls.
Roll each ball in the coconut to coat completely, then transfer to an airtight container. Sprinkle any leftover coconut over the balls. Refrigerate until ready to eat.
Tap to print