If you would have asked me a year ago, or even 6 months ago, when I was going to get an air fryer, my answer would probably have been "never." I look upon that former decision as ill-informed, and one of my not so finer moments in kitchen decision history. The fact that it took me so long to bite the air fryer bullet is embarrassing. I use it so often that I could pretty much call myself addicted to this style of cooking. A very good friend, whose cooking skills I greatly admire would continually report that she and her husband were whipping up all kinds of healthy meals in their air fryer and had decided to graduate to a larger one. I still had not succumbed to air fryer envy so I would listen half-heartedly, until one day, I couldn't take it anymore and decided to take the plunge. Jeff and I decided on the Cuisinart Digital Air Fryer since it was listed as one of the coveted sale items during Bloomies Black Friday sales. We brought the oven home, unboxed it, cleaned it and I read through some recipes. The first thing we made was this recipe for salmon it was followed up by roasted chicken, herb-crusted chicken thighs, steak, meatloaf….just about anything you could dream of. Recently, I have "storied" my air fryer recipes and cooking videos on my Instagram Stories. Subsequently, many people inquired and purchased the Air Fryer, including my parents!
Here is the recipe for Salmon, that I created after a couple of attempts at perfecting it. It is so easy, that you will be able to repeat it after the first time.
Ingredients:
olive oil cooking spray
salt (I prefer Redmond Real Salt)
freshly ground black pepper
1 pound of salmon
1 cup of cherry tomatoes, halved
3/4 cup of large green olives, pitted and halved (I used ones stuffed with red pepper)
2 medium or 1 large zucchini sliced into rounds
Directions:
Spray the salmon all over with olive oil.
Season liberally with salt and pepper.
Arrange the zucchini slices around the salmon, spray liberally with the olive oil cooking spray, and season lightly with the Everything But The Bagel seasoning.
Top the salmon with the olives and tomatoes, allowing them to spill off and onto the sides.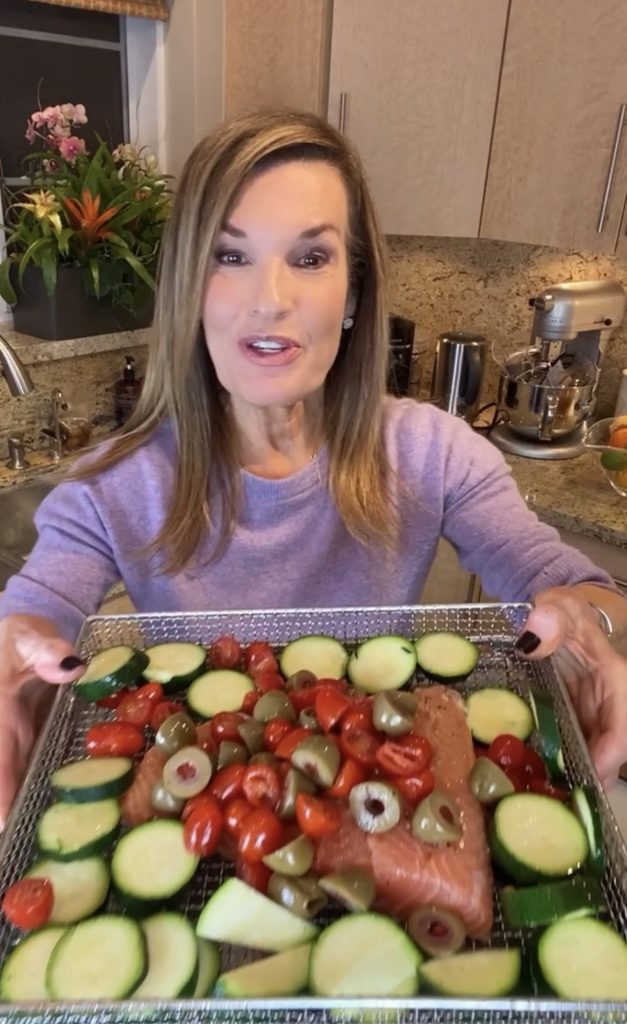 Bake in the Air Fryer at 375° for 15 minutes.