This past Sunday night, Jeff and I participated in a zoom cooking class as part of a fundraising gala for Sinai Akiba Academy, the elementary and middle school that both Yale and Serena attended. Since we were in Lake Tahoe, where our kitchen is open bright and airy, (and was designed by my sister Janet and her husband, Michael Katz), we knew it would be a fun and fabulous experience! And so it was; the class was led by famed chef, Nancy Silverton, owner of the legendary Los Angeles restaurants, Osteria Mozza and Pizzeria Mozza.
Since we were unable to be in LA on Sunday, and since our son Yale is a fabulous cook, I told him to pick up the ingredient box at the restaurant and roll up his chef sleeves, and that we would purchase the ingredients in Lake Tahoe and join him at the class on zoom.
The menu was simple, healthy gourmet, all prepared and cooked in under an hour. The result was so delicious, that I am compelled to share it here on the blog!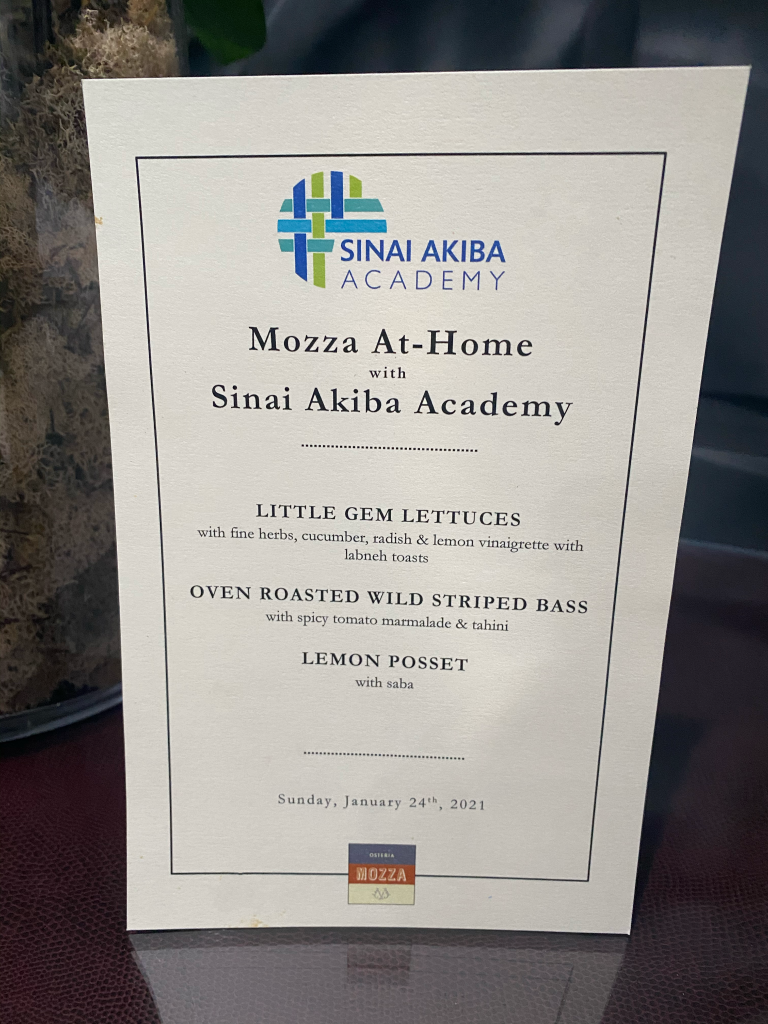 Please note that I made a few personal adjustments to these recipes based on my taste and the ingredients we had on hand. I think the results are fabulous!
Ingredients:
crostini
1 sourdough batard (sliced into 1/2 inch thick slices)
*depending on how many you are serving
Labneh or unstrained Greek Yogurt full fat
smoked or regular paprika
salad
2 heads of little gem lettuce
4 -5 Persian cucumbers
4-5 radishes
2 sprigs of dill
2 sprigs of tablespoon fresh lemon juice
2 sprigs of chervil
3 sprigs of chives
1 tablespoon of lemon juice
Lemon Vinaigrette:
1/2 cup of extra virgin olive oil
1 tablespoon of fresh lemon juice
2 tablespoons of champagne vinegar
1 medium shallot of minced or finely chopped
salt and pepper to taste
combine the ingredients into a small bowl and whisk, or use an immersion blender for a more emulsified dressing
Directions:
Adjust the rack in the oven to the middle position and preheat the oven to 350 Fahrenheit.
Place the bread slices on a baking sheet.
Brush the top of the bread with extra virgin olive oil and bake until golden brown (you can also do this in a toaster oven. Remove the toasts and set them aside to come to room temperature while you make the salad.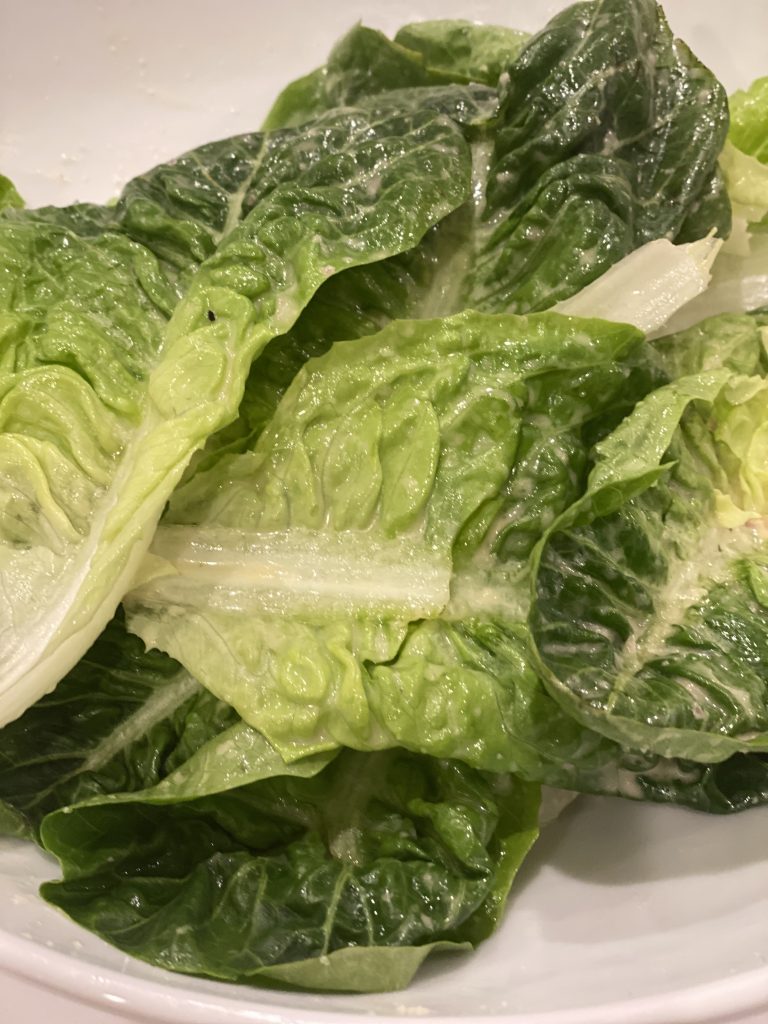 4. Toss the herbs together in a bowl reserving a few chervil leaves for garnish for the labneh toasts.
5. Using a knife or mandoline, thinly slice the radish and cucumber into 1/8″ slices and place in a medium-sized bowl. Drizzle with 2 tablespoons of the lemon vinaigrette and 1/4 teaspoon of kosher salt.
6. Remove and discard the outer limp, dark green leaves from the lettuce. Pull the remaining leaves from the cores and place them in a large bowl. Drizzle the lettuce with 4 tablespoons of the vinaigrette, and 1/4 teaspoon kosher salt. Toss the lettuce until fully coated to your desired taste.
7. To serve, lift the largest leaves out of the bowl and place them into the serving platter or bowl. Scatter a third of the marinated radishes and cucumbers and a third of the whole herbs. Continue building the salad, using the medium-sized leaves next, topping with another third of the vegetables followed by another third of the herbs. Repeat this pattern of layering until finished.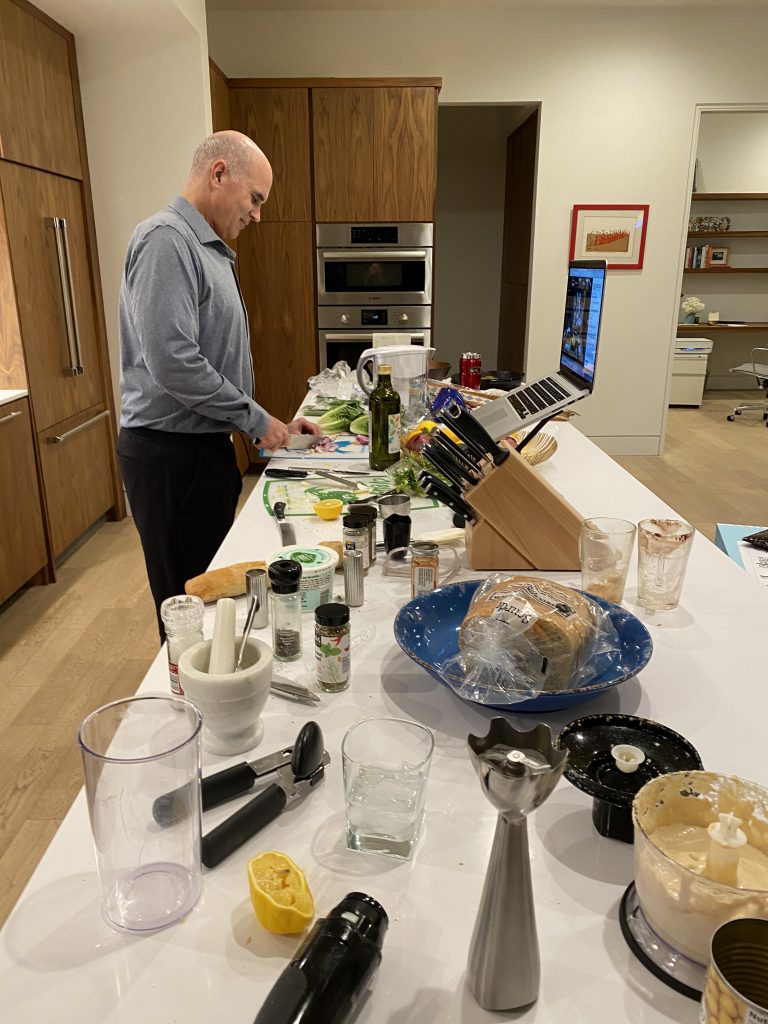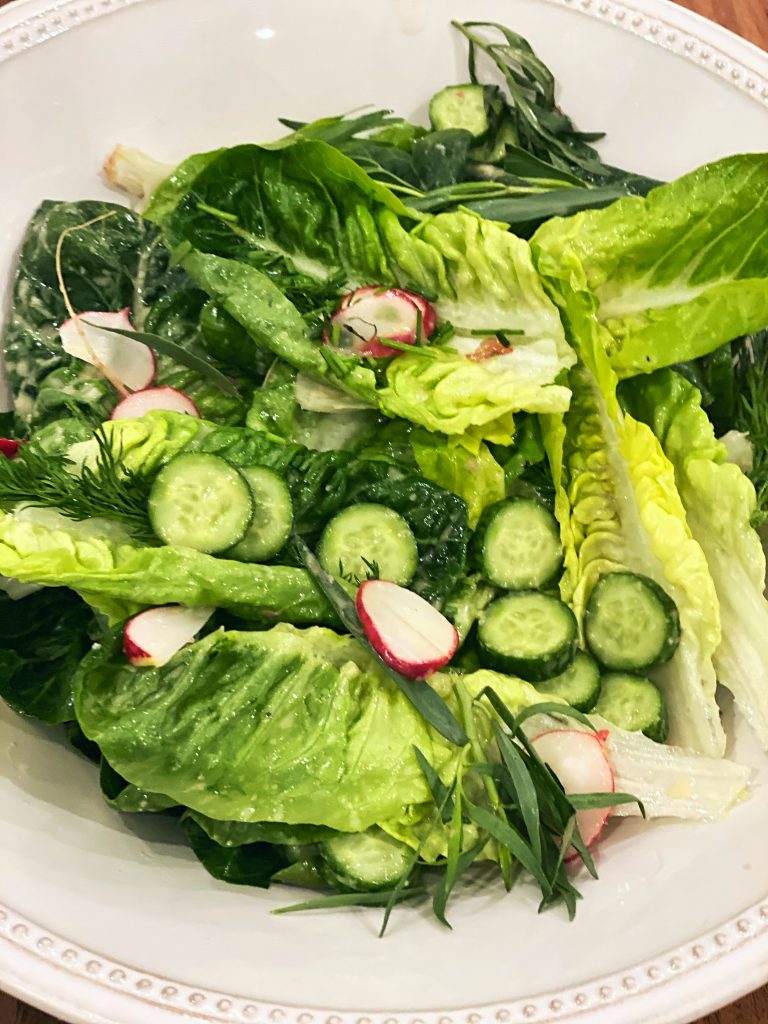 8. To finish the crostini, slather a heaping tablespoon of labneh on each toast, leaving the edges of the toasts visible. Drizzle the labneh with extra virgin olive oil, sprinkle each crostini with a pinch of smoked or regular paprika, and top with a few chervil leaves.