With all the time we have been spending in our kitchens, it is often difficult to come up with new and exciting ways to cook chicken. Most times, I am so exhausted that I repeat the same recipe over and over again until Jeff and I are so over it, that we vow not to eat chicken ever again! That is until I found this recipe, which will possibly be on repeat forever because it is both easy to make and easy to clean up!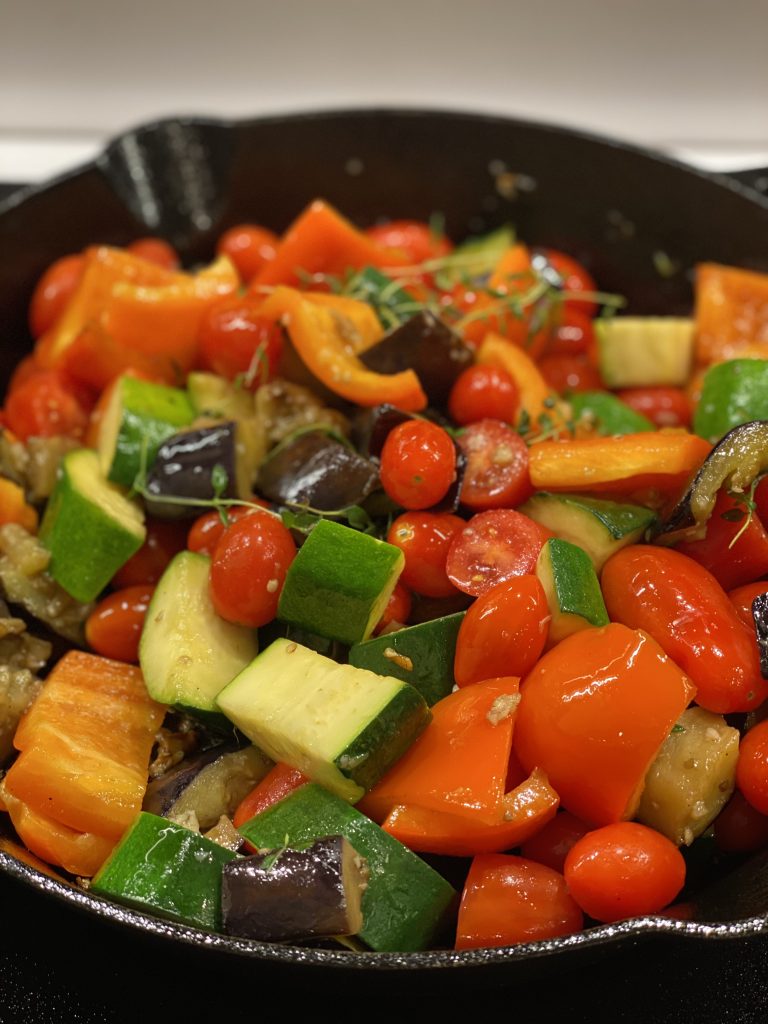 A rainbow of healthy veggies is the base for this dish. Most of the effort, and there is very little of it, is spent on the stove. The roasting and crisping get done in the oven.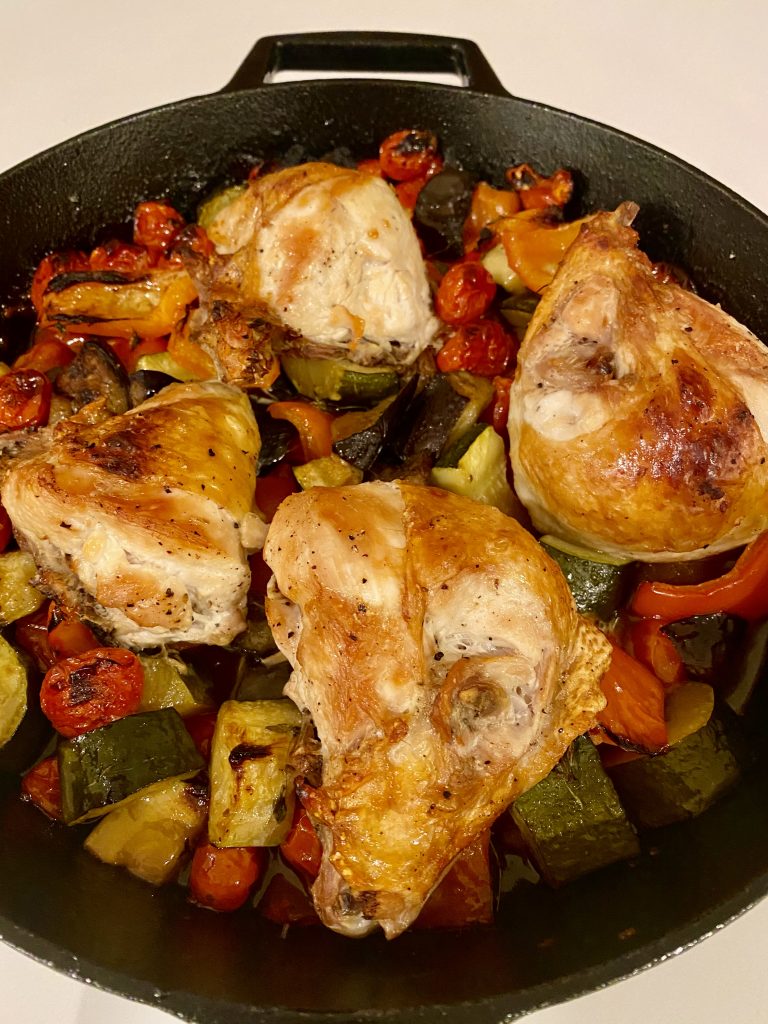 Ingredients:
1/4 cup plus 1 Tbsp. extra-virgin olive oil, plus more for rubbing
1 medium eggplant, cut into 1-inch cubes
1 medium zucchini, cut into 3/4-inch cubes
6 small garlic cloves, minced
2 cups of cherry tomatoes
5 sprigs of thyme
Coarse salt and freshly ground pepper
Small bone-in, skin-on chicken breasts (2 1/2 pounds total), halved crosswise
Directions:
Preheat the oven to 450 degrees Fahrenheit with the rack in the upper third of the oven.
In a large straight-sided ovenproof skillet, heat 1/4 cup of oil over medium-high. Add the eggplant and cook, stirring frequently, until it's just beginning to brown for about 4 minutes.
Add the zucchini, garlic, and remaining tablespoon of oil. Cook, stirring, until the garlic is fragrant, for about 1 minute. Stir in the tomatoes and thyme and season with salt and pepper.
Season the chicken on both sides with salt and pepper and rub with oil. I was quite generous with it the seasoning since a lot of it gets cooked off. Add it to the skillet, skin-side up, and then roast it in the oven until the chicken is cooked through for about 25 to 30 minutes.
Turn the oven to broil and continue to cook until the skin is golden brown and the juices are bubbly for 1 to 2 minutes more. Let rest for 10 minutes before serving.