I have been intrigued by whole roasted cauliflower ever since I ate it in the Marais section of Paris five years ago. Jeff and I were advised to visit this popular restaurant where the line twisted round the narrow streets of one of the oldest Jewish sections of Paris. I cannot recall the name of the restaurant, but I do recall ordering in French and Hebrew, and somehow getting it all right! This year, since COVID has forced many of us to order from favorite restaurants, Jeff and I have been enjoying many take-out meals from a neighborhood favorite, "Violet's Bistro," in Westwood Village. One of the specialties is, you guessed it, Whole Roasted Cauliflower, with exotic spices. I have been so taken with this vegetable, that I decided to try to reimagine it myself. Experimenting with different spices, I have come up with this recipe. I hope that you enjoy it as much as we do!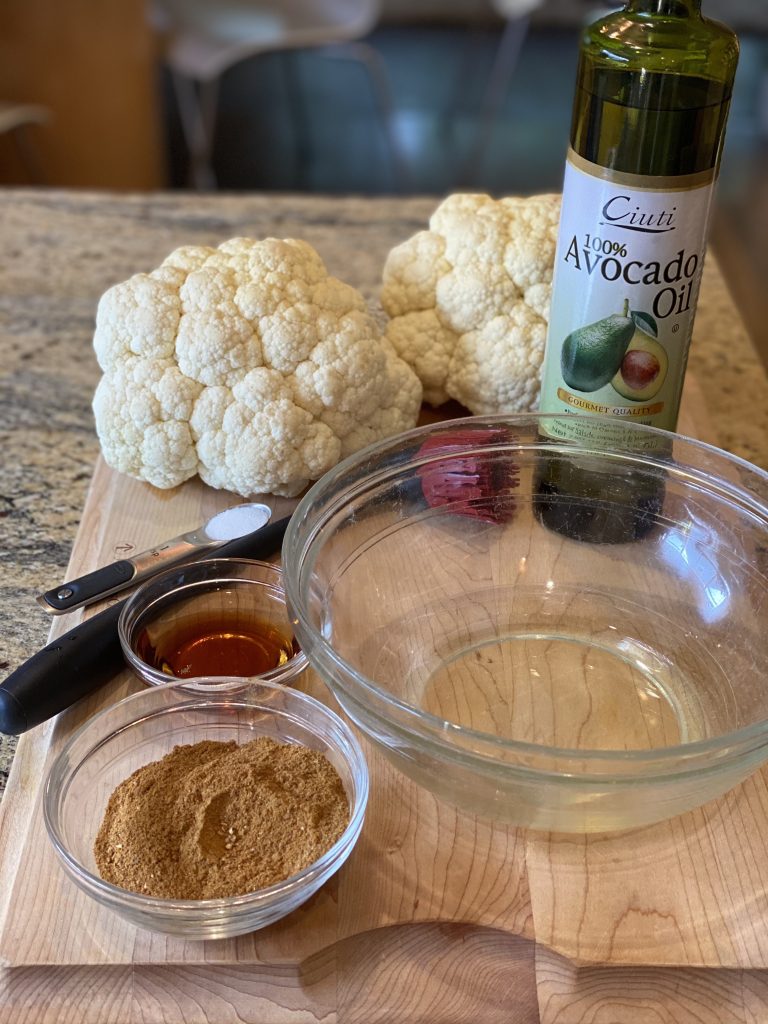 Ingredients:
1 medium-large head cauliflower
2 tablespoon of avocado oil 
3 tablespoon of water
1/2 teaspoon of ground cinnamon
1/4 teaspoon of ground cardamom or cloves
1 teaspoon of ground coriander
1 1/2 teaspoon of ground turmeric
1/2 teaspoon of ground ginger
2 teaspoon of paprika
2 tablespoon of ground cumin
1/8 teaspoon of cayenne pepper (optional)
1 tablespoon maple syrup
1/2 teaspoon of sea salt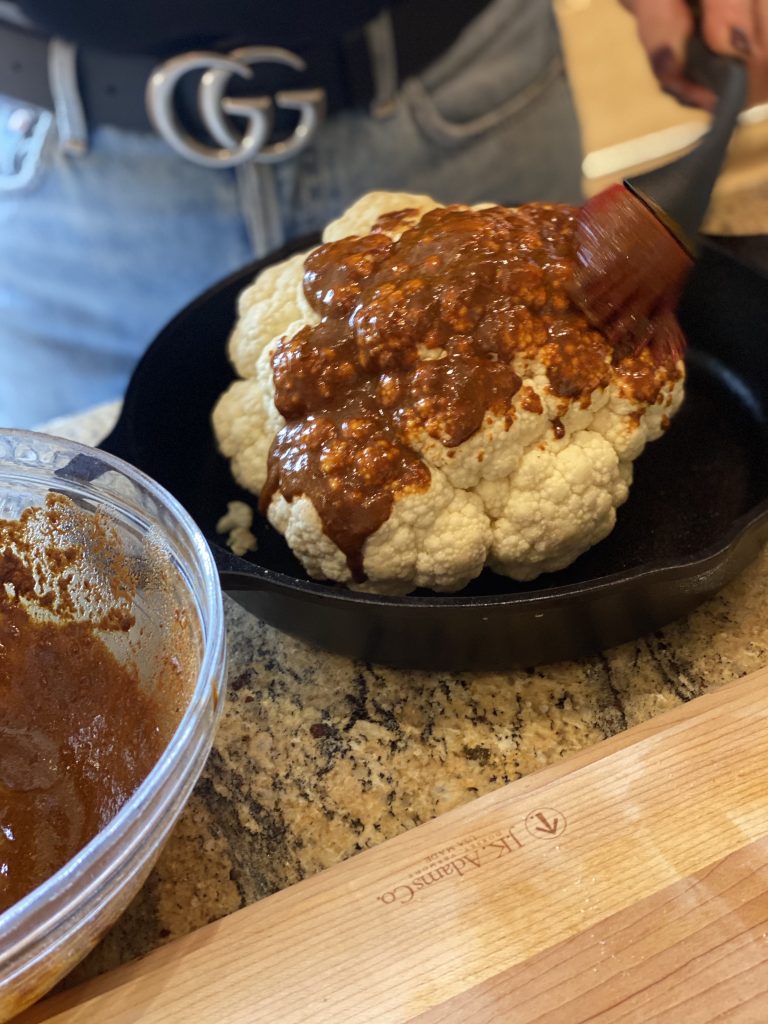 Directions:
Preheat oven to 400 °F.
Rinse and dry the head of cauliflower and carefully cut off the bottom stalk without removing too much of the core.
Place in a cast-iron skillet (or another oven-safe pan).
In a mixing bowl, mix together all of the spices: cinnamon, cardamom coriander, turmeric, ginger, paprika, cumin, and cayenne pepper.
Add the avocado oil, water, maple syrup, and salt. Taste and adjust flavor as needed, adding more water or too intense.
Flip your cauliflower upside down and pour in most of the sauce. Let the sauce pour down the core, shake it around so it infuses the center, and then flip the cauliflower over and use a brush to rub the leftover sauce (including any that seeped into the pan) all over the exterior for maximum flavor. Place cauliflower core-side down before baking and add an extra pinch of salt and spice blend to the exterior for extra flavor.
Place skillet in oven and roast for 45-50 minutes (depending on the size of cauliflower) or until a knife easily pierces the core. If you prefer softer cauliflower, then roast for longer.
Remove from oven and let cauliflower rest in pan for 5-10 minutes to continue softening the core, if needed.