In this age of quarantine, more and more of us are creating culinary masterpieces in our own kitchens! The quarantine also brought our daughter Serena home to Los Angeles from New York where she currently resides. Serena is both gluten and dairy-free and had a craving for pasta. If you have never tasted red lentil pasta, you don't know what you are missing. With the explosive popularity of gluten-free diets, the pasta industry has become extremely creative. You can find chickpea penne pasta and black bean linguini pasta. I opted for the red lentil pasta and it is delicious. I decided to keep it all vegan and gluten-free and came up with roasted eggplant and zucchini (primarily because I happened to have them in my fridge) red sauce to top these red lentil tubes. A sprinkle of almond milk cheese (which is delicious, by the way) completed the dish. Feel free to use good old mozzarella if you prefer. The result will be outstanding. This gluten-free red lentil pasta dish is here to stay!
Ingredients:
1 package red lentil pasta
1 28-ounce can diced tomatoes
1 28-ounce can tomato sauce
1 red onion, diced
2 large cloves garlic, minced
1 box or bag of mushrooms (white or crimini), sliced
1 red pepper, seeded and diced
1 medium-sized eggplant, peeled and cut into 1 1/2 inch chunks
1 large or 2 medium zucchini cut into 1-inch rounds, then quarter the rounds
1 teaspoon dried basil
1 teaspoon dried oregano
kosher salt and pepper to taste
4 tablespoons good olive oil
2-3 cups shredded almond or mozzarella cheese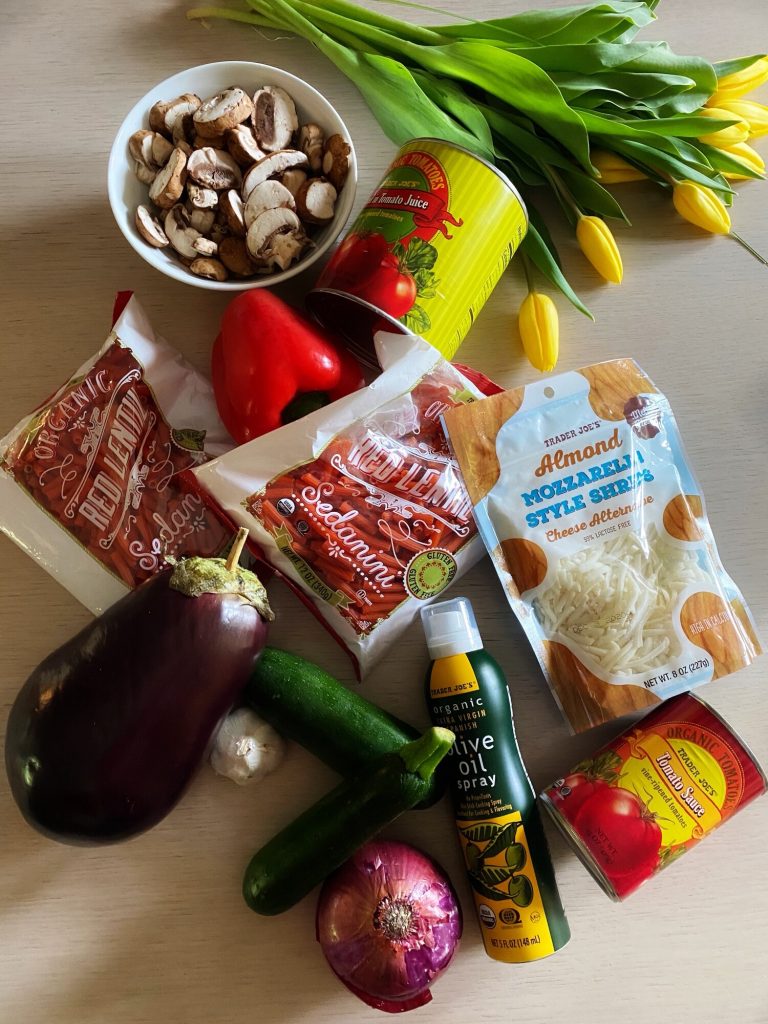 Directions:
Preheat oven to 350°
Line 2 cookie sheets with parchment paper.
Prepare the eggplant, peppers, and zucchini, and toss in 2 tablespoons of the oil with 1 teaspoon kosher salt and pepper.
Turn onto the baking sheets and roast in the oven for 35 minutes tossing once halfway through to avoid burning one side. Remove from oven and set aside.
Meanwhile, in a large saucepan heat 2 tablespoons oil over medium-high heat, and add the onion and garlic. Sauté until fragrant and softened (about 10 minutes). Add the mushrooms and continue to sauté until they are softened (about another 7 minutes).
Turn the heat to medium, and add the tomatoes, sauce, and spices, and continue to cook. Add the roasted pepper, eggplant, and zucchini and cook on low heat for 15 minutes.
Cook the red lentil pasta according to directions on package, testing when they are al dente. Remove from the stove and drain. Scoop the pasta into bowls, top with the vegetable sauce, and sprinkle with the cheese.
Buon Appetito!