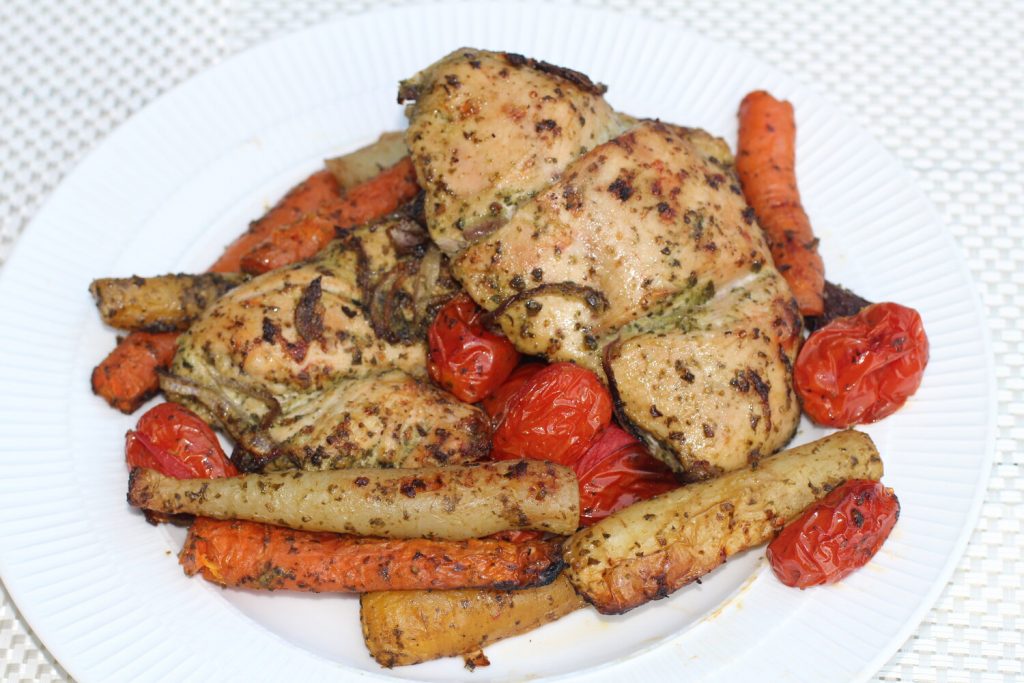 Ingredients:
The Pesto:
3 cups fresh leafy greens and herbs of your choice ( basil, flat leaf parsley, mint, arugula, kale- use one type or a combination), stemmed
1 clove garlic
1 chili, stemmed and seeded (optional)
2 tablespoons nuts or seeds of your choice ( such as almonds, walnuts, pine nuts or sunflower seeds)
Kosher salt and freshly ground black pepper
1/4 cup extra virgin olive oil.
Place the herbs, garlic, chili (if using), and nuts or seeds in a work bowl of a food processor ( a mini one works well), and blitz until chopped finely. Add 1/2 teaspoon salt and 1/4 teaspoon pepper and blitz again until a paste is formed. Add the oil and blitz once more Adjust seasoning to your liking.
Refrigerate in sealed container or glass jar for up to 2 weeks.
Pesto freezes well. Freeze in 1 teaspoon portions in an ice cream tray. Once frozen, store in a lock top freezer bag for up to 3 months. Thaw in fridge overnight, or on the counter.
For the Chicken:
12 skinless boneless chicken thighs
or 6 boneless chicken breasts
or a combination of both.
1 yellow onion cut into thin slices
6 medium carrots stemmed and cut into quarters length-wise
2 cus assorted cherry tomatoes
Kosher salt and freshly ground black pepper
3/4 cup Green Pesto
one tablespoon extra virgin olive oil
Fresh basil leaves for garnish
Directions:
Preheat the oven to 375° F. Line a baking sheet with parchment paper. Place the chicken, onions, carrots and tomatoes on the prepared baking sheet.

Drizzle the pesto over all the ingredients and use your hands to rub into the chicken and veggies. Pat the chicken and veggies down so that they are on a single layer of the parchment paper.

Drizzle the oil over the top and bake uncovered for 45 minutes.
Transfer to a serving dish and top with fresh basil and fresh pepper.
This dish can be assembled and marinate din the fridge for up to 24 hours.
Bring to room temperature before cooking.
Chicken thighs can be stored in the freezer for up to one month Thaw in fridge overnight.
Let the chicken come to room temperature before reheating uncovered, in a 350° F oven for 7-10 minutes.

This recipe is courtesy of Kim Kushner from her wonderful cookbook, I Love Kosher