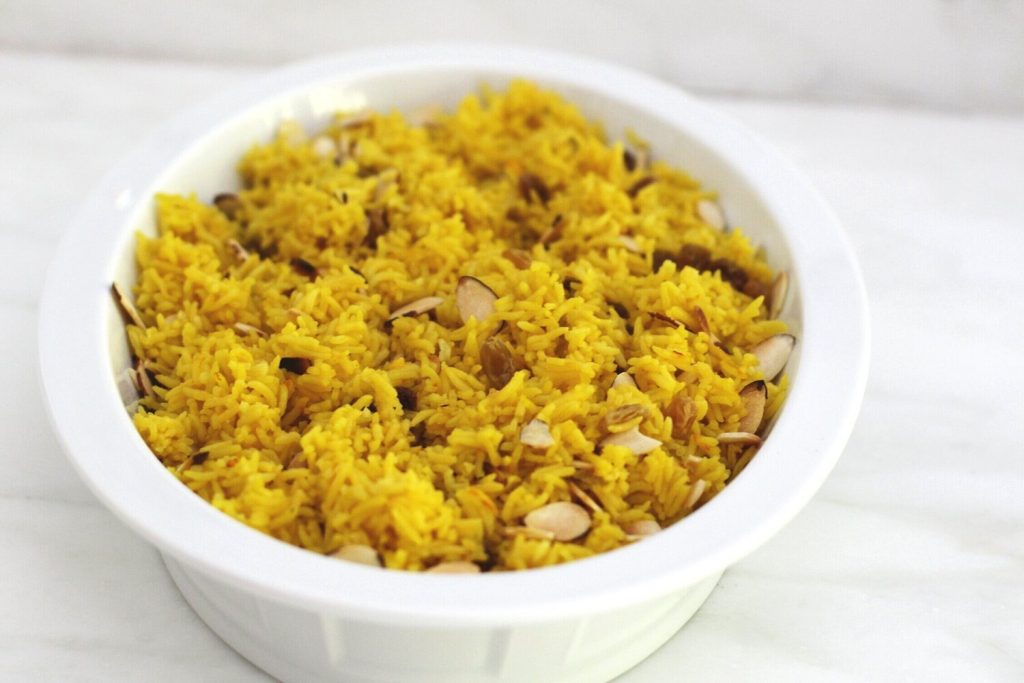 Ingredients
3 1/2 cups of water or stock
3 tablespoons of sunflower or light vegetable oil
1 teaspoon of salt (or to taste – if you're using stock to cook the rice, you may need less)
1/2 teaspoon of saffron threads
2 1/2 cups of basmati or long-grain rice
2/3 cup of raisins (I used golden raisins)
1/2 cup of flaked, sliced or chopped almonds
Directions:
Grind the saffron threads in a spice mortar to a powdery texture.
Rinse the rice in a mesh strainer for a few minutes.
In a large pot, bring the water or stock to a boil with the oil and salt.
Add the saffron and the rice to the pot. Let the mixture come to a boil again.
Stir well, then set the heat on low.
Cover the pot with a lid. Let the rice steam over low heat for 20-30 minutes, or until the rice is tender and little holes have appeared on the surface. Remove from heat. Leave the rice to rest covered for a few minutes.
Meanwhile, cover the raisins with hot water for a few minutes till they become moist and plump.
Toast the sliced almonds in a skillet over medium-low heat, stirring constantly, till golden brown and aromatic. Keep a close eye, the almonds will burn if you don't watch them.
Drain the raisins. Use a fork to fluff the rice, integrating the drained raisins and toasted almonds as you mix. Serve warm and enjoy!