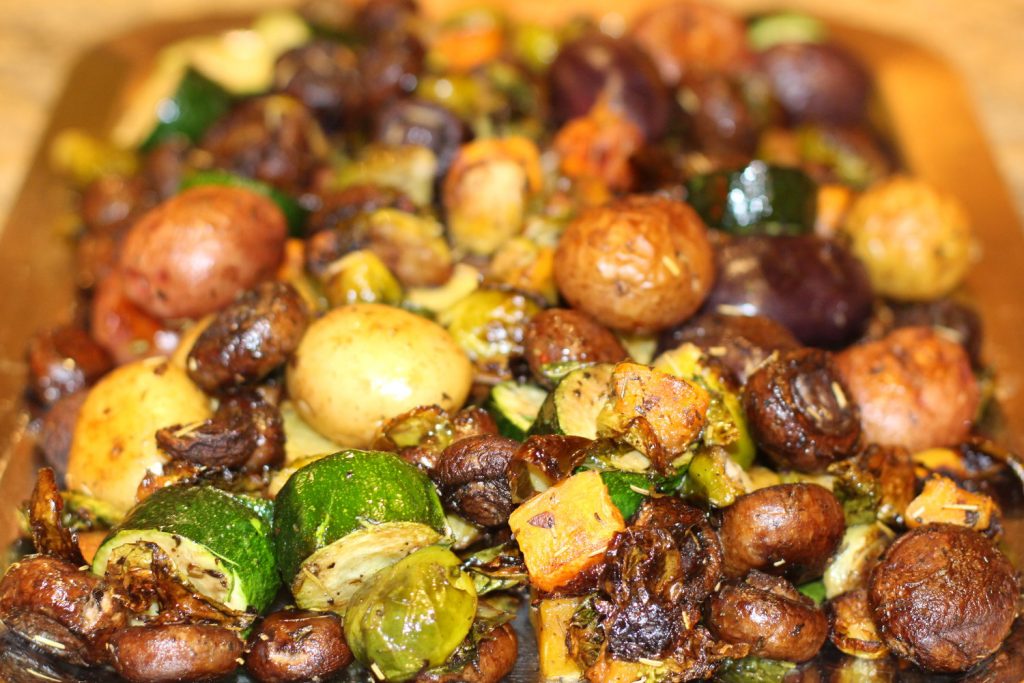 Ingredients:
3 tablespoons of olive oil
2 tablespoons of whole-grain Dijon mustard
3 teaspoon of apple cider vinegar
1 teaspoon of dried thyme
3/4 teaspoon of kosher salt
1/2 teaspoon of black pepper
1/2 teaspoon of dried rosemary
1/4 teaspoon of dried basil
any combination of the following:
1 pound of peeled and cubed butternut squash
1 pound of mushroom caps
1 pound of cauliflower florets
1 pound of zucchini cut into chunks
1 pound of brussels sprouts, halved
8 ounces of baby purple, red or Yukon potatoes, halved or quartered
Directions:
Preheat the oven to 450 degrees.
Line a large baking sheet with parchment paper sprayed lightly with cooking spray. Set aside.
In a large mixing bowl, combine the olive oil, mustard, vinegar, thyme, salt, pepper, rosemary and basil, and whisk.
Add the veggies and potatoes, stirring to coat.
Then spread the vegetable mixture in a single layer on a prepared baking sheet. Bake for 20 minutes, stir gently, then bake another 15 minutes.