I was watching the Today Show this week and saw Al Roker and a top chef make this Cole Slaw that accompanied a turkey burger. It looked easy, so I tried it out this week. It is delicious and can be made in minutes. Just allow at least 30 minutes for the dressing to fully absorb. The green apple is what makes it a standout!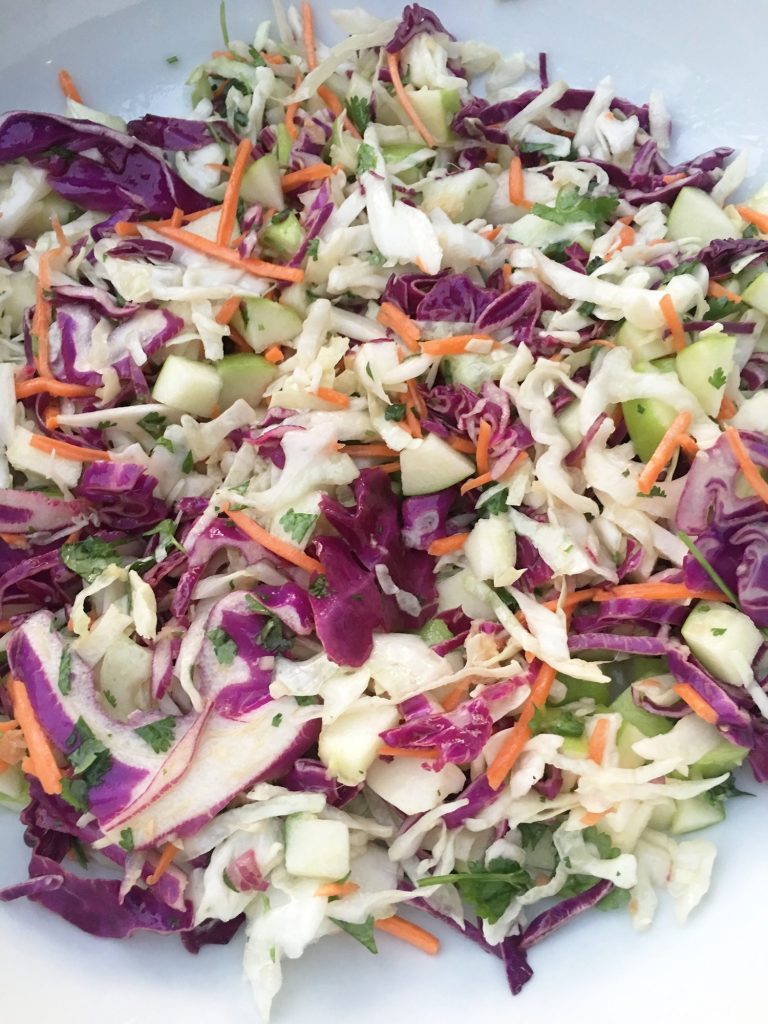 Ingredients:
1/3 cup rice vinegar
3 tablespoons peanut oil
2 tablespoons sugar
1 tablespoon Asian sesame oil
1 tablespoon minced ginger
2 cloves garlic, minced
2 tablespoons freshly squeezed lime juice (from 1 lime)
2 teaspoons salt
1 teaspoon crushed red pepper flakes
1/4 large green cabbage
1/4 medium red cabbage
2 carrots, peeled
1 large granny smith apple, cored, and chopped
6 scallions, white and light green parts chopped
1/2 cup chopped cilantro leaves
Directions:
In a small bowl, mix together the rice vinegar, peanut oil, sugar, sesame oil, ginger, garlic, lime juice, salt, and red pepper flakes. Cover and refrigerate for at least 30 minutes and up to 2 days for the flavors to blend.
Using a sharp knife, core the cabbages. Finely shred with a sharp knife or shred in a food processor using the slicing blade. You should have about 5 cups of green cabbage and 4 cups of red cabbage. Shred the carrots in the food processor or on the largest hole of a box grater.
In a large bowl, mix together the cabbage, carrots, apples, and scallions. You can do this several hours ahead of time. Cover the bowl with plastic wrap and refrigerate.
At least 30 minutes before serving, pour the dressing over the coleslaw, add the cilantro, and toss.