I apologize for the image, but it was taken from a video that I shot of the preparation of this cake. Suffice to say that you are going to have to trust me on this one; this cake is a winner for so many reasons. It is fabulous, either frosted or on its own, and is both gluten and dairy-free. It is much easier to prepare than it looks. If you decide not to frost it, please mind the baking time so that the top of the cake does over-darken.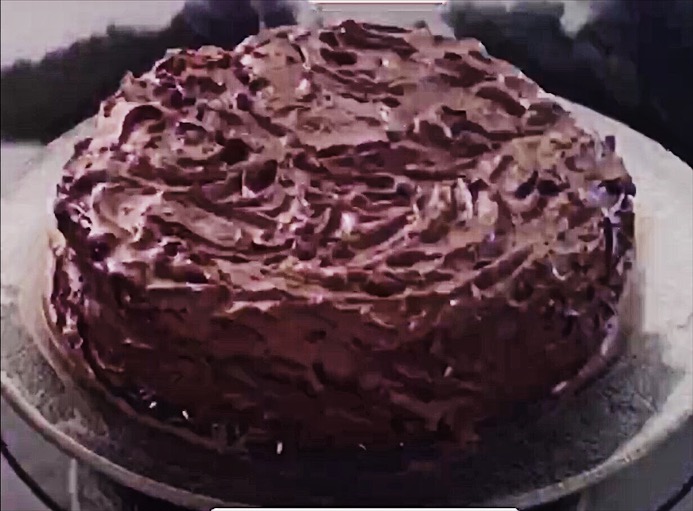 Ingredients:
10 eggs, separated
16 oz of best quality dark chocolate.
1 1/3 of cups sugar
1 1/3 cups of unsalted butter or margarine
2 cups of ground almond (almond flour)
Frosting (optional)
1/2 cup of butter or margarine
4 tablespoons of cocoa
2 cups of icing sugar
hot coffee to make thinner. 
Directions:
Preheat the oven to 350. Grease and line the base and side of a springform cake pan.
Whisk the egg whites until stiff peaks form, then set aside.
Melt the chocolate, sugar, and butter in a double boiler or in a heatproof bowl over a saucepan of simmering water.
Once melted, stir thoroughly to combine.
Remove the chocolate mixture from the heat and allow it to cool a little, then mix in the ground almonds. 
Beat the egg yolks into the chocolate mixture, a little at a time.
Stir two spoonfuls of the egg whites into the chocolate to lighten it, then gently fold in the remaining egg whites.
Pour into the prepared cake pan and bake for 40 minutes or until cooked through. Allow cooling before removing from the cake pan.