I have always chosen my daily outfits according to how I feel in the moment. If I delve deeply into what compels me to choose one color over another that day, or which pair of jeans call out to me from my closet, then I may find myself exploring the spiritual side of this activity of daily living.
I would like to introduce you to Michelle Goldfarb. I first met Michelle about five years ago when she worked as a stylist at one of my favorite clothing stores, no longer in business in LA, Scoop NYC. Michelle's spiritual side combined with her impeccable sense of style are at the junction of her unique business, Closet Charmer, where fashion meets astrology. Michelle considers herself a fashion astrologer; she assists people with their wardrobe according to their chart. I gave Michelle my date of birth including the exact time of day I was born, (I actually called my mother to ask her, since it wasn't recorded on my birth certificate…. it's amazing the things a mother never forgets!). I was born on October 24 at 4:00 PM. Given that information, coupled with the current date, Michelle presented me with my fashion horoscope for the month. Not one to really give this type of thing a thought, I found myself drawn into my "reading" as she revealed things about me that were too precise to have been a fluke. The reading was a clarification of my life, both personal and professional. The only way that I can articulate how I felt afterward is "emotionally lighter." Michelle claims that "Closet Charmer, is a way for a person to discover her or his authentic self, through their wardrobe." I was instantly drawn to this notion, perhaps I am more spiritually developed than I thought. Alas, when you start to consider how we relate to our universe, then you might become more open to this way of thinking. Dressing according to the astrology is a unique way of viewing your wardrobe.
This is how Closet Charmer works: you choose your wardrobe according to your astrology chart. On the day of our interview, I got dressed according to how I felt, having nothing to do with my chart since I had no knowledge of this information. I happened to be wearing my Gucci loafers, the ones with a lion on the front.
Gucci Loafers
Michelle proceeded to tell me that the moon was in Leo. She then looked at my shoes. For those of you who are new to all of this, the sign for Leo is a lion. I got chills…how did that happen? She said that I am very intuitive and I am more in tune with all of this than I think I am.
Given the fact that currently, the New Moon is in Aquarius, Michelle informed me that I must view my wardrobe with a new perspective. If I am going to go to a special event, or celebration, I should not choose my go-to dress. In addition, since we are in Pisces, which is the water sign and the sign of the fish, I should choose pieces that are fluid and in motion. Instantly, I knew what would fit the bill that Michelle had laid out for me. I found this jumpsuit last summer at the Saks sale, but have never found the right occasion for it. With this information in hand, I charged my closet and pulled out this silky, flowy, unique jumpsuit. I wore it all over Palm Springs, and felt fabulous in it! This is the age of Aquarius and I am a believer. Dressing according to the astrology is a unique way of viewing your wardrobe. I think that Michelle is on to something huge, and I am an avid fan. What's YOUR sign?
With Michelle Goldfarb of Closet Charmer.
Stella McCartney Jumpsuit, Chanel Handbag, Alaia Sandals, Miu Miu Shades, John Hardy Hoops.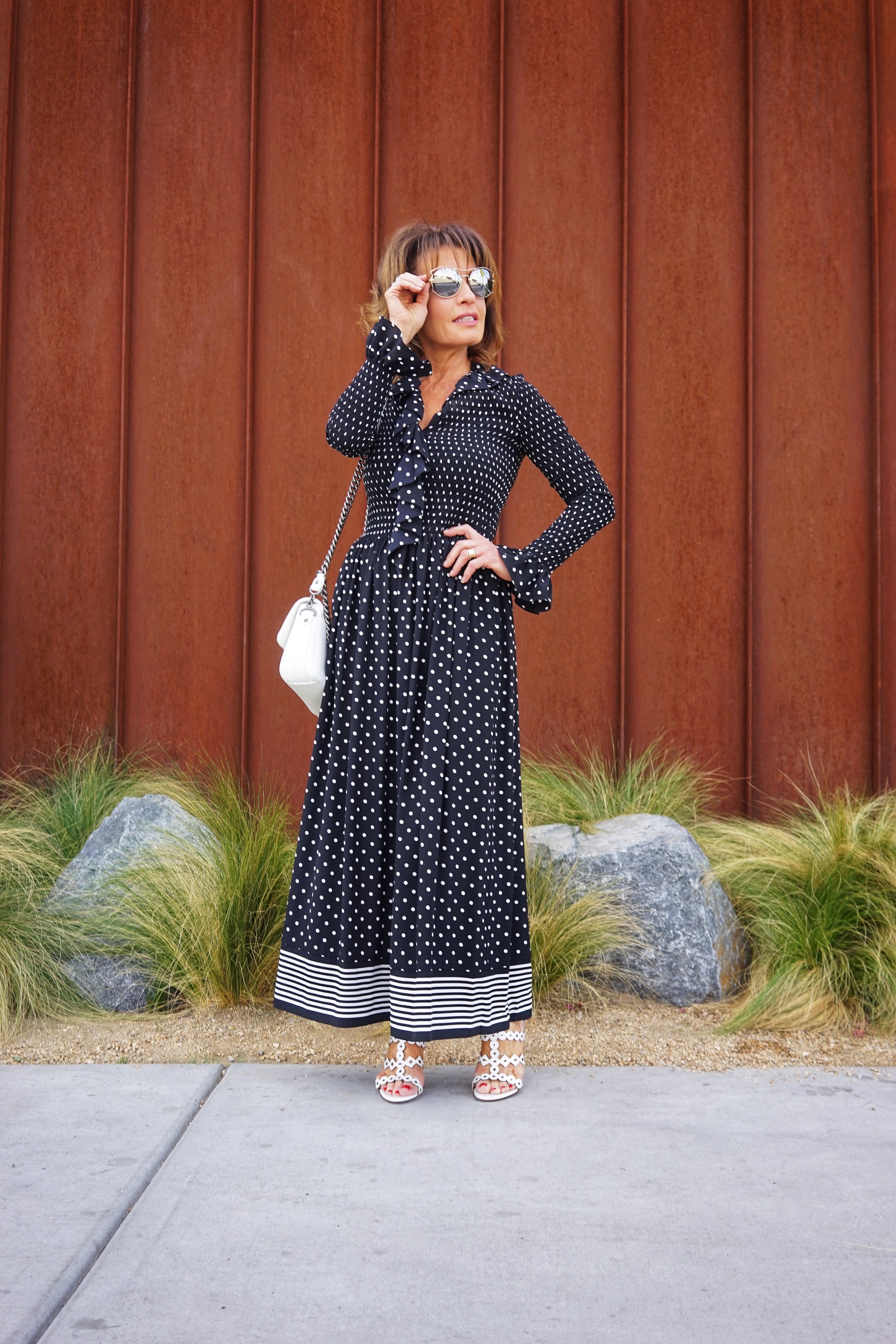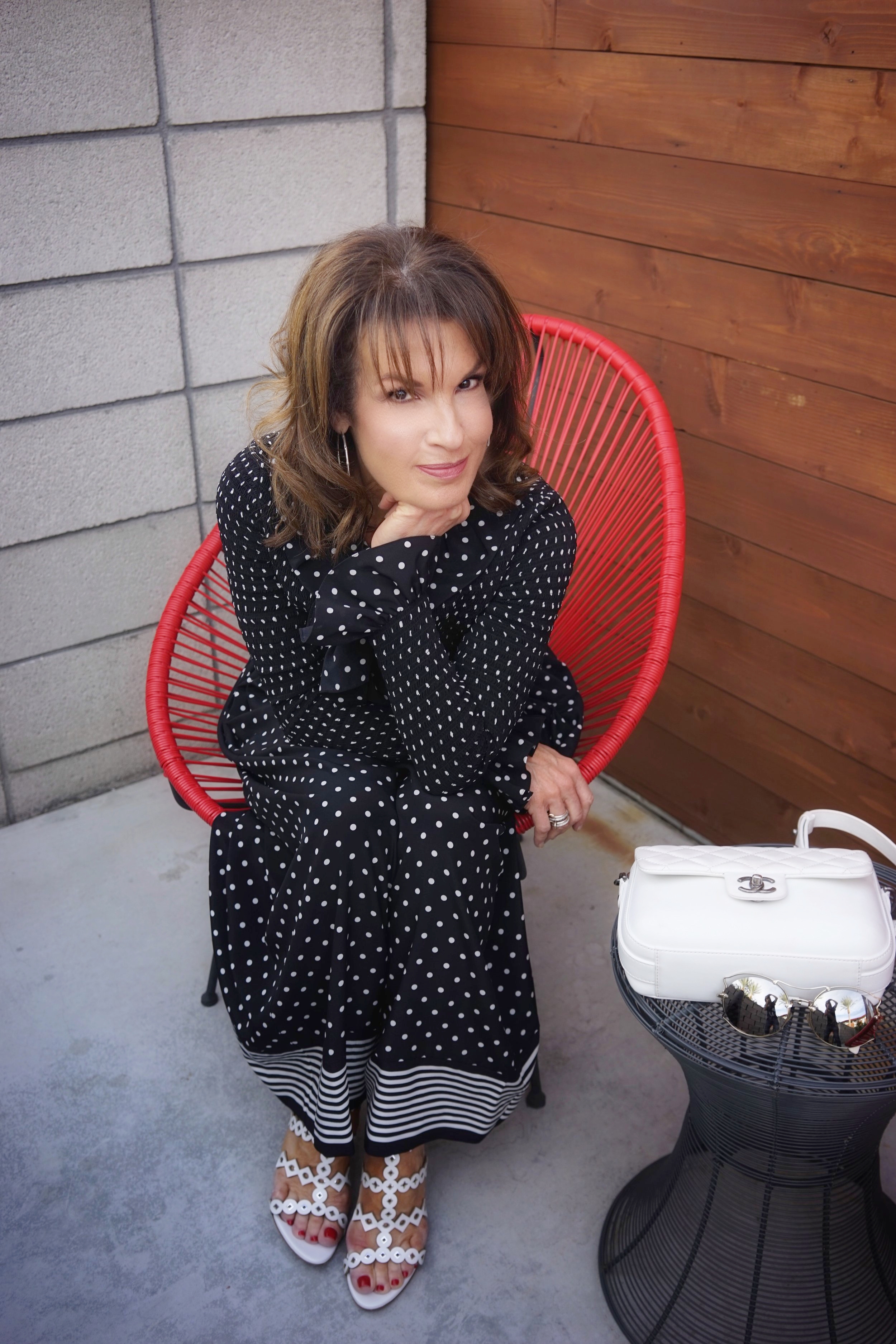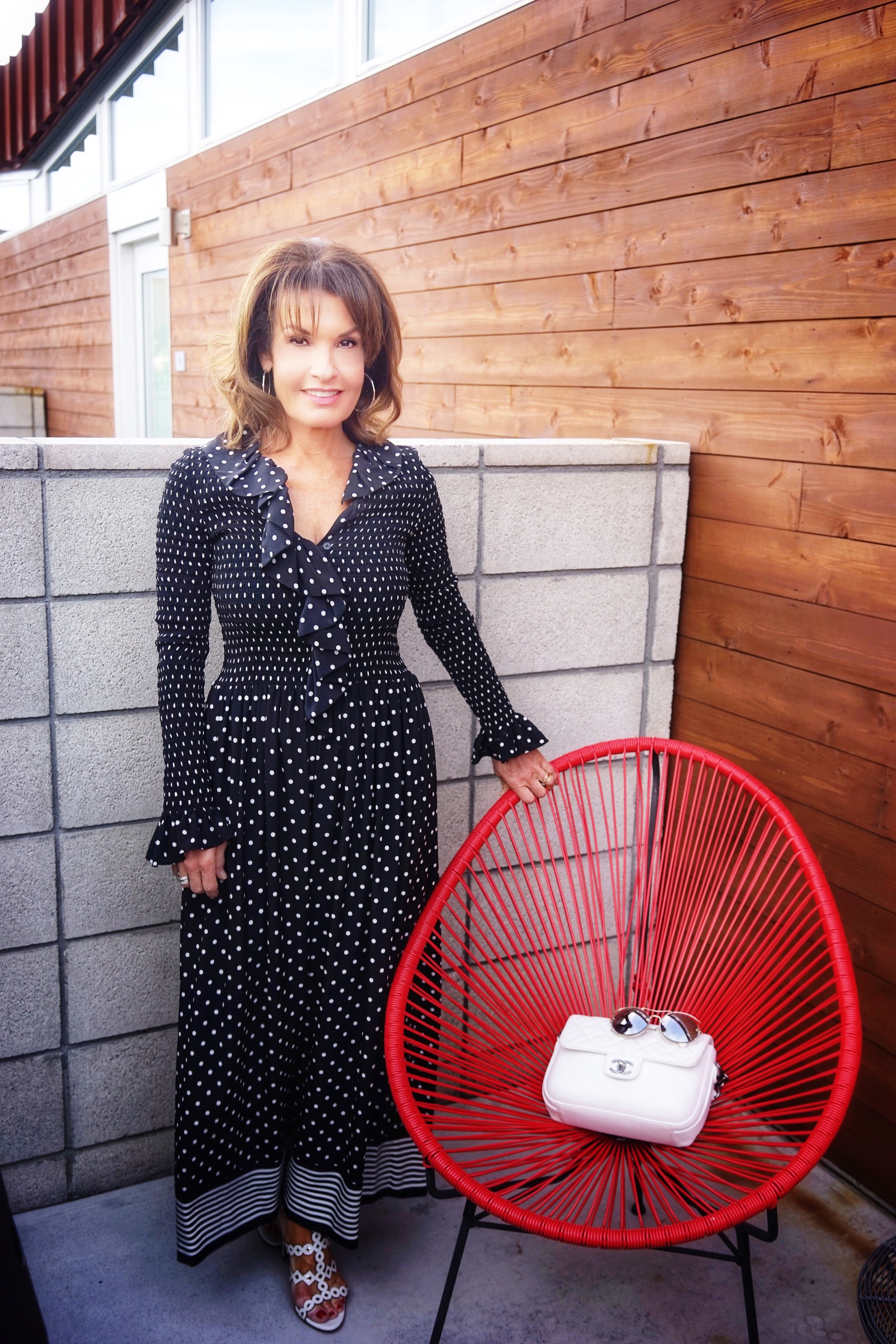 These photos were taken by sister, Janet Corne.