In case you don't know me, my favorite food is ice cream (frozen yogurt or any derivative thereof). In the last year, however, I have completely eliminated it from my diet. I felt I was "overdoing" it on food that really had no nutritional value and was only adding sugar and unwanted calories to my daily intake. So, like many things in my life, there is no halfway…it's all or nothing at all… and in the case of ice cream, it became nothing at all. I really didn't miss it as much as I had feared that I would, and I felt much better for it.
However, as I was perusing recipes that were 4 ingredients or less, I came across this one for a vegan ice cream, which has become dangerously addictive. It is so easy and so good, that I have had to store it in 4 oz freezer-safe containers so that I only have a little at a time. It does check off some of the boxes: it is dairy-free, sugar-free, and takes only three ingredients if you do not count the add-ins, in which case the ingredient list increases.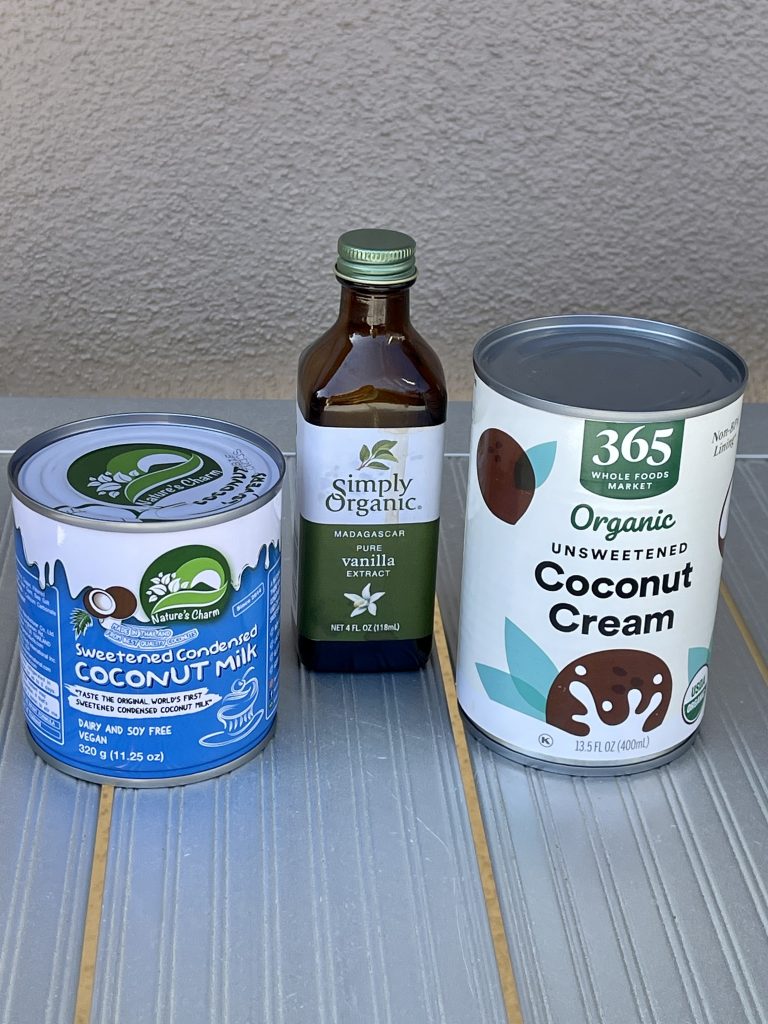 Ingredients:
2 cans (11.25 oz) of Sweetened Condensed Coconut Milk
2 tablespoons of Pure Vanilla Extract
2 cans (13.5 oz) of Unsweetened Coconut Cream
mix in's of your choice: mini chocolate chips, cookies, brownies, nut butter….
Directions:
Chill the Coconut Cream in the refrigerator for at least 4 hours.
When ready to begin, whisk together the condensed coconut milk and the Vanilla Extract.
Meanwhile, empty the chilled coconut cream cans into a separate bowl, either a stand mixer or using a handheld attachment, beat the Coconut Cream until stiff peaks form.
Add half of the whipped coconut cream to the condensed coconut milk/vanilla mixture, and gently fold together. Add that mixture to the remaining coconut cream and gently fold together until thoroughly combined into one homogenous mixture.
Transfer to a freezer-safe container with a lid. At this point, you can add your mix-in of choice.
Seal the container and freeze…enjoy every delicious spoonful!