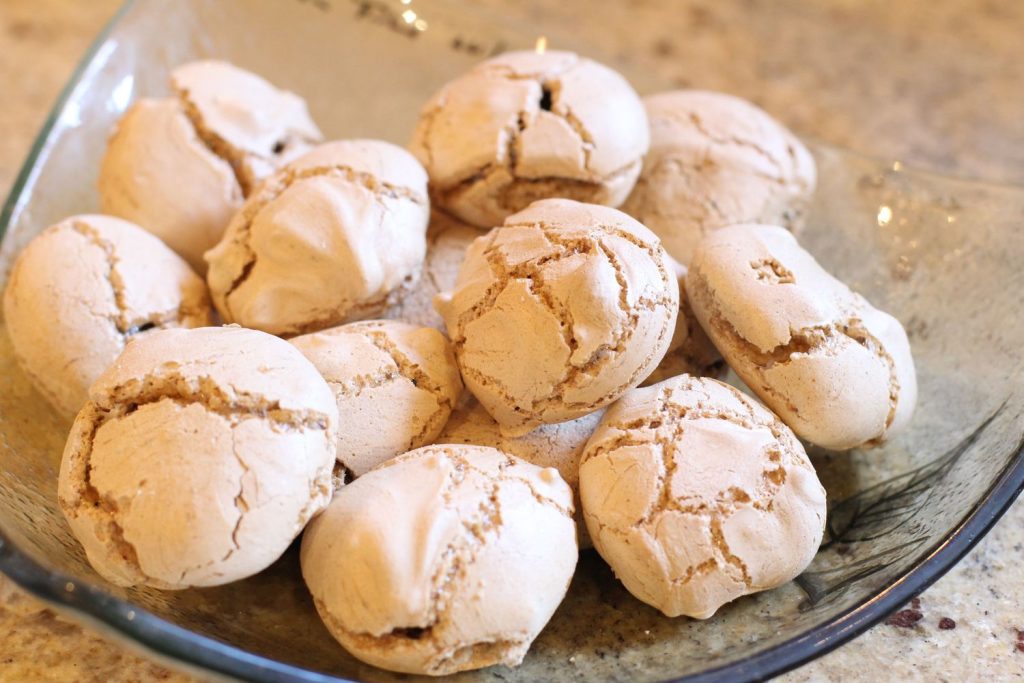 I first came across this recipe during Passover, when Amy Kritzer featured it on her blog "What Jew Wanna Eat". These light and airy, gluten-free, dairy-free cookies are melt-in-your-mouth delicious and highly addictive!
Ingredients:
2 large egg whites, at room temperature
3/4 cup of superfine sugar
1/2 teaspoon of vanilla extract
1 tablespoon of instant espresso powder
Instructions:
Preheat oven to 200 degrees. Line 2 cookie sheets with parchment paper and set aside.
In a large bowl with an electric mixer with a whisk attachment (make sure both are very clean and dry), beat egg whites on low at first and then gradually up to high speed until thick and soft peaks form (about 3 minutes). Add sugar in gradually (1 tablespoon at a time) and beat until batter is shiny and holds very stiff peaks and sugar is dissolved. You can test to see if the sugar is dissolved by taking a bit of the meringue between your fingers. It shouldn't be very gritty. Meringue should be so stiff that you can hold the bowl upside down and it won't drip. Fold in vanilla and espresso powder.
Drop 1 1/2-inch dollops of mixture onto sheets 1-inch apart or pipe onto sheets using a piping bag or a pastry tip in a zip lock bag.
Bake for about 1 1/2 hours or until crisp, switching pan positions halfway through baking. Turn oven off and let meringues finish cooling in oven for a few hours or overnight. Store in an airtight container for up to 3 days.