When I was eleven I wore a light blue teddy coat. I loved that coat. It kept me nice and warm throughout the frigidly cold Winnipeg winters. We're talking -40° Celcius, no need to convert to Fahrenheit since they merge at this temperature. With the wind chill, -20 feels like -40. Nonetheless, I persevered in the cold, often playing soccer outside with my classmates until my chubby cheeks were hard to the touch from freezing.
Fast forward forty-eight years and here I am living in Los Angeles where the winter temps can dip to a cool 45-50° and I find myself complaining about the cold! So while scrolling on my Instagram feed this past November, I came upon an ad for this teddy jacket in this yummy caramel color. The combination of its color and reasonable price point compelled me to order it. Little did I expect it to be so warm, snuggly and soft to the touch. Everywhere I go in this coat, people ask me about it. No one can believe the softness of the faux fur, nor can they believe that I ordered it from an Instagram ad for $185.00… of course they don't know me well enough to realize that this is totally something I would do!
Wearing all black makes the color of the coat pop. The necktie, which I purchased in Tel Aviv, adds to the drama of the outfit and replaces a necklace. The Gucci belt, which I invested in many years ago, has remained a true fashion accessory and never disappoints.
If I can inspire you to take the plunge and purchase a teddy coat this winter, I promise that you will not regret it. They are available in many different weights that add the right amount of warmth to get you through a Canadian or Californian winter!
Apparis Jacket, Aqua Turtleneck, Frame Jeans, Gucci Belt, Mizo Scarf, Zimmermann Booties, Meyrav Shavit Earrings, Chanel Handbag, Mykita Sunglasses.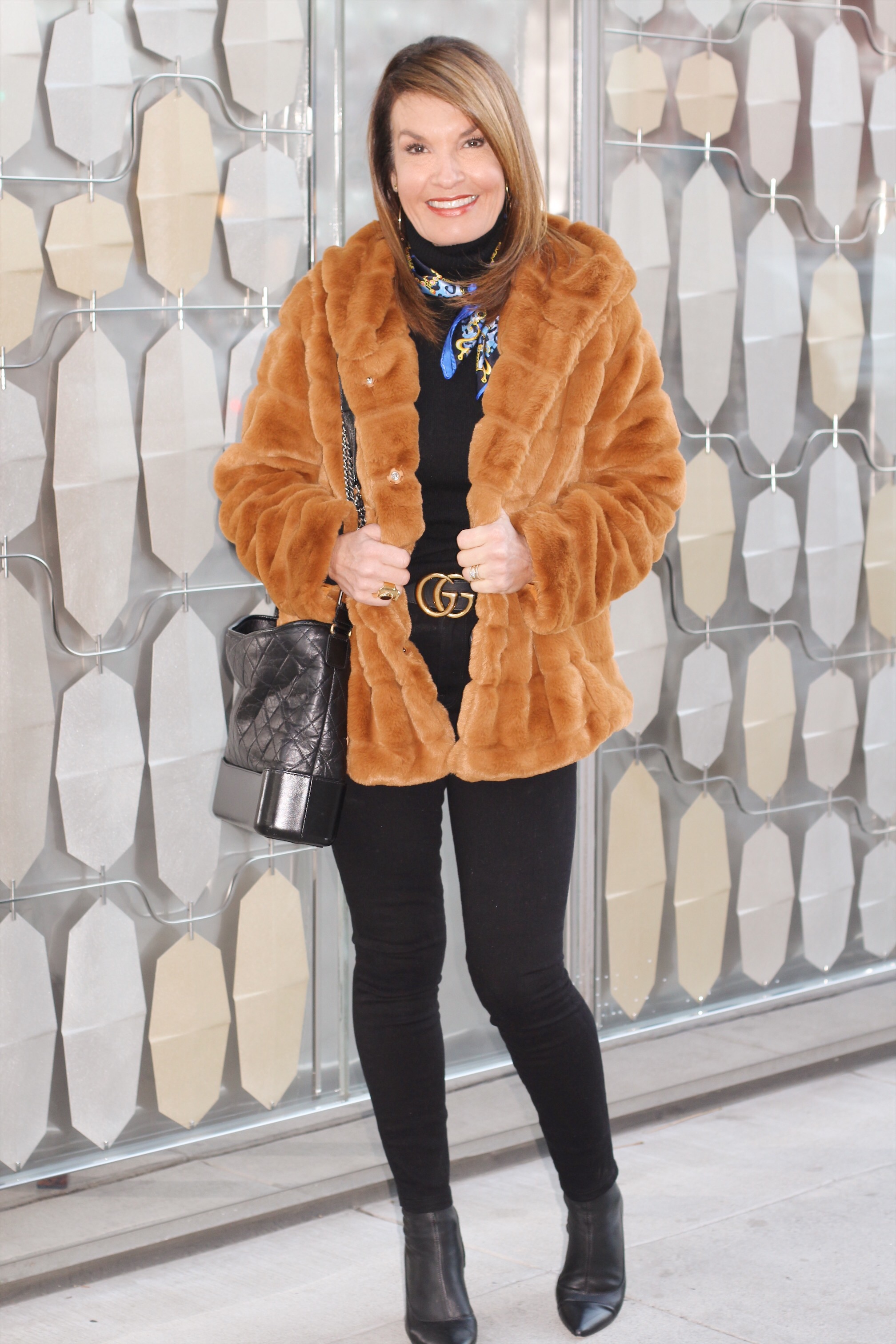 Meyrav Shavit makes these wonderfully whimsical mismatched earrings! #obssessed