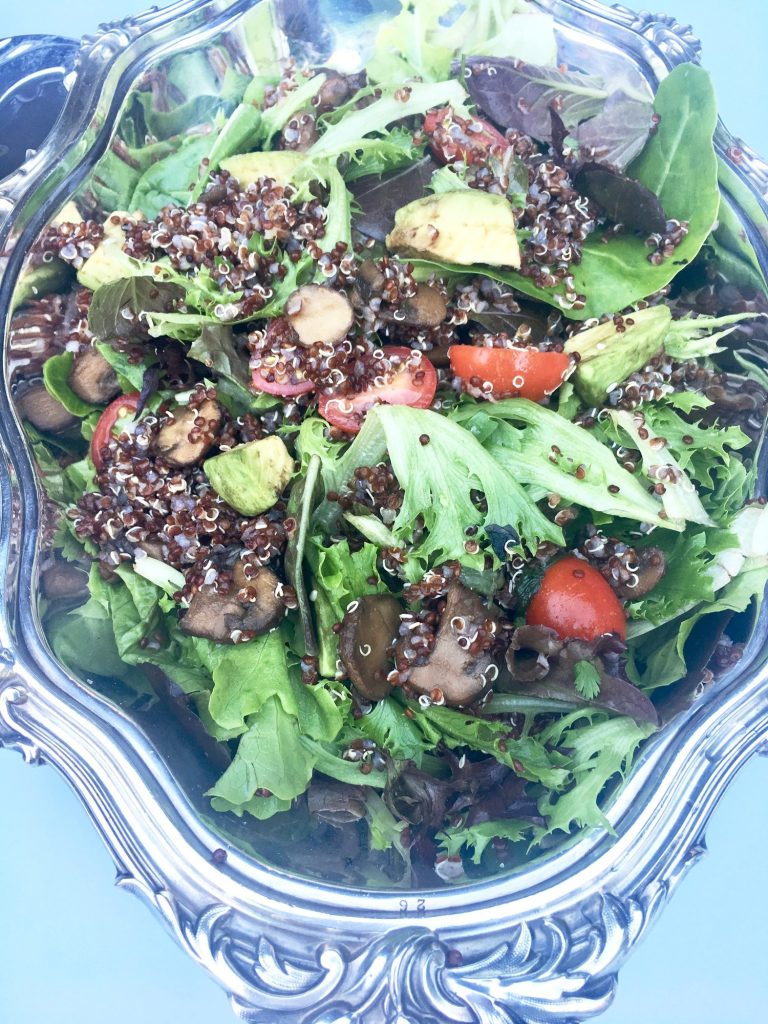 Ingredients:
1 1/2 cups of lightly salted water or vegetable broth
2/3 cup of quinoa
1-2 tablespoons of olive oil
2 cups of mushrooms, thinly sliced
2 tablespoons of balsamic vinegar
6 cups of mixed salad greens
1 cup of cherry tomatoes halved
1 ripe Hass avocado
Dressing:
1/4 cup of extra virgin oil
1/4 cup of balsamic vinegar
2 cloves of garlic, minced
1 teaspoon of minced fresh thyme leaves
1/2 teaspoon of kosher salt, or to taste
freshly ground black pepper
Directions:
Bring water to a boil in a medium saucepan. Add the quinoa; reduce heat. Simmer, covered, for about 15 minutes or until tender. Let stand, covered for 10 minutes. Fluff with a fork. Transfer to a large serving bowl and let cool.
In a large nonstick skillet, heat the oil over medium-high heat. Sauté the mushrooms for 6-8 minutes or until golden. Stir in the balsamic vinegar and cook 1-2 minutes longer. Let cool. Drain excess liquid, if necessary. 
Add mushrooms, mixed greens and cherry tomatoes to the quinoa. Cover and chill.
Dressing: Combine dressing ingredients in a glass jar. Seal tightly and shake well. Refrigerate.
Dice the avocado shortly before serving. Toss the salad with dressing; add the avocado just before serving.