Back in the Spring of 2009, my friend, Sandi, announced that she would be selling a line of clothing called Cabi, which stands for "Carol Anderson by invitation." The concept behind this unique line is the way in which it is sold; friends, old and new, gather at someone's home, view a presentation of the collection, and then proceed to try on the items. To me, it sounded like a tupperware party, but when clothes are involved, count this girl in! I remember sitting with ten of my closest friends along with two full racks of clothing, crammed into Sandi's living room while Sandi proceeded to show us the line. The next thing I recall was clothes flying in and out of rooms as we tried on item after item. There was a lot of laughter, kinship and just plain fun.
I was instantly smitten with the entire idea and volunteered to host a party.
Fast forward six years and twelve seasons later, I am still hosting Cabi parties, and we are still shopping, laughing, and styling each other. My friend, Sandi, switched careers, and I began hosting parties for my new friend, Lois Kolker. Lois is very adept at fashion, styling, and selling, and she creates a relaxed atmosphere in which the women feel comfortable and motivated to shop.
I must admit that I have been fascinated with Carol Anderson's story ever since I googled her six years ago. She was a fashion designer whose label was being featured and sold in department stores. It was her business partner and husband (yes, a man), who gave birth to the idea of women shopping together at someone's home… and what an idea he had. The company is incredibly successful with hundreds of "consultants" across the nation; it has mushroomed into a competitive clothing line that is both reasonably priced and on trend.
Zip Line Blazer, Tiffany Pant, Sleeveless Double Drape Tee: all by Cabi; Caroline De Marchi Handbag (available at Savannah Santa Monica); Aquazzura Heels; Barry Brinker Bracelet (available at Saks Fifth Avenue).

Three years ago, I had the wonderful opportunity of meeting Carol's niece and Cabi's  style director, Becky Jantzen. She and I hit it off immediately, as we are both fluent in the language of fashion. Becky tells me that Cabi's target audience is women forty-forty-five, yet it appeals to my eighteen-year-old daughter as well as my seventy-five-year-old mother. Their ability to keep the price point extremely low is difficult, but they manage to do so successfully, season after season. Becky brings her unique sense of style and design to the clothes as she has taken the look books and turned them into virtual magazines, always presenting the trends of the season and remaining au courant. The Cabi website contains so much content, that one could spend hours browsing and watching videos about how to create different looks from three items in the collection.
What I find remarkable is that season after season, my friends and I return for more of Cabi. We just can't seem to get enough of it and, with the price being right, it is easier on the bank account than some of its competitors.
In this photo, I am wearing the extremely comfortable Tiffany Pant, in which I plan to travel, since it is not binding and looks chic. The Sleeveless Double Drape black top will hug every body in all the right places. The crisscross fabric gives this basic black tee a twist and an edge. The Zip Line Blazer, which was designed by Carol, is a true gem, since the peplum is removable and the jacket converts to a fabulous bolero, a length that I am always in search of.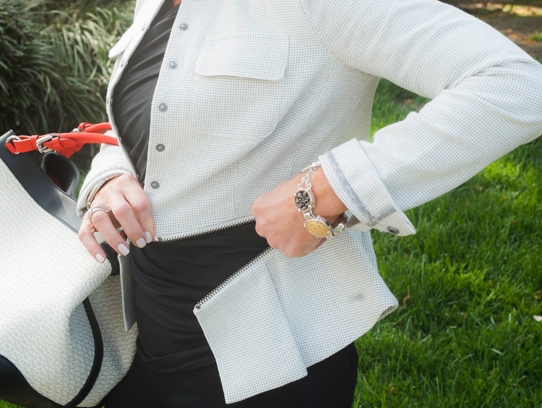 Cabi mixes beautifully with high end pieces such as this Caroline De Marchi bag, Aquazzura Heels and this Barry Brinker Bracelet.
The company's tag line says it all;  "Cabi… fashion, friends and fun." I couldn't agree more!