There is nothing like a good roasted chicken. It is nourishing for the body and the soul. This one is delicious and combines a crisp golden skin with flavorful meat.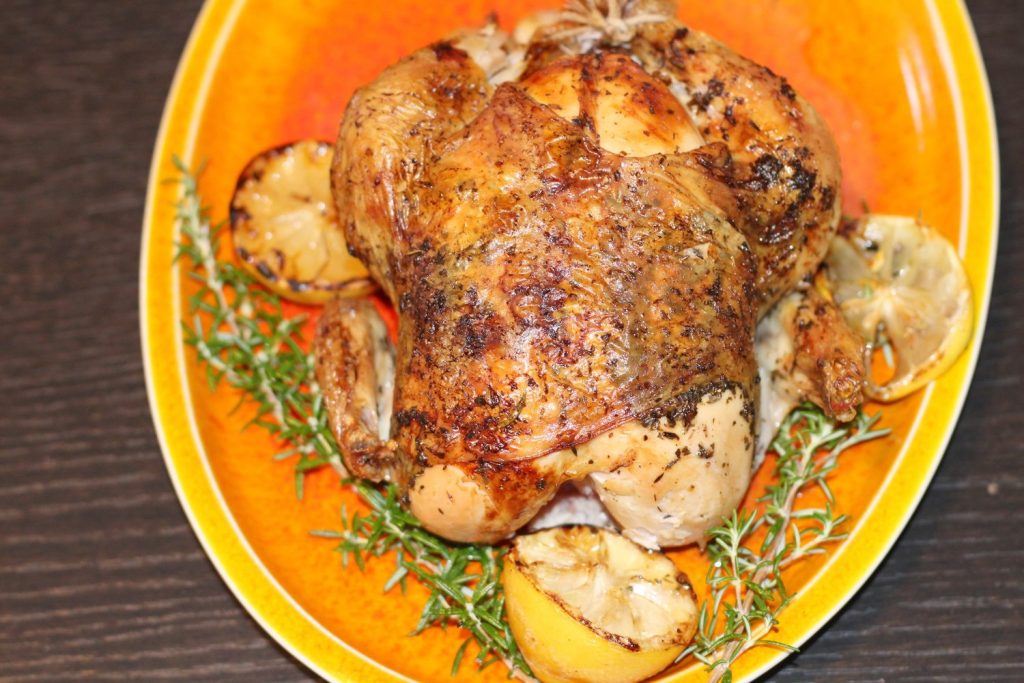 Ingredients:
4 tablespoons of either unsalted butter or margarine, I like to use Earth Balance.
1 1/2 tablespoons of herbes de Provence
salt and freshly ground pepper.
1 (5 pounds) chicken, rinsed and patted dry.
1/2 lemon
1 head of garlic, cut in half crosswise
2 (3 inches) sprigs, fresh rosemary
3 (3 inch) sprigs fresh thyme
4 or 5 sprigs flat-leaf parsley
2 cups of low sodium chicken broth
1 1/2 cups of dry white wine, such as Pinot Grigio
Instructions:
Preheat oven to 425 degrees.
In a small bowl, stir together the butter or margarine, herbes de Provence, 1/2 teaspoon, and a few grinds of black pepper.
Put a roasting rack in a roasting pan large enough to hold the chicken, and put the chicken on the rack.
Stuff the lemon, garlic, rosemary, thyme, and parsley inside the cavity of the chicken. Tie the legs closed with kitchen twine.
Loosen the skin on top of the bird and rub half of the butter or margarine and herb mixture over the top of the chicken, sliding your hands beneath the skin to rub it evenly over the breast and thighs.
Smooth the skin back into place, and smear the remaining mixture over the legs and thighs of the chicken. Season the chicken with salt and pepper. 
Pour the broth and wine into the bottom of the roasting pan.
Roast the chicken until the internal temperature reaches 165 degrees, in the thickest part of the thigh (1 hour 15 minutes to 1 hour 25 minutes).
Transfer the chicken to a carving board that has a juice groove to catch the juices and let rest for 10 minutes. carefully pour the pan juices into a fat separator, pouring off the fat and retaining the juices. 
Carve the chicken and pour some of the pan juices over each serving.