These noodles hit all the marks! They are delicious, good for you, and kid-friendly! You can turn this into a main dish by adding either grilled chicken or salmon or for vegetarians, grilled tempeh.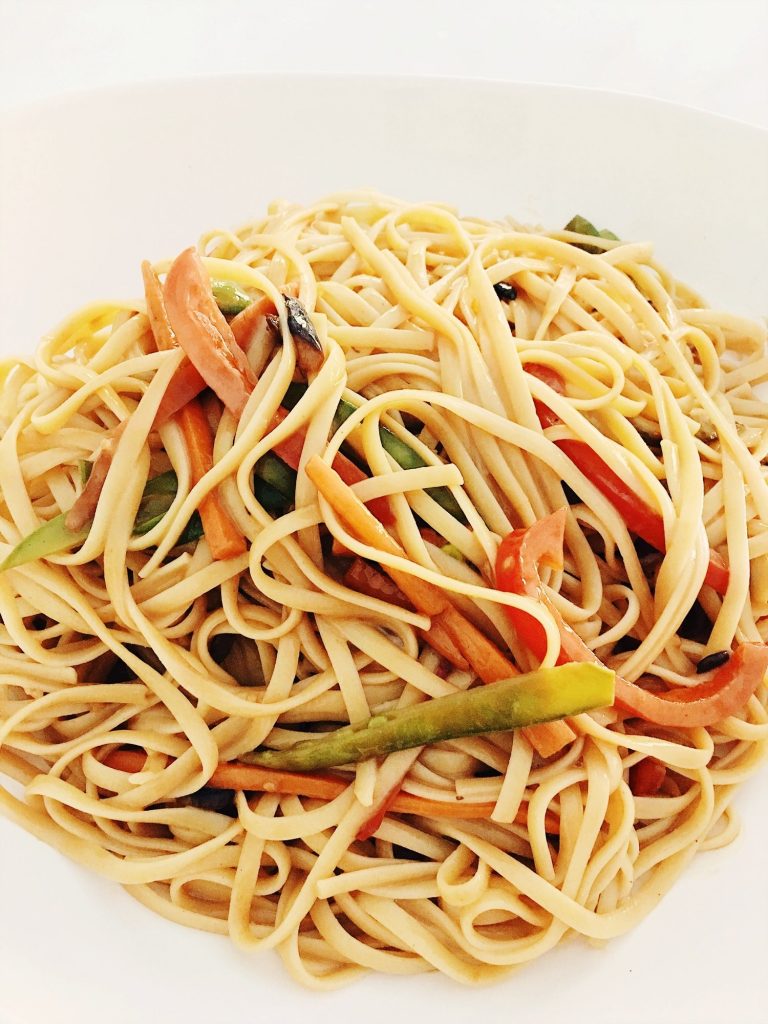 Ingredients:
1 box of regular or protein-enriched linguini
water as needed
kosher salt
1/2 cup of reduced-fat peanut butter
1/4 cup of soy sauce
1/4 cup of water
2 tablespoons of rice vinegar
2 tablespoons of roasted or toasted sesame oil
1 tablespoon of teriyaki sauce
1 tablespoon of honey
2 cloves of fresh garlic, minced
1/4 teaspoon of fine sea salt
1/8 teaspoon of ground ginger
1 tablespoon of canola or olive oil
15 snow peas, each sliced in half lengthwise
5-6 shiitake mushrooms, brushed clean, stems discarded, sliced
1 red bell pepper, seeded, sliced into very thin 1/8 inch strips
1/4 cup of shredded carrots
2 scallions, roots trimmed and discarded, thinly sliced (optional)
Directions:
Cook the pasta in a large pot of salted water, cook according to package directions until al dente. Drain and rinse under cold water to stop the cooking process.
In a small pot, whisk the peanut butter, soy sauce, 1/4 cup water, vinegar, sesame oil, teriyaki sauce, honey, garlic, salt, and ginger.
Heat over medium heat and whisk until smooth and warm.
Heat the oil in a large skillet over medium heat. Sauté the veggies for 5-6 minutes until shiny and slightly limp.
In a large bowl toss the linguini with the peanut sauce and vegetables. Serve hot or at room temperature. If served at room temperature the sauce will thicken.